The Anti-al-Jazeera: Bahrain's Notorious State-Run TV Channel
As protesters take to the streets, the regime is using government-run television to hit back with sectarian propaganda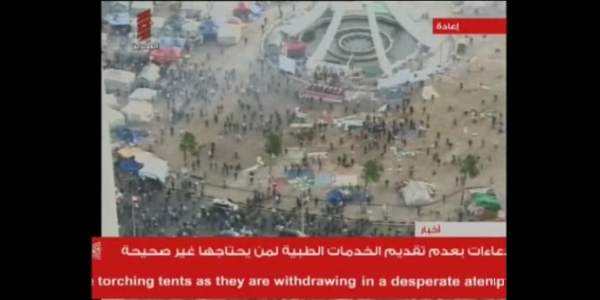 Bahrain TV
MANAMA, Bahrain -- Bahrain TV blares from most corners of this island Kingdom -- in malls, restaurants, living rooms. In a hotel bar, I'm watching footage of the country's famous Pearl Square roundabout, the anti-government opposition's main gathering point, being torn to the ground, its famous white statue -- six columns representing the nations of the Gulf Cooperation Council, holding up a giant pearl -- collapsing into a pile of rubble. An official from opposition party al-Wefaq is with me, drinking a beer. When the announcer calls the tear-down the "development of the GCC roundabout," my bar mate rolls his eyes. "Bahrain TV," he says. "They say what they say."
As King Hamad bin Isa al-Khalifa's Sunni regime lays siege to the remains of what was once a promising anti-government movement, throwing nearly all of the country's prominent dissidents into police custody and raining tear gas and rubber bullets on poor Shi'a villages, it has largely shut out international media, refusing to extend or grant visas and, two weeks ago, forcibly detaining a CNN crew outside the beleaguered Shi'a neighborhood of Bani Jamrah.
The lack of foreign press coverage means a virtual monopoly on airwaves for state-run BTV. It has become a symbol of the Sunni regime's ongoing propaganda campaign against Shi'ites, the 70 percent majority they claim are responsible for the entirety of the political and economic unrest that has swept this country since police first fired tear gas, rubber bullets, and pellets at peaceful demonstrators in the early hours of February 14.
"The narrative the government wants to put across, which is powerful, is that this is a sectarian conflict, different than what happened in Egypt and Tunisia. And the vehicle it chose to do that with is BTV, because it's the only thing it had in its arsenal," said Ali Al-Saffar, Middle East economist at the Economist Intelligence Unit in London. "It got across the story the government wanted it to get across, which is to frame the protest movement as being solely Shi'a -- which we knew it wasn't -- as violent, and to make the Sunna minority feel like if the protesters got what they wanted, the Sunni community would be threatened."
Stories of the deceptive tactics used by BTV crews run rampant in Manama. Protesters repeatedly told me they watched crews -- usually wearing balaclava masks, to avoid identification -- plant knives and guns at protest sites, then turn on the cameras to film the weapons and protesters suggestively side-by-side. (During my time in the country, I never saw one protester wielding a weapon.) Staffers at Salmaniya Hospital, which fell under military control after dozens of Saudi Arabian tanks rolled into the country on March 13, said they were being held hostage in the emergency wing, beaten and sent back inside if they tried to leave. But if you watched BTV, you'd have seen a different picture -- a happy doctor walking unscathed through the doors of the ER to freedom. Nurses told me he was beaten once the cameras were turned off, then sent back inside.
The narrative that BTV keeps driving is one in which Sunnis should fear the mostly Shi'ite protesters, with an implicit warning -- if they win, you are in danger. And after weeks of state media propaganda, the sectarian divide between Sunnis and Shi'a is at an all-time high, with one Sunni describing his Shi'a neighbors as "cockroaches" that "must be put down." On more than one occasion, officials from al-Wefaq worried about similarities between BTV's rhetoric and that of the Hutu radio stations that rallied Rwandan Hutus to slaughter their Tutsi brethren 17 years ago.
Liz, a Shi'ite in her late 20s, has family members still in prison. She rarely leaves home -- every time she ventures out, she risks getting pulled over at a police checkpoint and forced to show ID. If identified as Shi'a, the consequences could be severe -- an impromptu beating, maybe even a pair of handcuffs. She said she blames Bahrain TV for the Sunnis' fear. Her brother, seated next to her in the family's living room, was frustrated when I told him the average Sunna likely saw him as violent, gun-toting, and ready to topple the government -- as well as any Sunna who stood in his way.
"Where would we even get the guns?" he said, throwing his hands in the air. "We have no guns. We have nothing."
Across town a few days later, I met with Sunni businessmen who readily acknowledged that they got the bulk of their information about the protests from BTV. They praised the station's "brave" depiction of the havoc the Shi'a "traitors" were wreaking. When I brought up the events of March 16 -- when the government used Cobra helicopters to shoot live ammunition and rubber pellets at fleeing protesters in Pearl, drawing worldwide ire -- they scoffed and said the vehicles were merely traffic helicopters, or taking photographs. Both are lines I have heard from government officials.
"It was peaceful that day at Pearl," said Husain Ismael, an ex-banker who currently works in the importing business. Married to a Singaporean, he lives in the wealthy Sunni enclave Amwaj Island, across the causeway and a world away from the violence underway in Shi'a villages. He has never witnessed any violence first-hand or been pulled over at a checkpoint.
"BTV is obviously putting out a lot of pro-government propaganda, and that's definitely having an impact," said Jane Kinninmont, senior fellow for the Middle East and North Africa at Chatham House. But you do have to ask why a smart businessman like Ismael would choose to believe it. "Over the last few years people have been turning off BTV and putting on al-Arabiya and al-Jazeera. But there now seems to be more government supporters becoming convinced that the international media must be lying to them and that BTV is correct."
Even al-Jazeera, headquarted in Doha, has to monitor what it says about its GCC ally. A lifeline for protesters in areas as far-flung as Sana'a and rural Libya, it has little reach in Manama. "In a geopolitical context, the fact that al-Jazeera is Qatar-based means it will have a lot of pressure on it from the Qatari government not to say much," said Al-Saffar. "It came out so in favor of movements in Egypt and Tunisia and Libya, but it couldn't do the same in Bahrain."
As the shutout on foreign media continues, BTV's voice is likely to grow louder, and its tactics more and more far-fetched. Walking to Pearl roundabout one day, I was with a group of young male protesters who were celebrating the fact they had finally located some friends who had been missing since the melee in the circle on February 14. "We saw them on Bahrain TV," said one, Hasan. "They were all bloodied up, dressed in police uniforms. BTV was trying to make it look like they were actually government police, beaten by violent protesters." The poor man's friends could see the truth -- that he had been turned from a prisoner of the regime into a prop in its elaborate stage play, televised across the country. But could anyone else?
Image: Bahrain TV