Parents of Detained Journalist Call for Daughter's Release From Libya
Atlantic and USA Today reporter Clare Morgana Gillis, believed to be held by the Libyan government, was last seen two weeks ago today
Atlantic and USA Today reporter Clare Morgana Gillis, believed to be held by the Libyan government, was last seen two weeks ago today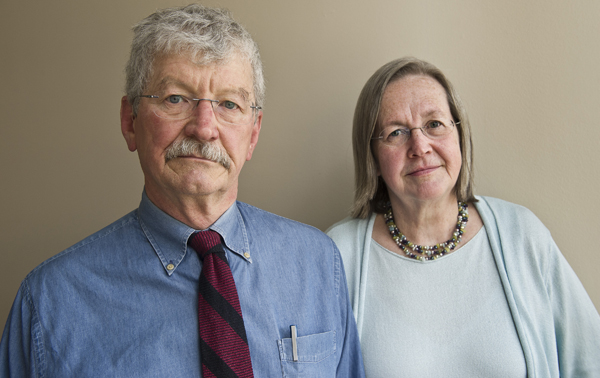 Richard A. Bloom / National Journal
Sixteen days into journalist Clare Morgana Gillis's detention in Libya, her parents have issued a public appeal to the Libyan government for her release. "We just want to make sure she is OK, and we want her home," Clare's mother, Jane Gillis, said, calling for her daughter to be "released as soon as possible." They also asked the government to immediately allow a humanitarian worker or foreign journalist to visit Clare, 34, who is thought to be held in Tripoli. "I really need some assurance somehow that she does not feel that everybody has abandoned her," said Robert Gillis, her father.
Gillis was last seen in a Tripoli detention facility on April 7, two weeks ago today. "We trust they're treating her well but we can't know for sure," Robert said of the Libyan government. "We're hoping for the best but realizing we don't know anything." He added that he is especially concerned about her "conditions of confinement."
Clare Gillis, a freelance reporter writing for The Atlantic and USA Today, was detained by Libyan government troops on April 5 outside of Brega, at the time a scene of heavy fighting between rebel and government forces. She was reportedly traveling with American reporter James Wright Foley of GlobalPost and Spanish photographer Manuel Varela de Seijas Bravo of European Pressphoto Agency. Foley and Bravo were also seen with Gillis on April 7 at the Tripoli detention center, where they were reportedly being treated well.
Two weeks after first learning of their daughter's detention in Libya, Robert and Jane Gillis described how they cope with the anxiety of waiting for information. "I'm home. There are lots of phone calls. And there are times when everything gets very busy," Jane said. "I would find it very difficult to do my job at work. And Bob does go to work. So in a way, we've worked it out."
"I don't want to just sit here and wait for the phone to ring," Robert said. "I don't really have the energy at this stage to go around and clean things up and do yard work. I just can't do that. But I can go to work and focus on stuff there that I can dig in to."
In addition to her work as a journalist, Clare, the oldest of three sisters, is trained as an historian with special knowledge of the Middle East. She received her Ph.D. in history from Harvard University several months before traveling to Libya to report on the events there. Her parents said Clare's inherent curiosity, background as an historian, and knowledge of Arabic serve her well in her reporting. "She's never been political," Jane added.
Libya has become increasingly dangerous for journalists since fighting began there in February. According to some firsthand reports, Gillis may also have been traveling with freelance photographer Anton Lazarus Hammerl, a South African and Austrian dual citizen who went missing the same day that she was detained. Also missing in Libya are American freelance reporter Matthew Van Dyke, who was last seen on March 13, and British citizen Kamel al-Tallou, an Al Jazeera cameraman who has been detained since March 6. On Wednesday, photographer Chris Hondros and filmmaker Tim Hetherington were killed during fighting in Misrata.
White House spokesman Jay Carney, asked on April 11 about Gillis and Foley, said that the State Department is working on the case. "We call for the release of any journalists detained, any human rights activists, anyone detained unlawfully or inappropriately, and in this case, specifically with those journalists in mind, we call on and demand their release," he said. "We take this very, very seriously, as we did when other journalists were detained."
Atlantic editor James Bennet appealed to the Libyan government for the journalists' release. "Clare and our other colleagues have now been held for more than two weeks, and it's been almost as long since we had any kind of independent report about how they're faring. We're continuing to urge the Libyan government to let them go as soon as possible, and in the meantime to let foreign diplomats or journalists visit them."