No One Rigs an Election Quite Like Kazakhstan
President Nazarbayev's reelection campaign was as much spectacle as sham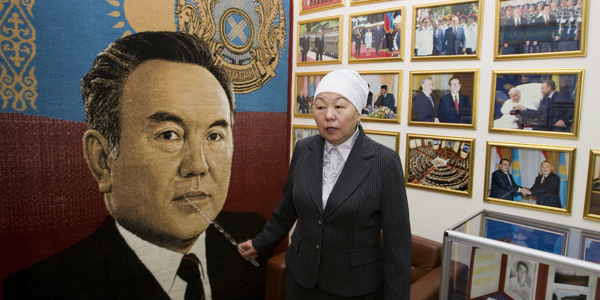 Headmistress Medeuova speaks to visitors as she points to a portrait of Kazakh President Nazarbayev at a school museum in his native village of Ushkonyr. By Shamil Zhumatov/Reuters
On Sunday, Nursultan Nazarbayev won reelection as president of Kazakhstan, a nation he has ruled since it was a republic of the Soviet Union, with 95.5 percent of the vote against an undistinguished field of three no-name opponents. One challenger, on his Facebook page, listed the incumbent president as a "Person Who Inspires Him"; another said he voted for Nazarbayev.
It may sound like a typical post-Soviet sham election, but it's not quite. Most autocrats, post-Soviet and otherwise, just quietly go through the motions of elections, trying to draw as little attention to them as possible. Not Nazarbayev. Three days before the vote, he published an op-ed in the Washington Post titled "Kazakhstan's steady progress toward democracy." He sent an adviser on a tour of Western capitals to promote the election; in Washington, the adviser -- modestly, it turns out -- predicted Nazarbayev would win between 80 and 92 percent of the vote.
Foreign election observers found evidence of ballot box stuffing and apparent multiple votes, charges that the government quickly denied. "I believe that it is the most ideal election ever in the history of all the elections," said one presidential adviser, Yermukhamet Yertysbayev.
It's not clear why Nazarbayev felt he had to resort to ballot stuffing. He is, in fact, genuinely popular in the country -- a U.S.-run poll last year found that he had a 91 percent approval rating. That's due partly to Nazarbayev's successful stewardship of the economy, but also because he has so systematically sidelined any potential opposition so that no credible alternative to him exists.
Contrary to Nazarbayev's claims of "steady progress" toward democracy, most outside observers have seen only decline. The democracy-promotion group Freedom House, which scores countries based on their political and civic freedoms, ranks Kazakhstan as "not free" with a score that has slowly dropped in the 20 years since independence. According to the most recent report, "Nazarbayev and his Nur Otan party maintained almost complete control over the political sphere ... using tactics including arbitrary arrests, restrictive new laws, and politically motivated prosecutions to muzzle critical media outlets and individuals."
And yet, Nazarbayev and his government went through great efforts to make this election look like a step forward on the road to democracy. Presidential elections hadn't been scheduled until 2012, but in December, a citizen's group initiated a petition calling for the elections to be put off and for Nazarbayev to govern unopposed until 2020. The fact that the petition reportedly gained 5.5 million signatures -- 60 percent of the country's electorate - in a matter of days suggested the effort was more Astroturf than grassroots. And when Nazarbayev made a show of rejecting the suggestion, and instead announced that Kazakhstan would move up the presidential elections, it confirmed in many observers' eyes that the whole proceeding was a clumsy charade, intended to make it look as if Nazarbayev was reluctant to rule as unopposed as he does.
Kazakhstan, despite its unfortunate association with Borat, is in fact a success story in many ways. Its neighbors in post-Soviet Central Asia are either on the verge of becoming failed states (Tajikistan and Kyrgyzstan) or among the planet's most brutal dictatorships (Uzbekistan and Turkmenistan). Kazakhstan, meanwhile, has used its substantial oil and natural gas wealth to build a successful economy with a sizable middle class that can afford sushi and beach vacations in Turkey.
But that isn't good enough for Nazarbayev, who wants both unlimited power and international approbation, as well. In the early years after the collapse of the Soviet Union, Kazakhstan's independence was not assured, and in particular there seemed a danger of Moscow continuing to pull the strings in Kazakhstan. So Nazarbayev developed what he calls "multi-vector diplomacy," which essentially amounts to balancing relations with the big powers -- mainly Russia, China and the U.S. -- to ensure that no single power would have too much sway. And he calculated that good relations with the West required him to pay at least lip service to political reforms and human rights. At the same time, he felt that the situation inside Kazakhstan was too unstable to loosen the strong grip he held on the country. And, in any case, he may have found near-total power convenient.
That balancing act has necessitated an aggressive, elaborate international PR war, in which this referendum-turned-election seems only the latest battle.
Nazarbayev's Kazakhstan has shown a lot of creativity and a bit of a devious streak, to put it charitably. The government of Kazakhstan has on several occasions paid Washington think tank experts to write reports on the country. One of those think tanks, the Institute for New Democracies, partnered with the Center for Strategic and International Studies to host a Nazarbayev adviser, Nurlan Ermekbayev. At the event, Ermekbayev explained that the elections were held early because Nazarbayev had already accomplished everything he had set out to do in that term. He also blamed the country's opposition for being unprepared for the snap elections. (The financial arrangements between Kazakhstan, CSIS, and IND went unmentioned at the event.)
Perhaps unsurprisingly, representatives of many of the think tanks contracted by Kazakhstan observed the election, and delivered a credulously rosy report: "Such a turnout bespeaks a yearning to maintain stability and political continuity in Kazakhstan, under the leadership that has delivered growing prosperity. Voters often said that they valued Kazakhstan's stability, security, and steadily increasing living standards in their country. They contrasted this with the chaos engulfing many Muslim countries, from North Africa and the Middle East to Afghanistan and Kyrgyzstan next door."
Kazakhstan's Ministry of Foreign Affairs has set up a news service, the Central Asia Newswire, which carries news and analysis pieces from around the region. Kazakhstan denies any involvement in the operation of CAN, which according to its website is "an independent news service based in Washington, DC." But, it turns out, the newswire "was actually the spawn of a nation-branding company employed by the Kazakhstan government and The Washington Times," the Columbia Journalism Review found. The government also has sponsored junkets for American journalists to go to Kazakhstan; on one, a participant told me, the trip's organizer handed out $2,500 in cash to each journalist as they arrived.
Meanwhile, in Kazakhstan, the price for those who don't give the government good PR is high. A couple of days before Nazarbayev published his op-ed, the publisher of one of the few opposition newspapers in the country, Daniyar Moldashev, was beaten and then went missing. Not long before, Yertysbayev had accused the paper of "information terrorism against the first president [Nazarbayev] and against the whole of our country." Moldashev's whereabouts are still unknown.