Maureen Dowd, writing from Washington DC, is wroth about Bob Dylan's failure to stand up to The Man in his concert in Beijing this week. "Bob Dylan may have done the impossible: broken creative new ground in selling out," and so on. I see from the world of Twitter that this outraged/ disappointed interpretation is sweeping through the U.S. commentariat.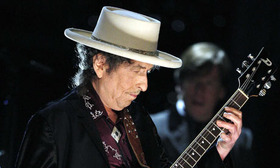 Many of my Chinese and Western friends, writing from Beijing, Shanghai, Chengdu, and Nanjing, are wroth about Dowd and what they call her misunderstanding of Dylan, China, and the current alarming wave of crackdowns there. (Getty photo, left, from last year's tour.) Eg:
- Jeremiah Jenne, a Chinese-speaker and long-time resident of Beijing who covered the actual "Jasmine Protests" in Beijing in a stint as Guest Blogger here, says in his Jottings from the Granite Studio that "there has been a rash of increasingly unrealistic drivel [about Dylan] from the foreign press, culminating yesterday in a truly moronic piece by Maureen Dowd." Jenne pointed out that one of the numbers Dylan sang in Beijing, "a corrosive version of All Along the Watchtower, ain't exactly bubble gum pop. Coming on the heels of an epic Ballad of a Thin Man (in which Bob stood in a yellow spotlight at center stage, staring down the crowd like a carnival barker at the gates of Hell, literally snarling lyrics like "But something is happening here/But you don't know what it is/Do you, Mister Jones?") it's hard to complain that Bob was toning it down."