Developing-World Design: No iMacs or Lofts Necessary
A trip to Zambia reminds a designer that the best solutions don't come from good tools. They come from good teams.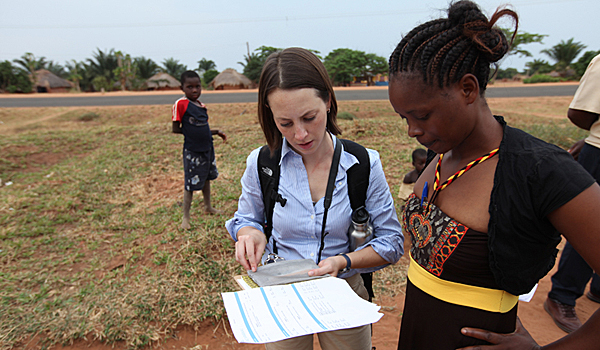 A perception persists that designers are the arbiters of style, and that we work mainly in slick big-city lofts behind oversized computer monitors. There's no doubt that many of us do love giving form to objects (likewise, few can deny the allure of a nice loft). But design is now so much more than aesthetics. Designers are systems thinkers. We create everything from electric vehicle infrastructures and citywide transit networks to social media healthcare apps and countrywide HIV helplines.
To create these kinds of complex systems we have to spend time doing research in the field, so we can understand who will be using what we design and how they will use it. This is how we can make designs that are relevant and usable. Sometimes we travel to living rooms in suburban America. Sometimes we board subway cars during urban rush hours. One recent project with UNICEF took us to rural Zambia to study and improve upon a pilot program that used text messaging to deliver lab results between doctors and HIV-positive mothers and infants. Even if we wanted to go back to the studio (or the big city loft) to take a breather and gather our thoughts, we couldn't. We had to develop our findings on the fly.
The plan was to make a lot of improvements to the system while we were still in Zambia, and we were there for only two weeks. So, while we interviewed people in their homes and followed them as they traveled to local clinics, we also learned about the technology that was already in place and tried to understand whether our ideas would take hold. For that, we had to do some prototyping and testing in the field.
A typical process for designers is to gather information, come together as a team to think, sketch, and build, and then repeat this research/ideation/prototyping cycle. In Zambia, this cycle was a near-daily drill. We were in a different place almost every day, traveling long hours by car, and sleeping in guesthouses that often did not have electricity or Internet. We had to work wherever we could--the back seats of Land Cruisers, beneath the shade of leafy roadside trees, or on the walls of our accommodations.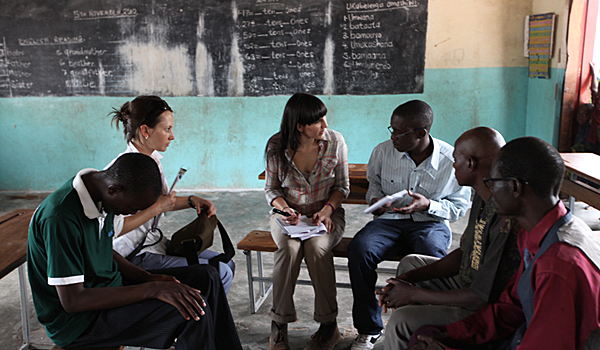 Despite all the challenges, the design process worked as well as any I've been a part of. I discovered that it's possible to innovate anywhere, in any conditions, as long as you have five key characteristics: trust, isolation, immersion, role-playing, and a hard deadline.
Trust: It's important to find a way to build trust in a group, because in creative work we fail a lot. If you aren't comfortable failing with your team, then there probably won't be a lot of innovation happening. Trust is also the key to effective collaboration.
In Zambia, we were an average sized team of nine people: three frog designers, two UNICEF employees, one Zambian Ministry of Health official, and three contractors who could write code. Some of us knew the language, some of us knew the technology, some of us knew how to do the research, some of us got sick, two of us got hospitalized, and most of us were way out of our element. We needed each other.
Isolation: Typically, it's not possible to do away with daily distractions, but in Zambia there was no choice. The team ate most meals together and in some cases even slept in the same beds. There was no trickle of emails because we often had no Internet. We did talk about our lives at home and fantasized about what our first meal would be when we got back, but we mostly talked about the work. Ideas and research stories were common breakfast conversations.
Immersion: At the core of design is the idea that immersion begets empathy, and empathy begets the best solutions. In our job, the answer to a design challenge is never in the studio; it's in the places and lives of the people who will be using what we create. When you go as far as Zambia, there is very little choice but to sleep, eat, and breathe the context for which you're designing. That said, immersion is always important, even when the context is closer to home.
Role-Playing: In a small team everyone has to be a generalist and a specialist, which means you have to know your role backwards and forwards, but you also have to understand everyone else's role too. Bill Moggridge, the director of the Cooper-Hewitt National Design Museum, calls this being "T-shaped." The vertical part of the "T" is one's expertise, but the horizontal part of the "T" is one's understanding across a process or set of capabilities. Having teams of T-shaped people is how an individual learns and stays interested at work, but it's also how you get the true cross-pollinated ah-ha moments design is known for. The Zambia trip worked because our technologists loved design and our researchers understood technology.
Deadlines: On a project where there are a lot of unknowns, one of the best ways to constrain a team is with time. Design is not an endless process. Eventually, you have to get something out there. On creative problems, these decisions lift the fog and make the project seem doable. We were only in Zambia for a short amount of time and for the most part we knew what we wanted to achieve while we were there. There was a sense of urgency.
And so it went in Zambia. In addition to gaining a broad understanding of the issues we set out to research, the team produced dozens of important improvements to the existing systems based on real human needs. We learned that design doesn't really have anything to do with how nice your computer is or how well furnished your studio is. It can happen anywhere.
Images: Courtesy of frog design