At Frontline Hospital, Afghan War's Toll Is Deeply Felt
As fighting season begins in Afghanistan, the Kandahar Airfield hospital will likely triple its trauma cases.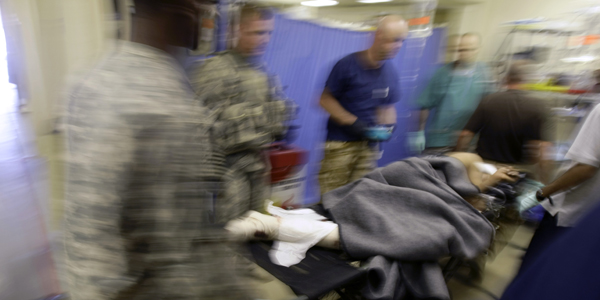 Peter Andrews/Reuters
KANDAHAR, Afghanistan -- By 7 a.m., the first patients of the day were slid off the medevac helicopters and wheeled into the trauma bay at the Kandahar Airfield hospital in southern Afghanistan.
"I've got a wedding ring. Make sure my wife gets it," Staff Sergeant Jeremy Breece said. His face was streaked black and green with camouflage paint, and smeared with dirt from the explosion. "I need to call her and let her know I'm okay." A tourniquet squeezed each thigh. His legs ended just below the knees, still covered in shredded pantleg. The trauma team -- a doctor, two nurses, and two Navy corpsmen -- cut away his uniform and checked for other wounds
"How's Pops?" Breece asked, before a nurse sedated him.
Specialist Adam "Pops" Castagna, one of the oldest in the platoon at 37, had been walking just behind and to the left of Breece when the blast hit his torso and face. Now he lay on a gurney eight feet from Breece, groaning. "I can't breathe," he said. "My stomach is killing me." Though he had no visible injuries other than cuts on his face, an ultrasound showed blood filling his abdominal cavity. The explosive force had ruptured several organs. Fifteen minutes after arriving at the hospital, Castagna was wheeled into the operating room, where surgeons sliced open his abdomen and searched for source of the bleeding.
Thirty minutes later, Breece entered a neighboring operating room. Surgeons tied off blood vessels and cut away torn and shattered skin, muscle, and bone. They cleaned out dirt and shrapnel from his flesh and muscle and then sewed his legs shut.
For the hospital staff, a mix of Americans, Canadians, Dutch, Belgians, Australians, and French, such injuries are common fare, and their frequency is increasing. From the slow winter months to the height of summer fighting season, daily trauma cases typically triple between January and July. Military leaders expect the same this summer as the Taliban fight to reassert control over areas where coalition forces made significant gains over the past year, and to retain areas where they still hold sway. The steady climb in casualties has already begun. The hospital, just one of many NATO medical facilities across Afghanistan, saw in a single April day: gunshot wound; IED; gunshot wound; IED; IED (two victims); suicide bomber (six victims); IED.
The cases are often more complex than those seen in civilian trauma centers in the U.S. Here, a single patient could have multiple amputations, shrapnel wounds, burns, internal bleeding from concussive force, and a brain injury. But survivability is high, in large part because of the fast and frequent use of tourniquets in the field. Once considered a last resort, as the loss of circulation can kill limbs if tourniquets are left on too long, they are now cranked onto arms and legs immediately, and helicopter medevacs can have patients at the hospital within a half hour of injury. Of those brought into the Kandahar Airfield trauma bay, 97 percent live.
Which leaves the 3 percent.
Two days before Breece and Castagna were brought in, the doctors, nurses, and corpsmen stood at attention and saluted as a flag-draped body bag was wheeled outside and loaded into a van bound for the mortuary. The soldier had arrived with a channel carved through his brain by a bullet that had entered his right temple and exited the left. His brain swelled, squeezed the brain stem, and stopped his heart. The staff watched in silence as his life ebbed. They had dealt with this before, patients too far gone, and knew they would again. "You feel like you weren't even given the chance to give them a chance," Lieutenant Commander Ron Bolen, the trauma-bay department head, said afterward.
Coalition soldiers, mostly Americans, comprise half the patients. The majority stay in Kandahar less than 48 hours before making their way to home countries. Americans are flown to Bagram Airfield outside Kabul, then to Landstuhl Regional Medical Center in Germany. Those with lesser wounds recuperate there and return to duty in Afghanistan; the rest continue on to military hospitals in the U.S.
Afghan patients stay at the Kandahar Airfield hospital longer, often for weeks, until they are well enough to be transferred to local facilities, where the care is earnest but decades behind. The Afghans are evenly split between security forces and civilians, with the occasional insurgent. Of the civilians, half are children, a surprise to many hospital staff who arrived here assuming they would mostly treat wounded soldiers. Some have been hurt in car wrecks and falls, but many are battle casualties, like the2 -year-old boy hit in the left arm with a bullet, now asleep in a tiny wheelchair, a blanket across his lap. Or the brothers, 3 and 6, peppered with shrapnel, resting on adjoining beds. Or, in the back corner of the intensive-care unit, a boy, 7, whimpering softly as a nurse changes his dressings. An IED tore open his stomach, took off his left leg below the knee, and killed his four playmates.
At 10 a.m., after an hour and a half of surgery, Breece joined the little boy in the ICU. Nurses parked his gurney next to an unconscious Afghan special-forces soldier whose body bore dozens of shrapnel wounds. They pulled out the plastic breathing tube that had been snaked down Breece's throat before surgery. The camouflage paint and dirt had been wiped from his face. His chest and arms were bare. A white blanket covered the lower half of his body, and went flat just past his knees.
He slowly awoke from the anesthesia. Even in the haze, he understood what had happened.
"Do you feel up to seeing some of your buddies?" his ICU nurse, Commander Thomas Shu, asked.
Seven soldiers from the Germany-based Second Stryker Cavalry Regiment crowded around his bed.
"You'll be back in Germany drinking beer in no time," Staff Sergeant Jeremy Bennett said. He held Breece's left hand, cut in the explosion and wrapped in thick bandages.
Not allowed to drink water until the anesthesia wore off, Breece sucked on a moistened sponge.
"How's Pops doing?" he asked.
"He's still in surgery," Bennett said. "But they say he's doing good."
"Do you know where you are?" Lieutenant Colonel Michaele McCulley asked him. She meets all of the regiment's injured troops at the hospital and sees them through the first hours of their injuries. With more than 100 soldiers wounded during the deployment, she had been here many times. "They took you to surgery to repair and close up those wounds."
"Do I have knees?" Breece asked.
"You have both knees," McCulley said.
"So I'm good now? I'm living?"
In the trauma bay, the staff cleaned up bloody bandages, replaced supplies, and waited for the war to deliver more wounded. Their next two patients had been shot with a burst of machine-gun fire as they searched a dirt road for bombs in Zhari district, west of Kandahar City. Private Second Class Scotty Hasting was hit in the right shoulder and left hip. Sergeant Jacob Manninen was shot in the left forearm.
In the operating room, surgeons removed Castagna's spleen and stanched the bleeding in his abdomen. Nurses wheeled him into the ICU, a few beds from Breece. He was still under sedation. A machine breathed for him.
"How do you like that?" Breece said. "Last patrol. One week to go home."
His platoon had been dropped off by helicopter at six that morning in a remote stretch of Panjwai district for its last mission, a daylong clearing operation. On the outskirts of a village a half hour later, Breece crossed a break in a wall. "We push through it and that's it. The next thing I know I'm upside down in the air," Breece told the gathered soldiers. "No legs, man."
McCulley stroked his forehead.
A general would visit several hours later to present Purple Heart medals to Breece, Castagna, Manninen, and Hasting. All but Manninen, who would return to duty after his wounds healed, would leave Afghanistan the next day.
Breece marveled again at his bad luck. "One week left," he said. "Pretty wild man. Freakin' wild. I'm just happy to be here."
"Do you want to call your wife now?" McCulley asked.
He nodded slightly, eyes still cloudy with anesthesia. "She needs to know," he said.
"Do you want to talk about what you're going to say?" McCulley asked. "It's a hard call to make. She's going to panic and probably cry."
Breece's friends left his bedside and gathered in the corridor.
McCulley dialed his wife's number and handed him the phone.
A moment passed.
"Hey, baby."