Nature is unstoppable, as Friday's earthquake demonstrated, but few nations have ever been quite as well prepared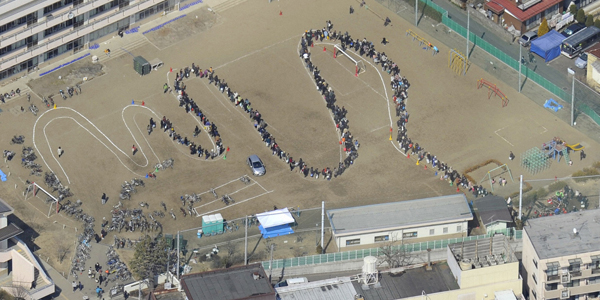 Residents of Sendai line up at a water dispensation center set up at a school yard. By Kyodo/Reuters.
When 60-year-old Hiromitsu Shinkawa found himself clinging to to the roof of his home, bobbing ten miles from shore in the open Pacific, where he had been swept by the tsunami following Friday's earthquake, he had every reason to expect that his fate, after 48 hours adrift, was probably sealed. So when sailors on a passing Japanese ship spotted Shinkawa, sent about a dozen rescuers to scoop him up, then wrapped him in a heavy yellow blanket and whisked him onto a nearby destroyer, where he was declared to be in good condition, the incident probably looked to many weary Japanese like a small miracle amid a much greater disaster.
Shinkawa, though certainly lucky, owes his life to more than just chance. Japanese naval ships had been crisscrossing the waters off of the country's northeast coast since the earthquake struck, ferrying supplies and workers as part of what has quickly become one of the largest such disaster response efforts on record. Over half a million people have been evacuated. Japan has
deployed
100,000 troops, 190 planes, 45 boats, 120,000 blankets, and 110,000 liters of gasoline; they are aided by missions from South Korea, Australia, New Zealand, Germany, Singapore, Mexico, and the U.S., which is drawing upon its massive military presence in Japan, including two aircraft carrier groups, each staffed with several thousand people. The rapidly growing number of search and rescue dogs shipped in from outside Japan is difficult to track, but they so far represent at least 10 different countries,
including
Singapore, which sent five dogs, and a Swiss contingent of collies that are
described
as "highly trained."
The international response over the past three days, effective though it has been, is dwarfed in comparison to Japan's efforts in the 15 years leading up to last week's earthquake. Building codes as strict as they are expensive, emergency drills and education for as many of Japan 127 million citizens as possible, and a vast network of response centers and workers ready to spring into action in a few minutes notice -- which is all the time one really has to respond to a disaster such as this -- all contributed to making Japan, according to the New York Times, "the best-prepared country in the world for the twin disasters of earthquake and tsunami." In cities, buildings are fortified with elaborate systems of hydraulic cylinders; in coastal towns, many homes are networked with fire detector-like devices that sound an alarm in case of an earthquake. Despite the damage, 145 of Japan's 170 emergency response hospitals are still online, as are 2,050 evacuation centers.
In Miyagi prefecture, the closest district to the original quake and the area worst hit by the tsunami, a number of small towns such as Minamisoma -- from which Shinkawa's home set sail on Friday -- have been devastated. But in Sendai, a city of one million 46 miles from Minamisoma and significantly closer to the epicenter, not a single building has yet collapsed. A visiting journalist describes the mood there as "sanguine," noting that "emergency services are working quite well and people have enough to eat and drink." In Tokyo, people are already putting the incident behind them and returning to work.*
It's no small thing that Japan, despite suffering an earthquake 900 times as strong as the 2010 quake that claimed an estimated 200,000 Haitian lives, has so far suffered about 2,000 deaths. Those numbers are even more striking given Japan's incredible density; the country's Kanto region, the closest to the epicenter, is only slightly larger than Haiti but four times as populous. In other words, four times as many people were exposed to 900 times the destructive force and have only suffered 0.25 percent of Haiti's mortality rate. Man is not immune to the forces of nature; Japan, if it can prevent nuclear catastrophe, may very well come as close as any human society ever has.
To achieve this feat, Japan drew heavily upon two resources it has in abundance: money and good governance. From the soldiers trained as health workers, to the civilian hospitals equipped for instant conversion into emergency response centers, to the elementary schools that double as drilling yards, it's difficult to find an aspect of Japanese public life that the state does not exploit to better prepare Japan for earthquakes and tsunamis.
In many ways, Japan's disaster preparedness is similar to the United States' post-2001 obsession with counterterrorism, for which the government spends billions on programs that touch countless aspects of American life, from boarding a plane to picking up a phone, in an effort to thwart deadly, psychologically scarring, and ultimately unpreventable catastrophe. It's not clear that terrorism has ever posed as existential a threat to the U.S. as earthquakes and tsunamis do to Japan, and in any case it's impossible to know what attacks U.S. counterterrorism has spared us. But it's clear that, though Japan is still struggling to respond and will do so for many days, weeks, and months ahead, the number of lives saved in the past 72 hours vastly eclipses whatever human or economic damage lay ahead.