The Shipbreakers of China
by Adam Minter
This is the sixth of seven posts that I'm calling Wasted 7/7. Previous in the series: 1/7, 2/7, 3/7, 4/7, and 5/7.
Below, a photo of a metal cutter walking across several tons of steel sliced from the hull of a ship on China's Yangtze River, at the world's second largest -- and Asia's biggest -- shipbreaking yard.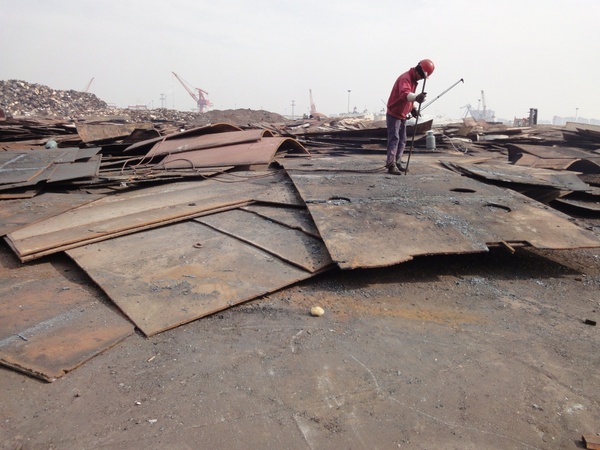 Shipbreaking: for the few Americans who know anything about it, the term invokes disturbing images of unprotected workers laboring in the shadow of hulking ship bodies on defiled beaches (in large part, thanks to William Langweische's landmark article on Indian shipbreaking for The Atlantic). And, indeed, that's an accurate depiction of how shipbreaking is done in most parts of the developing world. But the situation is changing in parts of Asia, in part because savvy Chinese steel and recycling entrepreneurs figured out that China's still relatively cheap labor allows them to offer environmentally-sound shipbreaking at prices that can't be matched in the developed world; and, in part, because Chinese workers simply won't tolerate Bangladesh-level working conditions and pay. These factors, and others, mean that Chinese ship breakers sometimes lose ship auctions to breakers in lower-cost countries (with their own, or nearby, steel industries to feed).
But when the market is right, China is a favored destination for this difficult, dangerous type of scrap metal. In 2009, its best year, China scrapped more than 400 ships -- top in the world -- ranging from oil tankers to tug boats. The photo below, taken from the deck of an automobile carrier in the process of being scrapped, shows a panorama of Asia's biggest ship breaking yard, with the steel which purchases its scrap in the very deep background. I strongly encourage clicking on it for an expanded version.
Of course, not every Chinese ship breaker is a model of environmental stewardship, but generally conditions are much improved over the last decade, especially as compared to India and Bangladesh. And this, I believe, is an optimistic development for an industry long associated with some of the developing world's most graphic industrial catastrophes, and a country -- China -- desperate to show environmental leadership.

Adam Minter is an American writer in Shanghai, China. He blogs at Shanghai Scrap.