The Metal Sorters North of Mumbai
by Adam Minter
This is the fifth of seven posts that I'm calling Wasted 7/7. Previous in the series: 1/7, 2/7, 3/7, and 4/7.
Below, a photo of women sorting shredded European automobiles at India's largest aluminum recycling plant, north of Mumbai.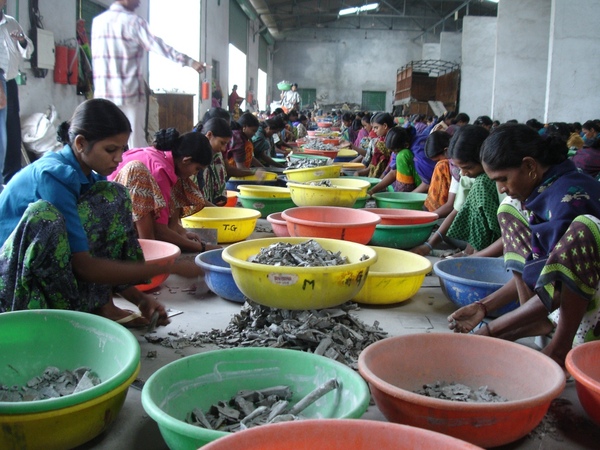 Twenty years ago, when Europe's once-abundant aluminum smelting industry began to relocate to Asia, it was only a matter of time before that industry's raw materials -- including scrap metal -- followed it. Today, Europe (and the United States) generates more scrap aluminum (especially from cars) than it can consume on its own, and Asia consumes more than it throws away. North of Mumbai, Indian women are paid approximately $80 per month, or roughly one-sixth what the women who do precisely the same type of sorting work receive in Shanghai (as seen in yesterday's "The Metal Sorters of Shanghai"). Unlike Shanghai's metal sorters, they aren't equipped with uniforms, face masks, or training. Rather, they are brought to the factory by sisters, mothers, aunts, and grandmothers, and taught this non-trivial, skilled work on the fly.
Payment is based upon volume (and quality) of metal sorted (experienced workers can accurately process several tons in a day), and so young workers can expect to make significantly less than their older relatives until they master the identification skills that this job requires.
Most do, in part because they have few other job options, unlike highly sought Chinese metal sorters, few of whom would accept these conditions, or the twelve hour days they'd be expected to spend in them. So long as India runs huge labor surpluses, few of India's scrap workers are going to complain about their situation; there are simply too many others to replace them. Perhaps their best hope, then, is to look to China and the twenty-five year evolution of its scrap recycling industry into a critical supplier of raw materials to respected manufacturers of iPhones, PCs, automobile engines, and other precision manufactured high-tech products. Conditions there aren't always ideal, either, but they're better than what they were, back when they looked like this, more often than not.
Adam Minter is an American writer in Shanghai, China. He blogs at Shanghai Scrap.