Japan's Earthquake and the Hazards of an Aging Population
Devastation in the Japanese countryside exposes a looming demographic crisis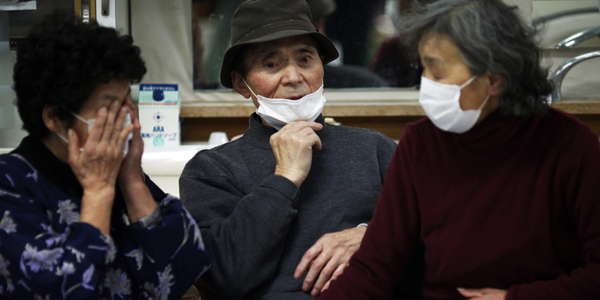 Much as the aftermath of Hurricane Katrina highlighted ugly realities in American society, the recent earthquake has uncovered a troubling side of Japan's national life: the vulnerability of its poor, neglected, and increasingly elderly rural countryside.
You see this in the faces of tsunami and earthquake survivors on television. About one-in-three residents in the areas of Japan worst hit by the disaster are more than 65 years old, a significantly higher ratio than the national average of 22.7 percent. Some 22 percent of Japan's elderly are poor, according to the Organisation for Economic Co-operation and Development.
Tohoku, the six-prefecture region hardest hit by the tidal wave, epitomizes the growing gap between rural and urban in Japan. Like much of rural Japan, the economies in the most devastated parts of Tohoku had been floundering for decades before they were swamped by the tsunami. Depopulation, aging, and chronic underinvestment in infrastructure had locked parts of the prefectures of Iwate and Miyagi into a spiral of decline.
Miyagi before the tsunami was more successful than Iwate in attracting investment from automotive and semiconductor manufacturers, but its coastal communities' prospects were almost as bad. Before the disaster, local economic planning officials, mindful of the risk of a big quake, were mulling ways to offset the effects of the prefecture's shrinking population and falling incomes. Cities such as Minamisanriku, one of the worst hit coastal towns, were living on borrowed time as fishermen aged, fewer young people became fishermen, fish stocks fell, and productivity waned.
One of the biggest challenges for these towns was psychological. Iwate in particular suffers from what Christopher Thompson, an associate professor of Japanese language and culture at Ohio University -- who was born and raised in Japan and has studied Iwate for decades -- calls an "inferiority complex," the result of decades of neglect from the central government. To survive, Thompson argues that Iwate's political leaders practiced "population politics," using local demographic data to lobby for more resources or justify economic development policies. But calling attention to the region's deteriorating demographics could not have helped package Tohoku to investors.
Relatively sparse roads and train lines have made the coastal cities in these prefectures less attractive to companies. With few jobs available, the young leave in droves for the cities to find work. But the old remain. The area's worsening demographics have made it less interesting to investors and even the national government.
Before the tsunami, Tohoku's contribution to Japan's gross domestic product was only a fifth of the mighty Kanto region's, which includes Tokyo. Only 37 percent of Iwate high school graduates continued to university, compared with about 50 percent matriculation rate nationwide.
Iwate prefecture has long been considered an economic backwater in Japan. The prefecture's rugged terrain, low incomes, and reliance on traditional industries such as fishing make it feel stuck in the past. The region "just doesn't fit into mainstream Japan's idea of what a modern, progressive, cutting edge prefecture should look like," said Thompson.
With hundreds of thousands of residents now living in shelters and many likely unemployed, the gap between declining regions like Tohoku and the more prosperous urban areas around Tokyo and Osaka could finally win greater attention in the national political agenda. This disaster could be an "opportunity to break out of the living on borrowed time mode and really start to create regions within Japan which are able to fend for themselves," suggested Noriko Hama, an economics professor at Doshisha University. There are nearly 8,000 rural towns across the country where more than half of residents are over 65.
The key to Tohoku's future may lie in its past. Tohoku is rich in Japanese cultural folklore, and many older locals still speak in a regional dialect. As Japan has struggled to redefine its place in the world beside a rising China in recent years, areas steeped in traditional Japanese culture and history have become increasingly popular with tourists. Depending on how shrewdly Tohoku rebuilds, the pull of nostalgia, if not a touch of patriotism, may boost the region's appeal as a tourist destination.
Japan, meanwhile, is aging faster than any other country in the world. It has a birth rate of 1.37 children per woman, far below the U.S. rate of 2.06 children per woman. Schools are closing for lack of students. The demographics of many urban districts outside Tokyo and Osaka, and countless rural areas around Japan, are rapidly approaching those of the recently hit coastal areas.
The tsunami and earthquake have done terrible damage to Tohoku. But the fragility of the region's battered rural communities could offer a vital warning to the rest of Japan. Natural disasters are difficult to predict and impossible to stop, but the dangers of an aging population are far more amenable to public policy. For now, we can only hope that they become matters of real public debate.
Photo by Damir Sagolj / Reuters