In Eastern Libya, Defectors and Volunteers Build Rebel Army
Using seized weapons, they've charged themselves with defending against Qaddafi's attempt to retake their cities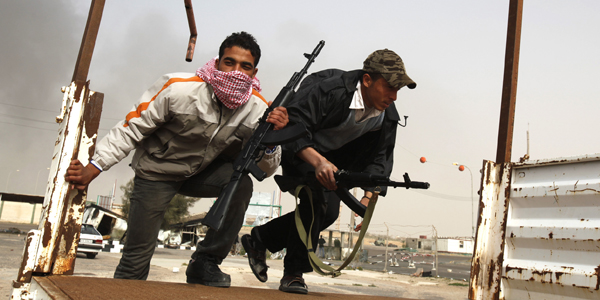 AJDABIA, Libya -- On Wednesday, Libyan leader Muammar Qaddafi's warplanes bombarded opposition-held Ajdabia, a coastal town 175 km south of Benghazi, the eastern city that has become the unofficial headquarters of anti-Qaddafi forces. That same day, Qaddafi also sent mercenaries to attack the oil-rich town of Brega, 80 km to the southwest, where fighting left 17 dead and, according to some reports, eight more dragged off by mercenaries to an unknown fate. Though fighting between the regime and the opposition has raged openly in Tripoli for the past week, these attacks brought Qaddafi's first overt hostilities against the rebel-controlled east of the country since yellow-hatted mercenaries massacred civilian protesters in Benghazi on February 17th.
Since ousting Qaddafi's forces and seizing control over much of eastern Libya on February 21, civilians and defectors from Qaddafi's army have been gathering in military camps in Benghazi, receiving training from former officers, arming themselves with weapons taken from now-abandoned depots, and preparing for the inevitable counterattack, which began two days ago. That morning, the nascent rebel force mobilized. Many in Ajdabia and elsewhere had received phone calls from friends and family in Brega, which they said was under attack. Newly trained and ready to fight, thousands of these volunteers sped down to help. Ultimately, this irregular force managed to hold the town. Victorious, many returned to the military camp in Ajdabia that evening.
A 26-year-old pharmacist and volunteer in the uprising who gave his name only as Mohammed, sped down the highway toward Ajdabia on Wednesday night. Also in his car was Abdallah Kamal, an Egyptian who participated in the uprising in Cairo's Tahrir Square, as well as myself and another foreign journalist along for the ride. The road's checkpoints were marked with burning tires and manned by young men sporting Kalashnikovs and kaffiyehs wrapped around their heads.
When we arrived, the entrance to Ajdabia was marked by a pair of graceful green arches and, next to that monument, two burned-out cars that had been run off the road. What looked to be about 100 rebel fighters milled around, some in randomly assorted camouflage sets, some in jeans, t-shirts, and leather jackets. Nearly all wore Kalashnikovs slung over their shoulders, some with ammunition belts draped around their necks. Periodically, machine gun fire rang out. Someone told us, "Don't worry, people are just firing into the air to celebrate." The air was thick with the acrid smell of burning tires. A man in brown robes was kneeling next to an anti-aircraft battery, preparing Molotov cocktails.
Dozens of the volunteer soldiers thronged around us, eager to tell us their stories. All had fought at Brega that day and, having held the city, their mood was high. Some were taxi drivers, some unemployed, some had worked for Qaddafi, only days earlier, as soldiers or police. All said they were ready to fight and determined to win.
Baraa Zuweyn, a 28-year-old blacksmith from Benghazi, carried a Kalashnikov he had picked up off a dead mercenary -- from Niger, he believes -- in the Benghazi military base on February 17th. "It is a great responsibility," he said. "I've never used a weapon before today. I shot at mercenaries in Brega." He took out the clip and fiddled with it for a moment before clicking it back into place.
In a moment of playful excitement, someone handed a Kalashnikov to an 11-year-old named Ahmed. He waved it proudly in the air. As the crowd cried "Allahu akbar! Allahu akbar!" several in the group tried to get this child to take his finger off the trigger.
"I am ready to die for the sake of Allah," said 42-year-old driver Ahmed Salam Bruki. He had not handled a weapon since concluding his military service 15 years earlier but had arrived in Brega ready to fight at 10 that morning.
"Qaddafi should be cut into pieces," said Jebil Mohammed, a 27-year-old who had quit the police force to join the opposition on February 17, the day mercenaries had killed his 17-year-old cousin in the Ketibah. "He destroyed Libya."
The jumbling crowd gave way to a somber man in full military fatigues. At 37, Mohammed Sharif had spent most of his life in Qaddafi's army, which he'd joined as a volunteer in 1990, eventually becoming a commando. "The men in Qaddafi's army had no spirit at all, no will to fight for him," he said. He left on February 17th. "When Qaddafi hired mercenaries to kill us [the Libyan people], I joined the opposition."
Qaddafi, fearing a military coup, has for decades regularly purged and rearranged his armed forces to prevent them from becoming too strong. But he has been so successful in preventing soldiers from forming solidarity within their ranks or loyalty to their commanders that he may have inadvertently contributed to his own downfall.
Unlike in Egypt, where a well-funded and cohesive military stood as an institution unto itself, Qaddafi's practices have left Libya's military decentralized, disorganized, and not always loyal to their erratic head of state. Libya has no separate ministry of defense; Qaddafi himself serves as direct commander of all armed forces, meaning that military policies are subject to his idiosyncratic and mercurial will alone. His policy of recruiting African mercenaries was barely tolerable to Libyan soldiers before the events of February 17th, and the fact that he used them against his own people on that day appears to be one of the biggest factors driving former members of his army to defect and join, or even lead, the opposition.
Sharif pointed out an anti-aircraft armament that he and his men had recently assembled from parts they'd found in one of the military camps in Ajdabia. "There is no leader here. We're not fighting with guns and anti-aircraft arms, we're fighting with our hearts," Sharif explained. The men shouted their approval. "This isn't war, it's a revolution. I am ready to fight tomorrow, and the next day, and the next, and the next."
Sharif told the men to return to their posts guarding the city entrance. After they swagger off, he confided, "Sure, it's a problem that there's no discipline. See these empty boxes of 50 millimeter ammunition on the ground? Volunteers brought them from Benghazi and just dumped them here. I had to struggle to organize it and bring it all inside. There's no security here and there are arms everywhere."He turned around and walked off into the night. Qaddafi would likely attack again, and Sharif had to continue the work of preparing the eager defectors and volunteers who'd now become his men.
Photo: Volunteer fighters in Ajdabi. By Asmaa Waguih / Reuters