Grateful for Airstrikes, Advancing Libyan Rebels Face New Challenges
U.S. and European missions have cleared the rebels' way forward, but their next steps will require more than bombs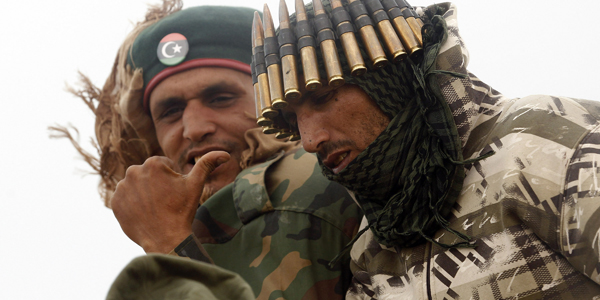 AJDABIA and BREGA, Libya -- The Saturday after U.S. and European air strikes destroyed the tanks Qaddafi had sent to surround Ajdabia, the mood was high among the Libyans who came in from elsewhere to survey the damage in the town. Next to a ravaged tank at the outskirts of the city lay the scorched corpse of one of Qaddafi's soldier. Someone jerked away the blanket covering the fire-blackened skull and carefully placed the insignia, whose two green stripes and wreath-encircled tank identified the man as having been a corporal in the Armed Guardian Unit of the Libyan Jamahiriyya's army, on top of the blanket. A crowd of civilians photographed the sight before jumping on a destroyed tank, one of about 20 littering the road leading to Ajdabia.
Twelve days ago, Ajdabia, the strategic crossroads between the opposition capital of Benghazi and Qaddafi's stronghold in Tripoli, was firmly in rebel hands. Qaddafi hit it with air power and ground troops and took over in a sweep many feared would ultimately extend to Benghazi. Now the streets of the once-thriving town of some 150,000 residents are largely empty, save for a few men strolling who, one Libyan from Benghazi noted, were suspiciously clad in sweatpants with the logo of the Tripoli football club. "Who would wear that here? We're in Benghazi football club territory," said 26-year-old Mohammed Benghouzzi.
I first encountered the rebel soldiers in their native habitat -- along the desert highway connecting Benghazi to Tripoli -- after their first big victory against Qaddafi's forces, which they had driven them out of Brega on March second. Their mood was triumphant; they had shocked even themselves with their success.
By March 26, the soldiers had just regained control of Ajdabia and Brega as well -- mainly as a result of the air strikes that had begun at midnight. Field-trippers from Benghazi, who came to inspect the damage, verify the town's status, or look for loved ones, far outnumbered the soldiers, whose mood was more dazed than festive.
"We knew the air strikes were coming because we heard the planes," said Mamdoh Khalifa, a 27-year-old Egyptian refrigeration technician who illegally crossed the border into Libya "to fight Qaddafi and seek martyrdom." Khalifa said that he and his fellow soldiers had been 20 kilometers north of Ajdabia the night before. "At midnight we hard the bombs, and at one a.m. we took the city." After hearing the air strikes, they returned to Ajdabia. "No one gave us the command to go," said Khalifa. "Our command structure is not clear. We don't wait for orders."
"We thank the coalition forces," said Wa'il Musa Mohammed, 25 years old and a seven-year veteran of Qaddafi's army before he joined the rebels, clasping his hands together. "Qaddafi killed our brothers -- he is a criminal." Gesturing toward a single-story concrete building, whose green and white striped walls were riddled with bullet holes, Mohammed said, "They were here yesterday." A few mattresses were thrown on the floor next to some dull-colored blankets and empty soda cans.
Ajdabia's western gate opens the road to Brega and, some 700 kilometers further, Tripoli. After air strikes cleared Ajdabia's access points from the tanks that had been planted there for at least three days, rebels moved ahead to Brega. I traveled with them.
The road was clear almost to Brega, until, as we neared the city, hundreds of vehicles shot down the highway back towards Ajdabia, honking furiously and stirring up the desert sands. Reports of a car accident followed the delivery of three living, one almost surely not, in truck flatbeds.
Nasib Daow, an engineer from Benghazi, said he came to Brega with his two sons to fight. His keffiyeh was tied neatly around his head and he grasped his Kalashnikov with ease, a soldier with a dignified trace of a Scottish accent, a token of his studies in Perth. "It's Qaddafi's fault that everybody thinks every Libyan has a bomb in his pocket. We want freedom and democracy, we want to be loved by the whole world."
"Look at this," Daow said. "They don't even hit the asphalt. We thank everyone very much for the air support. They saved a lot of civilian lives. We don't need foreign troops though. We don't have to be Iraq and Afghanistan. In the future, we can be friends in trade and technology, through companies."
Mainly on account of Qaddafi's violent crackdown by land and sky, Brega itself was a dark and rubbled ghost town, with electricity out and reportedly water as well. The few cars left on the streets were burned out. Soldiers wandered the streets, advising that the front line was some 6 kilometers outside the town limits, and that it was too late to go there.
The next day, rebel soldiers arrived at Ras Lanouf and, with continuous air cover, pushed on past Bin Jawwad to a point about 120 kilometers outside of Sirte. With a population of 150,000, Sirte is the last major settlement between the rebels' front line and the west they hope to liberate. It is also Qaddafi's hometown and a place where tribal politics, ancient alliances and enmities, are likely to play a significant role in the fate of the city. As rebels hover in the desert, pondering a strategy for taking Sirte, the U.S. and European air cover might not be as helpful as it was in, for example, Ajdabia. Sirte is the first town the rebels will assault that may not be predisposed to supporting the revolutionaries. If and when they arrive, their biggest challenges may be political, not military.
Said Marai El-Mutardi, a 30-year-old petroleum engineer working in the Congo whose visit home to Benghazi took an unexpected turn five weeks ago, said, "We think Sirte will be taken from within. It's very complicated there with the tribes -- let them work it out, maybe we take the desert road around Sirte and go join the revolutionaries in Misrata."
On March 23, before the air strikes on Ajdabia began, Rashid El-Qaddari had rested pensively against a banged-up white sedan on the highway 12 kilometers north of town. El-Qaddari, a master's student in history at Benghazi's Gar Younis University, was thinking of his brother in Ajdabia, who he had not talked to in four days. "We want air strikes, but the tanks are in between buildings. They're using human shields. They're negotiating a surrender now with a civilian inside the city. I don't know who it is," said El-Qaddari. "Unless there are civilian casualties, we prefer air strikes to negotiated surrender -- it simplifies the operation."
El-Qaddari got his air strikes, and the rebels got Ajdabia. But Sirte, their new focus, may not be as easy. As the rebels move west, closer to Qaddafi's center of power, they will encounter similar challenges.Now they must count on the internal politics in contested towns to shift in their favor. "Qaddafi's support is breaking. With continued air strikes, we can get to Tripoli," said Daow.
Photo by Andrew Winning/Reuters