China's Nascent Environmentalism
By Christina Larson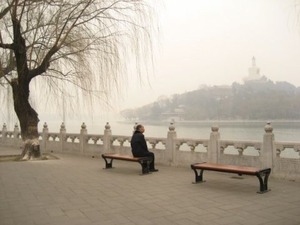 Many thanks to Jim, and to readers, for your time this past week. In closing, I wanted to offer, as other guests have done, a more thorough introduction and an invitation for readers with similar interests (or "tips," as reporters say) to contact me at christina [dot] larson [@] gmail [dot] com.
Like Jim, I began my journalism career at The Washington Monthly, a dogged little magazine often ahead of the curve in intuiting the national conversation (hiring a 20-something Jim way back in the day wasn't bad, eh?) and in being scrappy before all of new media was scrappy.
After reporting for the Monthly on what I call the long history of America's environmental movement (links here and here) -- starting with 19th century worries about the closing of the western frontier and timber shortages in the East (timber being the "oil" of its time) through today's climate debates -- I began to wonder how other countries have dealt with resource challenges, or failed to.
Since 2007, I have been reporting in China (and elsewhere in Asia), looking at the efforts of China's environmentalists, scientists, lawyers, and others to rein in their country's enormous pollution toll and related problems. Usually I approach these larger questions by chronicling the particular ambitions and struggles of people on the ground trying to make a difference. (Some links here, here, here, here, here.)
A few things distinguish China's recent environmentalism history: the speed and scale of the problems, and the preference of the government to operate in top-down fashion.

Consider that the impetus for America's environmental protection system often came from the ground up -- independent journalists like Rachel Carson and George Bird Grinnell identifying failures in government policy, and powerful outside organizations like the Natural Resources Defense Council suing the EPA when regulations weren't upheld. There's much less space for journalists and activists in China, although more than you might guess. (Hence my interest in writing for The Atlantic about Chinese reporters and grassroots leaders.)
China may clean up its environmental mess eventually, as the United States and Western Europe have done (once Londoners couldn't see the sun at noon, so thick was "
London smog
"), but it almost certainly
won't
do so in the same fashion as the West. In the meantime, China's mess is everyone's business; mercury pollution from Chinese coal plants
drifts
across the Pacific to plague the U.S. west coast, while its carbon emissions threaten the planet.
The story isn't all black, though, as necessity is the mother of invention. Today, China is a vast laboratory for green experimentation, from carbon-exchange markets to eco-cities designs -- some of which will turn out to be merely hype, and some of which may yield new insights that planners in America and the West can learn from.
On that topic, dear reader, I do encourage you to reach out with your ideas and observations. I am writing from DC, but will heading back to China in May. Once my guest-blogging tenure is up, if you're looking to find me: I'm a contributing editor at
Foreign Policy
magazine (another small magazine with terrific colleagues) and a fellow at the New America Foundation. You'll also, time to time, find my related work in
The New Republic, Time, Scientific American, Washington Monthly, Yale Environment 360, Boston Globe,
and elsewhere.
 Happy trails.
Christina Larson is a contributing editor at Foreign Policy magazine and a Schwartz fellow at the New America Foundation. Follow or message her on Twitter at @larsonchristina.