Picture of the Day: Qaddafi's American-Jet-Crushing Golden Fist Sculpture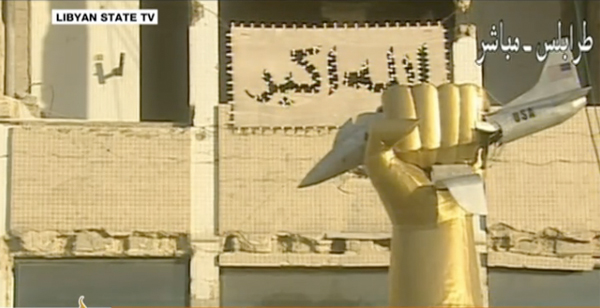 Muamarr Qaddafi spoke to (or perhaps at) the people of his country today on Libyan state television. Al Jazeera English rebroadcast the feed with a translator. Intercut with Qaddafi's various rantings and ravings, we were shown a few street scenes including this one of a sculpture in Tripoli. It shows a golden fist crushing an American jet, and may have been
commissioned after Ronald Reagan ordered airstrikes
on the country in 1986.
It's not the first time the sculpture has made an appearance on the world stage. Qaddafi managed to get French President
Nicolas Sarkozy in front of it
for a photo op a few years ago. The sculpture apparently stands outside a building destroyed by American forces during
the Reagan-era raid
and from which Qaddafi appears to be giving his speech.