Next: Will Egypt's VP Have More Credibility Than Mubarak?
The key question is whether Suleiman, senior military leaders, and major elements of the opposition can agree on reforms that will quell the protests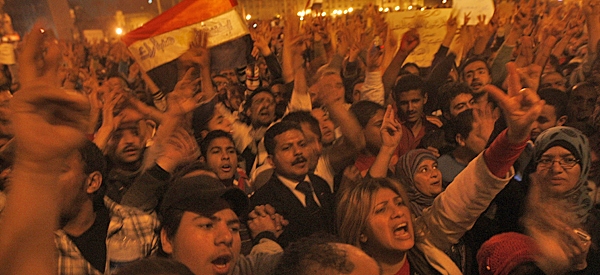 Khalil Hamra/AP
As street protests intensified in recent days, it became increasingly difficult to imagine the Egyptian strongman hanging onto power until presidential elections scheduled for September. Mubarak had promised reform too often in the past, only to betray his word each time. For members of the protest movement, Mubarak clinging to power symbolized all that they have come to oppose in the calcified Egyptian political system.

"If Mubarak resigns, it will be a very important and positive development that won't end the drama in Egypt, but it will mark the end of the beginning," said Robert Satloff, executive director of the Washington Institute for Near East Policy. "President Obama has stressed that the transition must 'begin now' in Egypt, and a resignation will be irrevocable evidence that the transition has begun. That increases the chances that the transition will be orderly and peaceful, as opposed to chaotic and violent."
The critical question now is whether Vice President Omar Suleiman and his tight circle of advisers and senior officials, most of them former military officers themselves, can command any more credibility in the eyes of the opposition movement. Certainly there is little in the resume of the former intelligence chief and right-hand man to Mubarak to suggest that Suleiman will emerge as the hero of a democratic revolution. Many regime faithful with a huge stake in the status quo may still hope that Mubarak's resignation takes all of the air out of the protest movement.
"Clearly we've seen the end of the Mubarak era, and that's a critically important step, but there is a very long way to go if this drama is to result in lasting change in Egypt," said Kenneth Pollack, director of the Brookings Institution's Saban Center for Middle East Policy. "There are still many conservative and hidebound regime elements who will hope to make a scapegoat out of Mubarak in an attempt to preserve the old system."
The key to watch now is whether Suleiman, senior military leaders, and major elements of the opposition can coalesce behind a series of reforms credible enough to quell street protests.
"If that happens and we see an orderly transition to a more democratic regime, then the Egyptian revolution will turn out well," said Pollack. "If it doesn't happen, and further protests lead to increased chaos and perhaps a fracturing of the Egyptian military, then the Egyptian revolution could still go very badly."