Tracking the ongoing demonstrations and government response
1:17 p.m. EST / 8:17 p.m. Cairo
  On Wednesday we warned that Cairo's Tahrir Square, where thousands of protesters are hemmed in by hostile government forces, could become a humanitarian crisis. (
See day 6 12:21 p.m. EST
.) This report from a former U.S. ambassador, relaying a conversation with an Egyptian media personality in Tahrir Square, reiterates this risk. It also warns that violence against the protesters in the square is continuing and calls on the U.S. to intervene.
Mubarak forces have cut off Tahrir -- no water, food, medical. They are targeting cameras and army not intervening. Source and youth in square believe that they are intending to cut off people in square, eliminate cameras, then massacre. He knows of 35 dead, and has heard that hundreds seriously injured, and 1000 wounded. He emphasizes that people in Egypt urgently want president Obama or Secretary of State to speak on their behalf. You and I know that they can't necessarily make this stop, but I can't emphasize strongly enough the importance of at least speaking out forcefully against Mubarak induced violence and in favor of protesters. He also said new PM apologized on state TV for yesterday's massacre, but also said he was trying to improve government's image. Source insisted that attack in Tahrir was going on during this apology! Source also relayed that Egyptian State TV is reporting that Israel, with help of US intelligence was behind violence yesterday. I know that is at odds with the "apology", but nonetheless all this is happening. Problem with non Arabic speaking US reporters is that they are out of touch with what Egyptian government is saying to its own people. And the protesters they are interviewing in Tahrir Square also don't know because they are cut off. Bottom line: from US reports this AM sounds like things are much better, but source's live reports from Tahrir say otherwise, that attacks on protesters continue, even as PM apologizes for yesterday's attacks. Hope you can spread the word.

12:45 p.m. EST / 7:45 p.m. Cairo
  The question now facing Egypt's protest movement is whether they should continue to push for their long-held demand that Mubarak's regime step down or should accept the government's compromise, laid out in Suleiman's address. The government is promising that Mubarak will not run in the coming president election, to finally include opposition groups, and to implement long-desired Constitutional reforms. Implicitly, the government is also offering an end to the brutal and very deadly crackdown currently underway. The key dilemma is not whether this compromise is acceptable -- Mubarak remaining in power for six more months would be a relatively modest price to pay -- but whether the regime can be taken at its word. Past government promises of liberalization and compromise, such as the 2005 pledge to allow the Muslim Brotherhood to participate in elections, have all been betrayed. While Egyptian protesters have little reason to trust Mubarak, the prospect of ending the violence will surely be a tempting one.
12:32 p.m. EST / 7:32 p.m. Cairo
The Atlantic
's Graeme Wood on MSNBC discussing his
dispatch from the Tahrir Square clashes
and his own clash with pro-Mubarak forces, who targeted him as a journalist.
Visit msnbc.com for breaking news, world news, and news about the economy
12:26 p.m. EST / 7:26 p.m. Cairo
  Comedy break: many are understandably upset about this tweet from shoe company Kenneth Cole attempting to capitalize on the violence and turmoil in Egypt. The company quickly posted an acknowledgment of their misstep.
12:11 p.m. EST / 7:11 p.m. Cairo
  This photo shows today's protests in Yemeni capital Sana'a.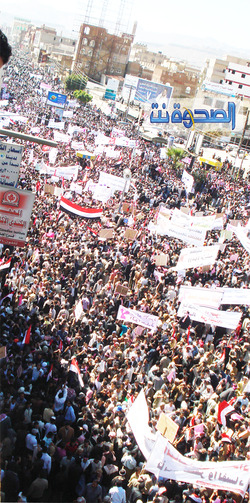 11:57 a.m. EST / 6:57 p.m. Cairo
  Key takeaways from Suleiman's address: Mubarak still refuses to step down before elections, which will be held August or September; the government is reaching out to the Muslim Brotherhood; the government is offering Constitutional amendments, but only after the election; the government is still denying responsibility for the violence in Cairo. The Century Foundation's Michael Wahid Hanna comments:
11:52 a.m. EST / 6:52 p.m. Cairo
  Recently appointed Egyptian Vice President Omar Suleiman, in an address on state TV, offered to reach out to opposition groups and said presidential elections would be help in August or September. He also pledged Constitutional "amendments," including to Article 76, a source of some of Egypt's harshest political restrictions and which the U.S. has long called to be reformed. "Even the entire Constitution could be redrafted," he said, but only after the elections; "we have no time to discuss it now." Suleiman reiterated Mubarak's position that the president would not step down before the election and that the ongoing were a danger to the country and should end. "Mubarak studied the demands of the protesters and agreed to them, he has a road map to implement the demands," he said. "I want to send a message to Egypt's youth, because they told us they have demands, which we agree, we met with some of them," he said. But he said Mubarak "has responded to all the lawful demands." Suleiman said the government had reached out to the Muslim Brotherhood for political negotiations but that the group was "hesitant" and had not yet agreed. Regarding the violence in Cairo widely considered to be a government crackdown, Suleiman cited "foreign agendas" and wondered who was "pulling the strings," continuing the government line that it has not been involved.
11:25 a.m. EST / 6:25 p.m. Cairo
  Will attacks on famous U.S. TV journalists draw greater world attention to today's violence in Cairo? On Tuesday, CNN's Anderson Cooper and his crew were surrounded and attacked by pro-Mubarak forces. On Wednesday, ABC News' Christiane Amanpour and her crew came under similar attack. "Tried filming on bridge into sq. Mob surrounded us, chased us into car shouting that they hate America - kicked in doors & broke windshield,"
she tweeted
. Here's video related to both incidents. Above is Anderson and crew fleeing a hostile crowd; below is Amanpour.
11:10 a.m. EST / 6:10 p.m. Cairo
  In Algeria, where the Tunisian uprising inspired a similar protest movement, the government has acceded to demonstrated and is making several key concessions. It will lift the country's 19-year "emergency law," which has long been used to stifle political dissent. The government will also now allow political protests, except in the capital of Algiers where they remain banned.
10:48 a.m. EST / 5:48 p.m. Cairo
  Reports are still trickling in about the brutality of last night's violence in Cairo, when many government forces dropped the facade of being grassroots Mubarak supporters and more openly assumed their actual roles as riot police or secret police. This excerpt from a
haunting Wall Street Journal account
provides a small glimpse into the crackdown currently underway. Reuters reports that at least 150 people have been killed so far in Egypt.
The staff at the emergency ward of Cairo University hospital received a new influx of people severely injured by gunshot wounds beginning around 4 a.m Thursday morning. Five were dead, and another four were in critical condition.
10:37 a.m. EST / 5:33 p.m. Cairo
  Egypt's Ministry of Health reports that so far at least 13 people have been confirmed killed during Wednesday's clashes in Cairo and 1,200 injured.
10:33 a.m. EST / 5:33 p.m. Cairo
  In a sign of the government's rapidly escalating campaign to remove journalists from Cairo's streets, the Washington Post has just
posted this notice
. While it's impossible to know the exact logic behind these arrests, governments tend to oust journalists in advance of an act it does not want the world to witness.
We have heard from multiple witnesses that Leila Fadel, our Cairo bureau chief, and Linda Davidson, a photographer, were among two dozen journalists arrested this morning by the Egyptian Interior Ministry. We understand that they are safe but in custody and we have made urgent protests to Egyptian authorities in Cairo and Washington. We've advised the state department as well.

10:25 a.m. EST / 5:25 p.m. Cairo
  Army troops are deploying in increased numbers to Cairo's Tahrir Square, which has been the center of much of today's violence. Soldiers broke up some of Wednesday's worst clashes by physically forcing themselves between the two sides. It's unclear if they are hoping to play a similar role again.
10:09 a.m. EST / 5:09 p.m. Cairo
  Journalists in Egypt have come under
increased attack
in what appears to be a coordinated campaign by government security forces. At least ten have been detained, including three Al Jazeera journalists seized by secret police and two New York Times stringers arrested, and more attacked. "The crews have never been as scared as they are now," Al Arabiya news director
tells
the New York Times. Al Arabiya now reports that government forces are scouring hotels often used by the media for journalists.
9:38 a.m. EST / 4:38 p.m. Cairo
  Cell phone company Vodaphone says that the Egyptian government has been sending out mass text messages over its network, which includes a large slice of Egypt's cell phone users. The apparent intent of this new and unusual propaganda technique is to fool cell phone users into believing that their friends are sending them earnest pleas of support for Mubarak. Here's a statement from Vodaphone's site:
Under the emergency powers provisions of the Telecoms Act, the Egyptian authorities can instruct the mobile networks of Mobinil, Etisalat and Vodafone to send messages to the people of Egypt. They have used this since the start of the protests. These messages are not scripted by any of the mobile network operators and we do not have the ability to respond to the authorities on their content.

Vodafone Group has protested to the authorities that the current situation regarding these messages is unacceptable. We have made clear that all messages should be transparent and clearly attributable to the originator.

9:29 a.m. EST / 4:29 p.m. Cairo
  Mubarak's government has banned several former senior officials from the government, frozen their financial assets, and banned them from international travel. The move is seen as an effort to appease protesters, particularly by arresting the country's Minister of Interior, Habib Al Adli. That ministry, which runs the feared and hated internal security forces, is an important pillar is regime stability, especially against the protest movement. Egyptian state TV is reporting that Adli is being interrogated as to why police were withdrawn from many of Egypt's streets for several days earlier this week. The government has imposed similar restrictions on two other ministers and a wealthy industrialist loyal to the regime.
9:23 a.m. EST / 4:23 p.m. Cairo
  Egyptian opposition parties have formed what they're calling a "Negotiation Steering Committee," an umbrella group meant to serve in organizing for a hypothetical transitional government. Mother Jones' Jaeah Lee has a helpful backgrounder on
the committee's ten chief officers
, who could stand to lead the opposition if Mubarak falls.
9:16 a.m. EST / 4:16 p.m. Cairo
The Atlantic
's
Graeme Wood talks to a sword-wielding Cairene
manning a makeshift "checkpoint" in the suburbs, whom Wood calls "Mr. Cleaver."
At some point, though, he and his ilk will start making a decision. Will they choose more order or more chaos? More order means more Mubarak, in a devil's bargain with the middle class whereby he restores order by arresting the protesters, putting cops back on the street, and, with the collusion of neighborhood vigilantes, turns Egypt into not just a police state but a pariah state as well. More chaos means more demonstrations and a scary, unpredictable future that could make his role as author of his own destiny permanent. Right now I can't tell whether the Mr. Cleavers of Cairo are rushing to help the pro- or anti-Mubarak side - or are content to sit back and wait.

9:09 a.m. EST / 4:09 p.m. Cairo
  Protesters in Cairo have reportedly retaken the 6th of October Bridge, which is roughly 800 meters from protest center Tahrir Square (see a
map
of the two sites here). Here are Al Jazeera's Evan Hill and Gregg Carlstrom a few moments ago.
Update (9:19 a.m.)
: The protesters have reportedly driven government forces from the bridge completely.
9:02 a.m. EST / 4:02 p.m. Cairo
  The U.S. has
recalled
special envoy to Egypt Frank Wisner, who was appointed specifically for this crisis but has found his conversations with Egyptian officials no longer useful. What path forward for the Obama administration, which had warned Mubarak against violence and called for an "immediate transition" to democracy? Foreign Policy's
Marc Lynch urges
, "The time has come for the Obama administration to escalate to the next step of actively trying to push Mubarak out."
The administration has already condemned and deplored yesterday's violence. It must now make clear that an Egyptian regime headed by Hosni Mubarak is no longer one with which the United States can do business, and that a military which sanctions such internal violence is not one with which the United Staes can continue to partner. The Egyptian military must receive the message loudly, directly and clearly that the price of a continuing relationship with America is Mubarak's departure and a meaningful transition to a more democratic and inclusive political system. It must understand that if it doesn't do this, then the price will not just be words or public shaming but rather financial and political. If Mubarak remains in place, Egypt faces a future as an international pariah without an international patron and with no place in international organizations or forums. If he departs, and a meaningful transition begins, then Egypt can avoid that fate.
8:50 a.m. EST / 3:50 p.m. Cairo
  Besieged, under attack for hours, and increasingly desperate, protesters in Tahrir Square have set up a makeshift "prison" at the nearby Sadat metro station. Men fighting on behalf of Mubarak, and most likely at his behest, have been dragged, injured and sometimes unconscious, underground for "interrogation." Jarring photos of the station are an indication of just how far the once-peaceful protesters have been pushed and a reminder that war has no innocents. The photo below, by Evan Hill, shows a captured man pleading for his life.
8:38 a.m. EST / 3:38 p.m. Cairo
  Who are the Egyptian men, posing as grassroots Mubarak supporters but widely considered to be hired by the government, who appeared suddenly and as if from nowhere on Wednesday to begin their prolonged and vicious attack on protesters?
Ursula Lindsay explains
, concluding, "We are either witnessing the ugly death throes of a regime, or the beginning of a long, terrible crackdown."
I've been working in Egypt for 7 years and I know that "pro-Mubarak supporters" are always trouble. Everytime there is an election or a demonstration, somewhere in the vicinity, alongside the police, you'll see rows of shabbily dressed young men, waiting to be given the order to rough people up -- what people here simply refer to as "beltagiya" (thugs"). They are made up of petty criminals; police informants; unemployed youth; people over which the regime has some leverage. In 2004 I spoke to a young man who told me his boss (an NDP businessman) had simply told all his employees to go out and demonstrate for Mubarak or they would be fired. We often hear reports of these guys being offered little incentives--small amounts of cash, a chicken lunch.

8:33 a.m. EST / 3:33 p.m. Cairo
  The violence that began Wednesday in Egypt, when often armed men widely considered to be sponsored by President Hosni Mubarak's government first attacked protesters in Cairo and elsewhere, has only escalated since. After over 24 hours of all-out fighting, battle lines have hardened around protest centers such as
Cairo's Tahrir Square
. After a long night of hand-to-hand combat, punctuated by occasional bursts of automatic gunfire, the protesters still hold the square, although in greatly reduced numbers. A concerted crackdown on journalists, which also began yesterday, has also escalated rapidly, with many reporters Egyptian and foreign beaten or captured outright. The military, as before, has largely stood by. The Obama administration, which clearly and publicly warned Mubarak against violence, is still struggling to respond.
The Atlantic's Justin Miller tells the story of Egypt's protest movement from the "Tunisian spark" through today:
Read our coverage from
January 28
,
January 29 part one
and
January 29 part two
,
January 30
,
January 31
,
February 1
, and
February 2
. The Daily Dish is also providing
live coverage
.
Photo by Chris Hondros/Getty Images
We want to hear what you think about this article. Submit a letter to the editor or write to letters@theatlantic.com.
Max Fisher
is a former writer and editor at
The Atlantic.