Recently installed in Beijing, I was composing a note of thanks to the fourth week's crew of guest bloggers, just finishing their stint, and a welcome their successors. I'll do that in a little while, to appear by Sunday night U.S. time.
But a Sunday afternoon look outside the window, in the same Guomao district where we lived from 2007 to 2009, instantly brought back, madeleine-style, a whole past life. We're on a lower floor than before, and looking eastward toward the Fourth Ring Road rather than south along the Third as we used to, but here is Beijing as we often saw and remembered it. A view east along the south side of Jianguo Road, 2pm, February 20, 2011: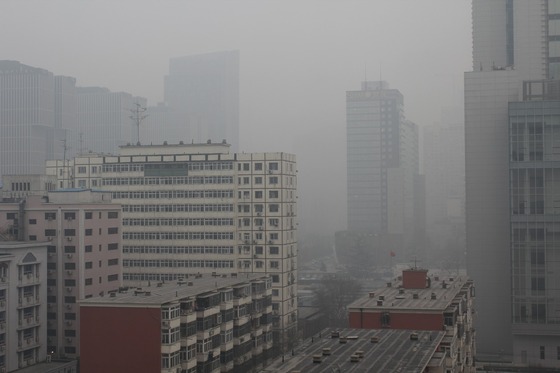 Out of curiosity, I checked the "BeijingAir" Twitter feed that had started up when we lived here. Chinese authorities
don't report
levels of "PM2.5," the smallest particulate pollutants that are most health-damaging because they go deepest into the lungs. The
BeijingAir site
, whose very interesting history you can follow
here
, does report PM2.5. This is what it showed at the time of that photo: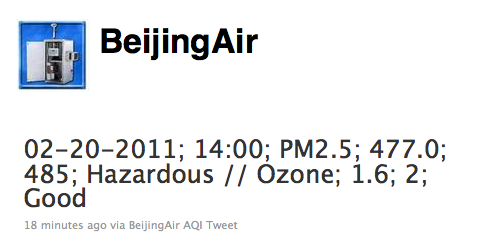 For reference, an Air Quality Index (AQI) reading above 300 for PM2.5 is
classified as
"hazardous" by the US Environmental Protection Agency. From 201 to 300 is merely "very unhealthy." Outside right now it is 485.
No cattiness here: it is genuinely exciting to be back in the activity, bustle, chaos, and promise that is modern China. And this is certainly the right setting in which to be writing about developments here. But a view like this is also reminder number 1.3 billion of the gap between the all-conquering Chinese superstate described in much of the Western press and the realities in which so many Chinese people live. 
___
UPDATE
: The 3pm reading is over 500, "beyond index." But at least the Ozone level is good!