A Note on Egyptian Torture
Robert Baer, the old CIA Middle East hand and author of See No Evil and, more recently, Sleeping with the Devil: How Washington Sold Our Soul for Saudi Oil, once told the New Statesman:
If you want a serious interrogation, you send a prisoner to Jordan. If you want them to be tortured, you send them to Syria. If you want someone to disappear - never to see them again - you send them to Egypt.

Yesterday, Human Rights Watch released a report on torture and impunity in the now defunct Egyptian prison system. It's worth a glance.
Perhaps the most famous alumnus of the system is Ayman al-Zawahiri, al-Qaeda's number two. He spent the first ten years of his life in the wealthy Cairo suburb of Heliopolis, the same stomping ground of a young Gamal Mubarak, the former heir to Cairo now believed to be hiding in London.
Zawahiri, a physician, was the son of two of the cities most prominent families. In 1981, following the assassination of President Anwar Sadat, Zawahiri was arrested. He had been plotting to topple the regime since he was 15. He opposed the assassination, instead suggesting a coup was the best method of attaining power, but played a small role in the plot, nonetheless.
Lawrence Wright, in his Pulitzer Prize winning The Looming Tower, describes a famous scene from the ensuing mass trial, which dragged on for three years: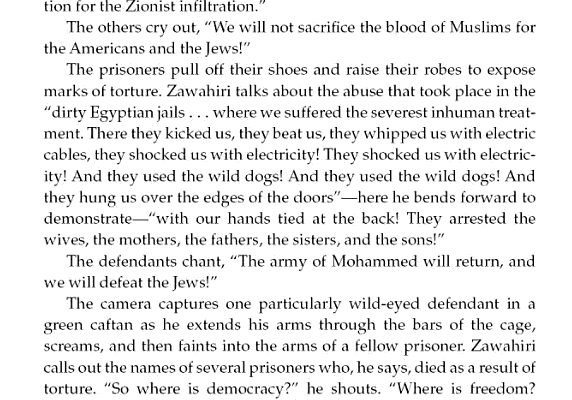 In his one-man play,
My Trip to al Qaeda
, which was later turned into an HBO documentary, Wright elaborated on the use of dogs -- specifically, how they were trained to rape prisoners.
Zawahiri is part of a lineage of giants in the modern jihadi movement who were further radicalized by their years in prison.There's also Sayyid Qutb, the critical thinker in the evolution of the Muslim Brotherhood's ideology; the blind sheik Omar Abdel-Rahman whose terror network Gamaat Islamiya killed scores, and who, years later, inspired the 1993 World Trade Center bombers in New York mosques; and Abu Musab al-Zarqawi, who, despite pronounced differences with al-Qaeda central, led the organization's ill-fated franchise in Iraq and helped drive the nation into civil war. Zarqawi purportedly lost his toenails in a Jordanian prison due to torture and infection.
The effect on others is less clear. The brutish Zarqawi's more intellectual guide and prison mate, Muhammad al-Maqdisi -- who has made as significant a contribution to the canon as any living theologian, and who has recently turned his eyes to Russia -- has maintained a rather even keel across his numerous prison terms. Many in online forums have even accused him of weakening his views over time. A number of Saudi clerics, too, have calmed their views after terms in prison.
The narrative is simply more complex than a direct correlation. And, since 9/11, a number of regimes in the region have become quite serious about counter-radicalization. Carnegie's Chris Boucek's report on the Saudi program is an important read, and Ashour Omar's study of Egyptian and Algerian successes and failures is worth the time for those who are curious.
Regardless, there's little disputing that for the thuggish foot soldiers of this movement, brutal experiences in Arab jails, hours spent alongside others of similar ilk behind bars, and, quite often, time spent under the tutelage of fellow prisoners with serious religious credentials, has played a significant role in spurring the violence we've seen manifest under the guise of Islam.
In the immortal words of Johnny Depp channeling George Jung in the film Blow: "Danbury wasn't a prison, it was a crime school. I went in with a Bachelor of marijuana, came out with a Doctorate of cocaine."