Where Do Those ATM Signs Come From?
The new family business is global and can make anything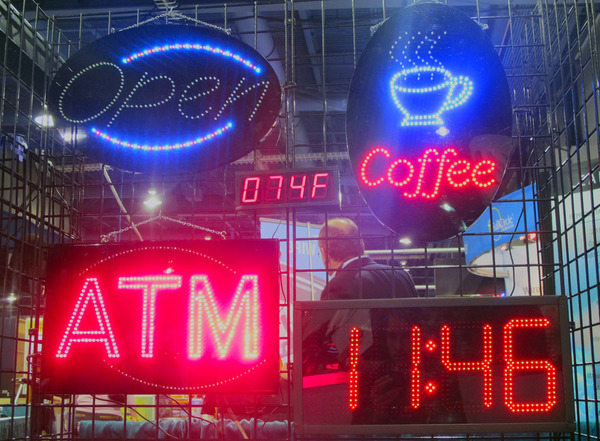 LAS VEGAS -- You've seen them countless times. They pervade cities, suburbs, truck stops and bars, but you probably haven't thought about where all those LED signs touting an ATM or coffee actually come from. You haven't imagined the global supply chain that delivers them from somewhere in Asia to your local 7/11. But there is one.
The signs you're looking at here were made by a company called GTK Systems, a three-person global enterprise. Jitender Saggu makes these signs in Delhi, but he's been itching to break into the US market. So, he called his brother and sister-in-law, Pavinder and Meenu, and asked if they wanted to give the LED sign business a go. For the last several months, they've been preparing for CES, hoping to find some places to distribute these signs.
GTK is just one startup in the global LED signage market, and a fledgling one at that. But it's a jumping off point for a powers-of-10 mental experiment in the scale of the world's commercial networks. This one company -- three people spread between California and Delhi -- is a tiny player in the LED signage market. The LED signage market is itself a subset of the overall digital signage market. Which itself is a small piece of the overall consumer signage and consumer electronics markets. Which are themselves very thin slices of the American economy, which is a small but significant chunk of the world economy.
But when I pull money out of an ATM machine selling itself with one of these signs, I touch the entire web not just in the money itself, but all the other pieces of that system. Here, you could find the people who make ATM casings and the people who make the boards inside and the keypad makers and the card readers and the networking technology. For that reason alone, CES is worth visiting.