Scenes From Egypt's Would-Be Revolution
Mubarak's notorious police stood down, but only for a few hours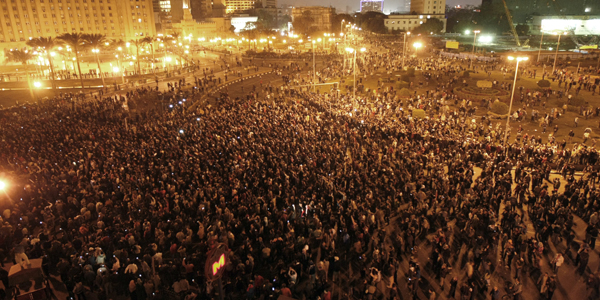 CAIRO, Egypt -- It is too soon to know whether the stunning demonstrations that have rocked Egypt today, with tens of thousands of protesters descending on cities throughout the country and overtaking Cairo's central square in an effort to reproduce Tunisia's recent uprising, will succeed in forcing change. But a telling comment came just after cannons, shooting gas-infused water, dispersed crowds along one major Cairo thoroughfare, when a man turned to me and said, "We want a revolution. We don't want Hosni Mubarak."
That man was a police captain.
To be sure, today's protests have been marked with instances of shocking, even if sadly predictable, regime violence. Riot police fired tear gas and rubber bullets; government-hired thugs beat protesters in the streets; and many - including my own roommate - were arrested. But perhaps the most surprising aspect of today's "day of rage" was that, for the first few hours, Egypt's notorious security forces stood down.
The day began with uncertainty. Although many Egyptians had been inundated with text messages and Facebook alerts informing them of today's protests, most seemed determined to stay on the sidelines. Some said they preferred the security of a police state to the chaos of political change and, in any event, they had to go to work. Meanwhile, Egypt's many opposition groups divided over where to hold the protests and at what time. By noon, one opposition group leader said his group was considering scrapping all of the proposed venues because of the heavy security presences. The center of downtown Cairo, Tahrir Square, had been totally shut down by hundreds of riot police and the much-hyped January 25th protests seemed to be just another anti-totalitarian tease.
Around 1:30, a protest erupted suddenly at the Lawyers Syndicate, a hotbed of opposition political activists one mile north of Tahrir Square, where about 200 activists began pushing onto the streets. Rows of riot police quickly pushed back, hoping to contain them within the syndicate's gates. Soon after, a second crowd gathered across the street. As riot police scrambled, protest leaders began appealing to nearby pedestrians to join in, and some did, boxing in the police. Meanwhile, a group of former opposition parliamentarians held a third protest on the steps of the nearby high court, shouting demands for the end of Mubarak's reign. This group quickly gained strength and converged with the second crowd, overwhelming the riot police. The three demonstrations became one and began their push towards Tahrir Square.
Initially, riot police formed rows of human chains blocking off the square. But when the marching protesters met the ranks of police, a strange thing happened. The chains broke at every point, allowing the demonstrators to pass through. The police, it seemed, were simply unwilling to hold. At these edges of the square, and in the square itself, confrontations between protesters and security officials were few and far between. Jubilation was in the air as the ever-growing crowd passed the Egyptian Museum and took Tahrir Square with the astounding acquiescence of the police.
"I think the police are helping us," said Ghad party youth leader Moshira Ahmed Mohasseb, who led chants on the march toward Tahrir. "They're tired. Everyday they're fighting another strike in another place, and I think they're starting to think again."
As the crowd grew, a police officer, who might in the past have responded with his baton, instead took out a camera and snapped a photo. Whatever was happening, he wanted to record it rather than to stop it."
Things went on this way, with the crowd rapidly growing as the news spread, until it pushed beyond Tahrir Square, up Kasr el-Eini Street towards the Ministers Assembly, where protesters tried to break through the gates. Finally, riot police raised their batons. An armored vehicle, which had previously sat still, let out a burst of gas-infused water near the crowd in an apparent threat. The protesters paused. A pocket of them formed in lines for afternoon Asr prayers. When they were finished, they rose, screamed, "Allahu akbar" and charged en masse towards the riot police.
That was the moment any relative peace ended. Protesters threw shoes and rocks; government-hired, plain-clothes thugs beat protesters; police fired tear gas and shot water cannons. People ran wildly along Kasr el-Eini Street, taking refuge in side-streets as the police cordoned off the area in front of the Ministers Assembly and Parliament. Meanwhile, Mobinil cell phone service was terminated, and Twitter was blocked.
But the crackdown may have come too late. By 5 p.m., tens of thousands of Egyptians - some in Cairo estimated hundreds of thousands - had gathered in Tahrir Square, with additional protests in neighborhoods all over the city, and in cities all over the country. The presence of armored police-transport trucks along nearly every major Cairo avenue merely confirmed to most people that something big - something unprecedented - had just taken place.
The implications of these protests are impossible to predict. Officially, opposition leaders have three demands: the resignation of Interior Minister Habib al-Adly, new elections, and raising the minimum wage. Yet these longtime activists represent only a minority of the protesters that came out today. Beyond demanding "change, justice, and social equality," as many shouted today, their desires are somewhat nebulous.
So Egypt's future will be determined on some other day. But, in a way they have not done in decades, ordinary Egyptians are demanding a stake in it.
Photo by Mohammed Abed/Getty Images