Russia's Struggle Against Terror and Itself
The challenges may be beyond Putin or Medvedev's reach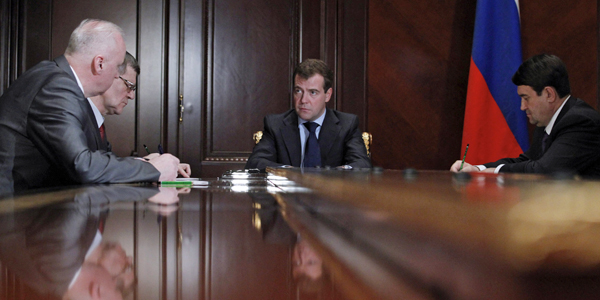 The floor at Moscow's Domodedovo airport was still littered with blood and body parts when President Dmitry Medvedev met with members of the Federal Security Service on Monday night. The bomb explosion hours before, which killed 35 people and injured more than 100, was an "atrocious crime," a somber Medvedev said. "Our society and our state have been issued a brutal challenge."
A brutal challenge it is - a new challenge it is not. But it's something that neither Medvedev nor heavy-handed predecessor Vladimir Putin, now prime minister, have had much success addressing. The root problems might go deeper than either terrorism or separatism, to the core of Russia's being: an imperial past and a corrupt present.
The specter of terrorism has hung over Russia since the late 1990s, when separatists in the southern republic of Chechnya adopted the tactic, partly out of desperation, partly in a bid to gain material and spiritual support from al-Qaeda. They staged spectacular attacks in Moscow - from the siege of the Dubrovka theatre in 2002 to the bombing of a rock concert in 2003 to the explosion of two airliners that took off from Domodedovo in 2004. The capital saw a brief respite after 2004 with lower grade, if persistent, violence largely confined to the Caucasus, Russia's troubled, mainly Muslim, southern flank. When two suicide bombers from Dagestan blew themselves up in the Moscow metro last March, killing 39, headlines the world over announced that terror had returned to the Russian capital. Monday's bombing at Domodedovo airport, which Caucasus-based terrorist groups have yet to claim or deny but are widely assumed as the culprits, merely confirmed that.
Russia is at a loss for what to do with the Caucasus in general and the region's terrorism in particular. Upon coming to power in 2008, Medvedev brought to bear on the problem the soft-spoken bureaucratic rhetoric that remains the starkest difference between him and his predecessor Vladimir Putin, now prime minister. He created a new position, grandly titled "Plenipotentiary Envoy of the President to the North Caucasian Federal District," and filled it with Alexander Khloponin, who had effectively governed Krasnoyarsk, one of Russia's richer Siberian regions, for years. Medvedev spoke of the need to address the region's underlying issues - poverty, unemployment, poor infrastructure for basics such as health and education. "People want a normal and decent life, no matter where they live," Medvedev said last March. "The federal authorities, along with the authorities in the Caucasus region, are obliged to create these conditions."
It was a stark contrast to the bombastic rhetoric long deployed by Putin, who once famously vowed to hunt rebels down and kill them "in the outhouse." Beyond the tone, however, little changed. Local police in the Caucasus, sometimes buoyed by federal forces, continue to sweep into villages to arrest suspected militants. In Chechnya, today ruled by the brutal hand of Ramzan Kadyrov, local forces still burn the houses of suspected sympathizers. Extrajudicial punishment, including kidnapping, is not uncommon. It's an approach that has bred resentment across the region, leaving plenty of young men and women - who face little opportunity at home or in Moscow, where racism against Caucasians is common - ready to oppose the distant Kremlin's rule.
Medvedev has so far responded to Monday's attack mostly by criticizing security at Domodedovo, the country's largest airport and it's only privately owned one. The bomb went off in the arrivals hall, often packed to the brim with unofficial taxi drivers - many of them from the Caucasus and Central Asia - as well as waiting friends and family. "It is obvious that there are systemic failures in ensuring people's safety and in managing this transportation hub," Medvedev said at his meeting with the FSB. The U.S. and Israel, he said, managed things better: "There are a lot of checkpoints."
The airport was up and running as usual within a couple hours of the attack, something often attributed in Western commentary to Russians' impressive resilience. But it may be something more like fatalism. After the metro was bombed last March, subways continued to carry millions of Russians around the capital (officials said if they had shut it, more would have died in the ensuing crush; never mind that the metro was bombed in 2004 and an evacuation plan never put in place).
Despite anger at Russia's ruling duo in the country's ever-critical blogosphere, many Russians worry about what they see as a bigger problem: that the Caucasus remains a wild frontier that has continually brought violence since Russia first conquered it in the 19th Century.
"Local elites and the majority of the North Caucasian population do not see Russia as an occupying force," says Simon Saradzhyan, a fellow at Harvard University's Belfer Center. "But economic, social and cultural differences between the North Caucasus and 'mainland Russia' are distinct and may escalate to a level of antagonism if the government doesn't do more to address the social, economic and even governance disparities, ensure security and safety of the local population while also suppressing violent xenophobia to prevent ethnic riots, similar to the ones we saw in Moscow in December."
Russia's failure to resolve its Caucasus problem could also come down to what Medvedev has called the country's single biggest problem: corruption. With ever more money flooding into the Caucasus, whether in the form of aid or grandly envisioned and somewhat absurdist plans to transform the region into a tourism hub, the fight for resources has only escalated. Much as we've seen in places like Afghanistan or Sub-Saharan Africa, the influx of aid money has only deepened corruption as rent-seeking officials find more ways to exploit the funds. In the Caucasus, people have only more reason to resent their Kremlin-appointed government. In Moscow, police ostensibly tasked with keeping an eye on potential terror plots often spend more time shaking people down for bribes.
"The question arises whether all the measures that the government has taken and will take to fight terrorism will work as long as corruption persists," says Saradzhyan. "The answer is, of course, no."
Photo by Mikhail Klimentyev/AFP/Getty