The Shameful Attacks on Julian Assange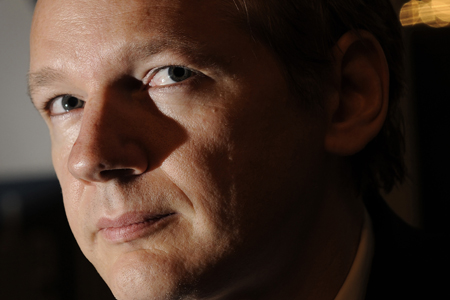 Getty Images
Julian Assange and Pfc Bradley Manning have done a huge public service by making hundreds of thousands of classified U.S. government documents available on Wikileaks -- and, predictably, no one is grateful. Manning, a former army intelligence analyst in Iraq, faces up to 52 years in prison. He is currently being held in solitary confinement at a military base in Quantico, Virginia, where he is not allowed to see his parents or other outside visitors.
Assange, the organizing brain of Wikileaks, enjoys a higher degree of freedom living as a hunted man in England under the close surveillance of domestic and foreign intelligence agencies -- but probably not for long. Not since President Richard Nixon directed his minions to go after Pentagon Papers leaker Daniel Ellsberg and New York Times reporter Neil Sheehan - "a vicious antiwar type," an enraged Nixon called him on the Watergate tapes -- has a working journalist and his source been subjected to the kind of official intimidation and threats that have been directed at Assange and Manning by high-ranking members of the Obama Administration.
Published reports suggest that a joint Justice Department-Pentagon team of investigators is exploring the possibility of charging Assange under the Espionage Act, which could lead to decades in jail. "This is not saber-rattling," said Attorney General Eric Holder, commenting on the possibility that Assange will be prosecuted by the government. Secretary of State Hillary Clinton called the Wikileaks disclosures "an attack on the international community" that endangered innocent people. White House Press Secretary Robert Gibbs suggested in somewhat Orwellian fashion that "such disclosures put at risk our diplomats, intelligence professionals, and people around the world who come to the United States for assistance in promoting democracy and open government."
It is dispiriting and upsetting for anyone who cares about the American tradition of a free press to see Eric Holder, Hillary Clinton and Robert Gibbs turn into H.R. Haldeman, John Erlichman and John Dean. We can only pray that we won't soon be hit with secret White House tapes of Obama drinking scotch and slurring his words while calling Assange bad names.
Unwilling to let the Democrats adopt Nixon's anti-democratic, press-hating legacy as their own, Republican Congressman Peter King asserted that the publication of classified diplomatic cables is "worse even than a physical attack on Americans" and that Wikileaks should be officially designed as a terrorist organization. Mike Huckabee followed such blather to its logical conclusion by suggesting that Bradley Manning should be executed.
But the truly scandalous and shocking response to the Wikileaks documents has been that of other journalists, who make the Obama Administration sound like the ACLU. In a recent article in The New Yorker, the Pulitzer Prize-winning reporter Steve Coll sniffed that "the archives that WikiLeaks has published are much less significant than the Pentagon Papers were in their day" while depicting Assange as a "self-aggrandizing control-freak" whose website "lacks an ethical culture that is consonant with the ideals of free media." Channeling Richard Nixon, Coll labeled Wikileaks' activities - formerly known as journalism - by his newly preferred terms of "vandalism" and "First Amendment-inspired subversion."
Coll's invective is hardly unique, In fact, it was only a pale echo of the language used earlier this year by a columnist at his former employer, The Washington Post. In a column titled "WikiLeaks Must Be Stopped," Mark Thiessen wrote  that "WikiLeaks is not a news organization; it is a criminal enterprise," and urged that the site should be shut down "and its leadership brought to justice." The dean of American foreign correspondents, John Burns of The New York Times, with two Pulitzer Prizes to his credit, contributed a profile of Assange which used terms like "nearly delusional grandeur" to describe Wikileaks' founder. The Times' normally mild-mannered David Brooks asserted in his column this week that "Assange seems to be an old-fashioned anarchist" and worried that Wikileaks will "damage the global conversation."
For his part, Assange has not been shy about expressing his contempt for the failure of traditional reporting to inform the public, and his belief in the utility of his own methods. "How is it that a team of five people has managed to release to the public more suppressed information, at that level, than the rest of the world press combined?" he told The Sydney Morning Herald. "It's disgraceful."
Assange may or may not be grandiose, paranoid and delusional - terms that might be fairly applied at one time or another  to most prominent investigative reporters of my acquaintance. But the fact that so many prominent old school journalists are attacking him with such unbridled force is a symptom of the failure of traditional reporting methods to penetrate a culture of official secrecy that has grown by leaps and bounds since 9/11, and threatens the functioning of a free press as a cornerstone of democracy.
The true importance of Wikileaks -- and the key to understanding the motivations and behavior of its founder -- lies not in the contents of the latest document dump but in the technology that made it possible, which has already shown itself to be a potent weapon to undermine official lies and defend human rights. Since 1997, Assange has devoted a great deal of his time to inventing encryption systems that make it possible for human rights workers and others to protect and upload sensitive data. The importance of Assange's efforts to human rights workers in the field were recognized last year by Amnesty International, which gave him its Media Award for the Wikileaks investigation The Cry of Blood - Extra Judicial Killings and Disappearances, which documented the killing and disappearance of 500 young men in Kenya by the police, with the apparent connivance of the country's political leadership.
Yet the difficulties of documenting official murder in Kenya pale next to the task of penetrating the secret world that threatens to swallow up informed public discourse in this country about America's wars. The 250,000 cables that Wikileaks published this month represent only a drop in the bucket that holds the estimated 16 million documents that are classified top secret by the federal government every year. According to a three-part investigative series by Dana Priest and William Arkin published earlier this year in The Washington Post, an estimated 854,000 people now hold top secret clearance - more than 1.5 times the population of Washington, D.C. "The top-secret world the government created in response to the terrorist attacks of Sept. 11, 2001, has become so large, so unwieldy and so secretive," the Post concluded, "that no one knows how much money it costs, how many people it employs, how many programs exist within it or exactly how many agencies do the same work."
The result of this classification mania is the division of the public into two distinct groups: those who are privy to the actual conduct of American policy, but are forbidden to write or talk about it, and the uninformed public, which becomes easy prey for the official lies exposed in the Wikileaks documents: The failure of American counterinsurgency programs in Afghanistan, the involvement of China and North Korea in the Iranian nuclear program, the likely failure of attempts to separate Syria from Iran, the involvement of Iran in destabilizing Iraq, the anti-Western orientation of Turkish Prime Minister Recep Tayyip Erdogan, and other tenets of American foreign policy under both Bush and Obama.
It is a fact of the current media landscape that the chilling effect of threatened legal action routinely stops reporters and editors from pursuing stories that might serve the public interest - and anyone who says otherwise is either ignorant or lying. Every honest reporter and editor in America knows that the fact that most news organizations are broke, combined with the increasing threat of aggressive legal action by deep-pocketed entities, private and public, has made it much harder for good reporters to do their jobs, and ripped a hole in the delicate fabric that holds our democracy together.
The idea that Wikileaks is a threat to the traditional practice of reporting misses the point of what Assange and his co-workers have put together - a powerful tool that can help reporters circumvent the legal barriers that are making it hard for them to do their job. Even as he criticizes the evident failures of the mainstream press, Assange insists that Wikileaks should facilitate traditional reporting and analysis. "We're the step before the first person (investigates)," he explained, when accepting Amnesty International's award for exposing police killings in Kenya. "Then someone who is familiar with that material needs to step forward to investigate it and put it in political context. Once that is done, then it becomes of public interest."
Wikileaks is a powerful new way for reporters and human rights advocates to leverage global information technology systems to break the heavy veil of government and corporate secrecy that is slowly suffocating the American press. The likely arrest of Assange in Britain on dubious Swedish sex crimes charges has nothing to do with the importance of the system he has built, and which the US government seems intent on destroying with tactics more appropriate to the Communist Party of China -- pressuring Amazon to throw the site off their servers, and, one imagines by launching the powerful DDOS attacks that threatened to stop visitors from reading the pilfered cables.
In a memorandum entitled "Transparency and Open Government" addressed to the heads of Federal departments and agencies and posted on
WhiteHouse.gov
, President Obama instructed that "Transparency promotes accountability and provides information for citizens about what their Government is doing." The Administration would be wise to heed his words -- and to remember how badly the vindictive prosecution of Daniel Ellsberg ended for the Nixon Administration. And American reporters, Pulitzer Prizes and all, should be ashamed for joining in the outraged chorus that defends a burgeoning secret world whose existence is a threat to democracy.