Secret to a Strong Marriage? VOLU!
Long ago, for reasons that sounded "interesting" at the time, my wife and I decided to spend our honeymoon by ... working for several months as laborers in the Ghanaian hinterland, under the Voluntary Work Camps of Ghana program, or VOLU. It's a long story. As we celebrated our 22nd birthdays, weeks after our wedding, over local specialties of kenke, foofoo, grasscutter, and palm wine in the forestland settlement of Assin Fosu, we had enough wits about us to know that this would be a better experience "to have had" than actually to be living through. We got sick; I acquired some internal parasite that required emergency treatment about five years later; the other foreigners on the project, a group of Danes, were evacuated with malaria; we looked with envy at Peace Corps volunteers and the posh life they enjoyed. Still, it was great to have done. And we saw a lot of the country, with other projects near Kumasi and in Winneba, where we helped rebuild the Kwame Nkrumah Teachers College, and our own post-work camp stays in Tamale and Bolgatanga, up near the border with what was then Upper Volta and is now Burkina Faso. (These details for people who know the area. On Google Earth the buildings we helped put up in Winneba are still visible.)
I was reminded of this when, for no reason in particular, I saw the Google Maps street view of Accra -- and quickly located the very VOLU "hostel" where we collapsed and stayed on our first bedraggled day in the country, after the overnight flight from London. (We were the only non-Ghanaians on the Air Ghana charter plane. As it left Heathrow around midnight, everyone was sedate. The closer it got to Ghana, the livelier people became, until just before landing everyone including us was singing popular Ghanaian "High Life" songs.) And we'd know it anywhere: it looks just the way it did decades ago: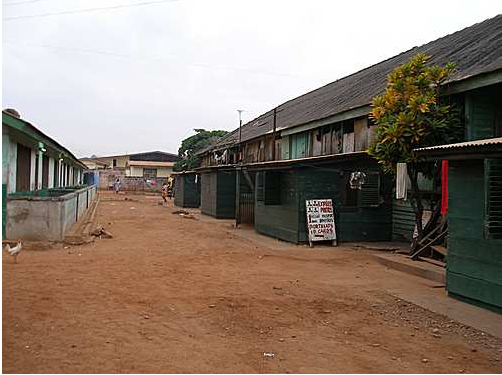 Things change around the world, faster in developing countries than anywhere else; so it is somehow disorienting to see a place that looks just the same. (FYI in Google Earth the Volu hostel is at  5°32'32.61"N,  0°12'17.23"W .) People who know Ghana generally like it, as we did. Somewhat difficult circumstances but very friendly and welcoming people. If you'd like to get your marriage off to the same solid start, consider VOLU! More
here
and
here
.