Liu Xiaobo and the Nobel Peace Prize
Tomorrow is the day when the Nobel Peace Prize is awarded in Oslo. (Has it only been one year since Barack Obama received the prize and made his surprising speech? It seems like decades.)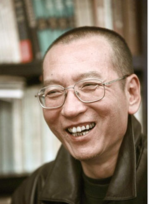 Obviously it is deplorable on its own terms that the Chinese government continues to imprison the winner, Liu Xiaobo (left, from Reuters); that it will not allow his wife or other family members or representatives to attend; that it is
pressuring
so many other countries to boycott the event; and that it is preparing to
block news coverage
of the award within China. The Chinese central authorities no doubt intend all these as demonstrations of strength. In the rest of the world's eyes, of course, there could be no more dramatic demonstration of weakness and insecurity. As would have been the case if the U.S. government had kept Martin Luther King in prison after his Nobel Peace Prize, blocked all coverage of his award, kept his family under house arrest, pressured other countries not to go to Oslo, etc. And as it was when South Africa jailed Nelson Mandela.
It is not so much deplorable as sad that
the government has
* Chinese groups have ginned up a last-minute counter-Nobel "
Confucius Peace Prize
," and awarded it to a friendly Taiwanese politician who had
no idea
what it was about or whether he should accept it. I am all in favor of continued harmonious interaction between Taiwan and the mainland, but the award illustrates the principle I discussed in
this article
: the Chinese authorities' frequent cluelessness about what will seem persuasive and admirable in the rest of the world's eyes. It so evident, from outside, that China could have increased its worldwide "soft power" tenfold if it had released Liu and his family -- or, if it had not have jailed him in the first place. Of course it doesn't look that way to the security forces in Beijing.  (* It's not clear that the government officially had anything to do with this.)
I know it doesn't advance the argument to say any of this, but on the eve of the ceremony Liu's situation should be as widely mentioned as possible.
Extra resources: the unstoppable team at NMA in Taiwan has put together two CGI versions of the prize story, this earnest one about Liu and the Nobel, and this more fanciful one about the Confucius award, complete with NMA's trademark armed, violent giant pandas. Also, the PEN American center has a collection of Liu's essays here, including "The internet is God's present to China" (worth reading in the Wikileaks era) and "Authoritarianism in Light of the Olympic Flame."
South African officials eventually looked back with regret on the years in which they jailed Mandela; while racial inequalities are still with us in America, even Glenn Beck pays honor to Martin Luther King. Let's hope Liu and his family live to see the day when official China can look back with regret on its decisions at this time.