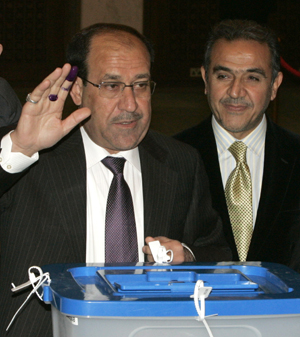 Iraqi Prime Minister Nouri al-Maliki fired hundreds of intelligence and security officials to replace them with less capable political loyalists, say U.S. State Department cables from early 2010. A cable sent just days before Iraq's national campaign season began on February 12 predicted "serious harm to the intelligence institutions by drumming out experienced and proficient officers in certain services in the name of de-Ba'athification, regardless if it a cover for political gamesmanship." The Iraqis were fired under the guise of Iraq's "de-Baathification" policy, which forbids anyone associated with Saddam Hussein's Baath party from participating in politics.
The firings, and their successive replacement with inexperienced or Iran-trained loyalists, came as the planned U.S. withdrawal shifted greater responsibility for Iraq's security to the same national institutions Maliki was purging. Though violence in Iraq has greatly improved since the war's worst years, it remains a serious problem, with many residents still fleeing the continued ethnic violence and terrorist attacks.
The Baghdad cables are part of a cache of 183 U.S. State Department communications from the Middle East and North Africa recently published online by Lebanon's Al Akhbar newspaper. It's unclear how Al Akhbar got the cables, which they say are "exclusive," and whether they posted them with the permission of Wikileaks, which has tightly controlled who publishes which of its cables and when.