China Doesn't Have Our TSA Problems, But....
... some other issues persist. Via a Chinese friend, a sign at Beijing's main airport: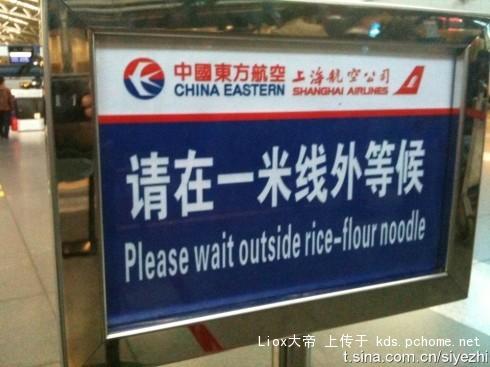 If you know any Chinese, you understand how an auto-translate system could garble what the sign means to say --"Please stand behind the 1-meter line" -- into "rice-flour noodle." (Main problem: the character 米,
mi
, means "rice" but is also used as an abbreviation for "meter." More on the challenge of Chinese homonyms in this
great book
.) The more intriguing question is,
as ever
, why big Chinese organizations entrust translation, for sites where foreigners are sure to see the results, to fallible computerized systems without having a native speaker ever take a look. For a few other samples, check
here
. My friend in China theorizes: "I guess all the public sign translations in this country are done by lazy bureaucrats, with the help of Google Translate."
It will be sad when these finally go away.