It's Almost Like Being Back in Guomao (updated)
[See UPDATE below] As I can't say often enough, my favorite paper in the whole world is China Daily. It's the state-controlled, English-language, unfailingly earnest and on-message official voice of China to the outside world. Even China Daily's editors can't come up, every single day, with headlines like their masterpieces: "Happiness Abounds as Country Cheers" or "Woman Who Urinated Often Told To Drink Less Water." But most days they come close; their batting average is amazingly high.
And now, after months of missing the satisfaction of seeing China Daily in morning (yes, it's online, but that's not quite the same), I discover to my delight that it is coming periodically as a special section of the Washington Post, with the name "China Watch"! The newspaper lineup this morning, with trademark photo of happily waving youths: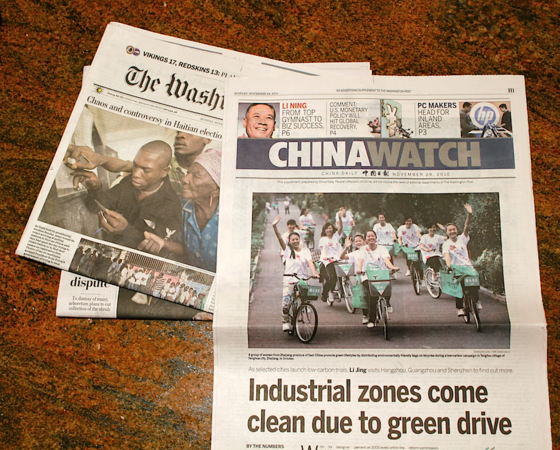 In this development (which has gone on for a while) some might see fodder for discussion of the Post's situation, or China's soft power, or national rise and decline, or blah blah blah. To me it's one more reason for hope as I go out for the papers each day.
UPDATE
: I feel so out of it! I hadn't realized that there is a homage site to my favorite paper, obviously put together by people who share my regard for it, called
ChinaDailyShow
. One of the current headlines below. And while this item might seem intended to "
hurt the feelings of the Chinese people
," the site as a whole clearly isn't.

For instance, also from today's front page: