If Taliban Leader Mansour Was Fake, So Were Plans for Peace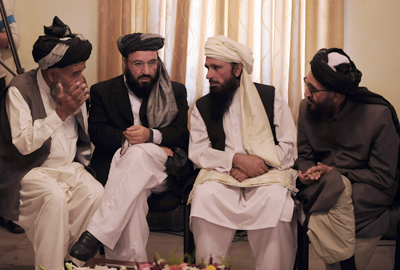 If you are still holding out hope for a peaceful end to the U.S.-led war in Afghanistan, there are a number of reasons to be discouraged and, frankly, depressed by the revelation that a senior Taliban leader engaged in high-level peace talks, Mullah Mansour, was actually an impostor. Whatever time and resources were dedicated to swaying the fake Taliban commander, which included what a "Western diplomat in Kabul" told the New York Times was "a lot of money," are gone. Any diplomatic or military initiatives meant to complement the talks have been a farce. And even after nine years in Afghanistan, our intelligence there seems to be so paltry that we still cannot accurately identify the second-ranking Taliban commander even when a man claiming to be him sits directly across a negotiating table from what one assumes are a number of senior U.S. intelligence officials.
But perhaps most worrying is the likelihood that the Mansour impostor was central to the supposed Taliban peace talks, which U.S. officials have been trumpeting to the press for months as evidence that the surge had succeeded in forcing the Taliban to the negotiating table and that President Barack Obama would meet his planned 2011 troop draw-down. If U.S., NATO, and Afghan negotiators believed for months that they were speaking to someone as senior as Mansour, they would almost certainly have designed their plans for Afghan peace, and indeed for their own impending military withdrawal, on those negotiations and on whatever Mansour promised or suggested would be possible.
In October, at the height of U.S. enthusiasm for peace talks, the New York Times' Dexter Filkins reported that Taliban representatives from "the highest levels of the group's leadership" were meeting face-to-face with counterparts in the legitimate Afghan government: "In at least one case, Taliban leaders crossed the border and boarded a NATO aircraft bound for Kabul." But it now appears the "one case" flown in from "the highest levels" was in fact the Mansour impostor, who the Times today reports was flown by a NATO aircraft to meet personally with Afghan President Hamid Karzai. In other words, the most feted of the supposed Taliban peace-seekers did not represent the group at all. (I mean no criticism of Filkins; I myself treated the earlier stories as credible, despite private warnings from Afghanistan analysts that the talks could be overblown and some skepticism in the media.)
How bad is this? Less than two weeks ago, around the same time it appears that U.S. officials determined Mansour was a fake, McClatchy's Nancy Youssef first reported that the U.S. was quietly moving away from its planned 2011 draw-down to a much vaguer 2014 target for starting troop reductions. It could be just a coincidence that the White House lost confidence in its war plan within days of discovering that its negotiations with "the highest levels" of the Taliban had been a sham. Or it could be an admission of just how central Mansour had become to our hopes for a peaceful and productive end to a war in which we can literally no longer recognize the enemy.
Image: Members of the Afghan peace council talk before their inaugural meeting with Afghan President Hamid Karzai at the Presidential palace in Kabul on October 7, 2010. By Shah Marai/AFP/Getty.