How Blocking New START Could Weaken U.S. Foreign Policy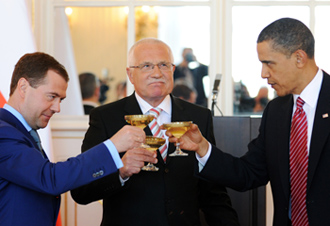 Now that Senator Jon Kyl, the informal Republican leader on New START, has ruled against voting on the U.S.-Russian nuclear disarmament treaty during the "lame duck" session, it's significantly less likely that it will be ratified either before or after the 112th Congress is seated in January. That might seem unusual, given that the past three U.S.-Russia nuclear disarmament treaties were all signed by Republican Presidents, sometimes with the support of some of the same Republican Senators now refusing to enact this fourth iteration, including Kyl. It might also seem unusual because this treaty only reduces the U.S. nuclear stockpile by 650 warheads, while the previous three reduced it by almost 10,000 warheads.
Political commentators have largely explained this opposition neither in terms of nuclear defense, which is decreasingly important in the era of terrorism, nor in terms of U.S.-Russian relations, which are at an all-time high since the first such agreement was penned in 1991, but in terms of domestic partisan politics. That is, Republicans appear to be motivated by a desire to turn what would have been a victory for President Barack Obama into a defeat, thus raising their party's relative stature and improving their odds for winning the White House in 2012. But whether or not defeating New START would in fact be a domestic political win for the Republican party, it would be a significant defeat for U.S. foreign policy.
Russian President Dmitri Medvedev, due to both his country's restrictive politics and his high approval rating, does not face the same treacherous domestic politics as Obama. But he had to make political sacrifices to sign New START in April. Between alienating the anti-American populists that have persisted to some extent after the Cold War and Russia's successive economic collapse, angering the hardline nationalist elements that remain in his security and military services, and of course preparing to reduce the military might that once made Russia a superpower, Medvedev paid very real costs for New START. If the treaty falls apart in the Senate, Medvedev will have nothing to show for his sacrifices. That lesson will not be lost on the world.
If New START fails then heads of state, foreign ministers, diplomats, and negotiators from around the world will be forced to think twice before making a difficult deal with the U.S. They will have to consider the possibility that any political sacrifices they make in the course of negotiating could very well be wasted. That will shift foreign leaders' calculus, if only slightly, away from deal-making with the United States. Why even bother?
It would be one thing for the Senate to consider blocking a treaty such as the proposed South Korean free trade agreement, which would benefit some Americans but possibly hurt others. But the nature of Republican opposition to New START would suggest that even a deal crafted to be as favorable as possible to all Americans could still meet with Senatorial defeat.
Most diplomatic agreements are not as high-profile as New START. And in most cases this will probably not be enough, on its own, to deter foreign heads of state from cutting deals with Obama. But in today's exceedingly complex world, where the U.S. has a strong presence and variety of interests in virtually every nation on Earth, there are a near limitless number of diplomatic negotiations that could tilt away from the U.S. The net U.S. foreign policy loss during the 112th Congress could be nothing more than, say, another international patent law treaty. Or it could be something, or things, far more serious.
Image: At an April 2010 summit in Prague, Presidents Dmitri Medvedev and Barack Obama toast after signing the New START nuclear disarmament treaty. President Vaclav Klaus of the Czech Republic, center, hosted the gathering. By Jewel Samad/AFP/Getty.