Election in Egypt: The Opposition's Bitter Struggle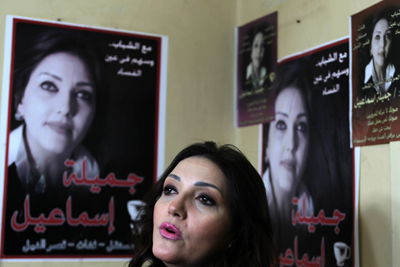 Maneuvering her car through the crammed alleyways of downtown Cairo with one hand 12 days before the election, Parliamentary candidate Gameela Ismail smoothed her long auburn hair with the other. She rearranged her tired features into a beaming smile and honked the horn. Leaning through the open window, the opposition party candidate greeted the residents of her district. Behind us, a megaphone mounted on a truck boomed Ismail's slogans, as five cars crammed with her supporters brought up the rear.
As the procession stalled in traffic, a campaign volunteer appeared at the window with a video camera, yipping in adolescent excitement. He said he had proof her ruling-party opponent was distributing money to voters. "Bravo!" she shouted back, "He's giving money, that's the point!" She repeated to me as the car jerked through Cairo's congested streets.
On Sunday, Egyptians went to the polls to elect a new People's Assembly, the lower house of parliament. Ismail and other opposition candidates from across the country challenged president Hosni Mubarak's ruling National Democratic Party, which has dominated elections for the past three decades. The official results are expected later today. But everyone already knows that the opposition had lost.
Sunday's elections were arguably the least free Egypt has seen in a decade. Constitutional amendments, passed in 2007, transferred official oversight of ballot boxes from the judiciary to a government-controlled electoral commission. The judges posted at the polls in 2000 and 2005 had been crucial allies in the opposition's quest for freer polls, as had President George W. Bush, who pressured President Hosni Mubarak's government to liberalize.
This week's elections exhibited all the trademarks of Egyptian democracy at its worst: fraud, vote buying and widespread reports of violence and voter intimidation, especially towards opposition supporters.
Nobody in Cairo seems surprised. From Islamists to the secular left, membership in Egypt's disparate and enfeebled opposition groups is dangerous--and not just during elections. Divided, ineffective, and trumped by billions of dollars in U.S. support for the Mubarak regime, opponents admit they are waging a losing battle. And yet they continue fighting, usually at great personal cost.
Opposition candidates say that the regime treats everything as fair game--their families, their reputations, their livelihoods--whatever it takes to wear them down. And that pressure doesn't stop after poll day.
Ismail says her campaign posters were torn down, her supporters hassled and detained by Egypt's notorious police, and worse. State-affiliated media published articles accusing her son of cheating on his university exams. Ismail has taken the editors to court.
Taking a stand means risking the regime's wrath, explains her campaign manager Naglaa Fawzy. "It is like you are a drug dealer, it's very dangerous," she told me. "It's a difficult life. It affects my work, my family, my personal life."
"I love my country. I love Egypt," she explained. "I believe that this regime is dangerous and I must change it. This is a principle for me, so I go on. Even if they're going to arrest me many times, even if I go to prison--I will go." She has been detained once.
If there is one thing Egypt's fractured opposition can agree on, it is resistance to a Mubarak dynasty. Rumors that the octogenarian Mubarak, who has ruled with an ironclad grip for 29 years, is preparing his son, Gamal, to succeed him have been rampant for years. The opposition has united somewhat against this threat and, now under the banner of the National Association for Change (NAC), led by former International Atomic Energy Agency chief Mohammad ElBaradei.
When the NAC authored a seven-point petition, which demands, among other things, the end of a 2007 constitutional amendment barring independent candidates such as ElBaradei for running for the presidency, it gained nearly one million signatures.
Despite a brief period of optimism, the NAC failed its first major test. ElBaradei called for a boycott of Sunday's elections, but few heeded his cry.
Among the few NAC members following the boycott was 33 year-old design company owner Tarkey Nowar, who joined the association four months ago. Nowar, who wore glasses and teal blue when I met him, leads an NAC 'Street Squad,' a group of 40 activists who collect signatures for the group's petition. Nowar may be one of the opposition's scant successes, a previously apathetic youth now motivated to agitate for change on the streets.
Nowar says he fights frequently with his mother about his newfound passion. "I was telling her, we have been ordered to do this by the Koran and by Islam. I'm not just doing it for fun. It's obligatory. I was telling her again and again -- I will gain the freedom of my country."
Activists from his group are routinely detained by security forces for anywhere between a few hours to a few days. But what makes pounding the pavement night after night so draining, he says, is that few believe the NAC can change anything. "When I go to talk to people, they are not saying, 'No, this is bullshit, we are not with you.' On the contrary, they say, 'We are so with you, but who cares?'" he recounts. The most common refrain Nowar hears is that people will pray for him.
And maybe they should. He worries that his work will bring financial problems -- lost tenders or a sudden discovery of 'discrepancies' in his tax records. "I think maybe sooner or later it will happen, I hope it won't," he says.
In the past, some opposition activists have lost their jobs or, as discrediting government attacks mount, even the support of their families and friends.
For every eager new reformer, there is someone like Ahmed Maher. Maher is one of the most prominent faces of April Sixth, a pro-democratic youth group. Since joining the opposition in 2005, Maher has been repeatedly detained and tortured. He lost his management job at an engineering firm and dropped out of a master's degree program. "I tolerate it as much as I can because I'm writing a new sentence in history. After me, people will come, continue and finish what I'm doing," he says.
Maher says he is fighting a bigger opponent than just Mubarak's government. "The problem isn't with Mubarak's policies," Maher surmises. "The problem is with the American policy and what the American government wants Mubarak to do. His existence is totally in their hands."
Under George W. Bush's "Freedom Agenda," Egypt's 2005 parliamentary elections were held under a far freer atmosphere than Sunday's embarrassing contests. But after the Muslim Brotherhood flew to electoral victory, and after Hamas found even greater success in Gaza, the U.S. dropped its pressure on the Mubarak regime. That has not changed with Barack Obama.
Even as the regime tightens its grip, the U.S. refuses to resume its pressure on Mubarak, and this week's election returns blanket victories for the ruling party, the opposition fights on.
"It has to happen, it has to happen. Any country that developed democracy, people like me started somewhere. This is what is keeping me going," Maher says. But I can't tell if he is trying to convince me or himself.
See also: Election in Egypt: Inside Cairo's Women-Only Voting Stations.
Image: Parliamentary opposition candidate Gameela Ismail, while at her campaign office, talks to reporters. By Patrick Baz for Getty Images.