1979 State Department Cable Illuminates U.S.-Iran Mistrust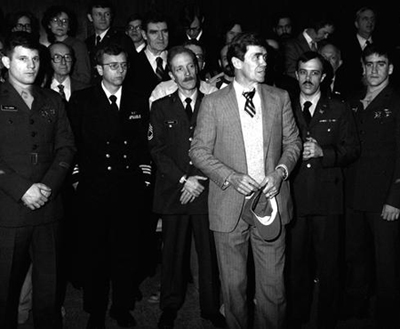 In the rush to scour the Wikileaked State Department cables for news -- of which there is a lot -- the collective effort seems to have overlooked a lone cable that, though among the oldest, may be one of the most historically significant. The August 13, 1979, cable from the U.S. Charges D'Affaires in Tehran, titled "NEGOTIATIONS," offers a new window into U.S. thinking on Iran during one of the most pivotal moments in the country's history. Written by Bruce Laingen six months after the overthrow of the U.S.-backed Shah, four months after Iranians voted overwhelmingly to establish the Islamic Republic, and three months before protesters took the embassy and its occupants hostage.
Laingen appears to have written his lengthy dispatch, which he describes as a guide for any U.S. official or private citizen "required" to work in Iran or to deal with Iranian people, with the goal of describing Iranian "culture" and "psychology." But his cable, which makes openly hostile blanket statements about Iranians and otherwise drips with condescension, seems to reveal more about the U.S. mission to Iran than about Iran itself -- and helps illuminate both the neo-colonialist U.S. policy towards Iran before the 1979 revolution and the deep mutual mistrust that has persisted since then. The cable should be read in full. Here are two brief excerpts:
COUPLED WITH THESE PSYCHOLOGICAL LIMITATIONS IS A GENERAL INCOMPREHENSION OF CASUALITY. ISLAM, WITH ITS EMPHASIS ON THE OMNIPOTENCE OF GOD, APPEARS TO ACCOUNT AT LEAST IN MAJOR PART FOR THIS PHENOMENON. SOMEWHAT SURPRISINGLY, EVEN THOSE IRANIANS EDUCATED IN THE WESTERN STYLE AND PERHAPS WITH LONG EXPERIENCE OUTSIDE IRAN ITSELF FREQUENTLY HAVE DIFFICULTY GRASPING THE INTER-RELATIONSHIP OF EVENTS.
FIRST, ONE SHOULD NEVER ASSUME THAT HIS SIDE OF THE ISSUE WILL BE RECOGNIZED, LET ALONE THAT IT WILL BE CONCEDED TO HAVE MERITS. PERSIAN PREOCCUPATION WITH SELF PRECLUDES THIS. A NEGOTIATOR MUST FORCE RECOGNITION OF HIS POSITION UPON HIS PERSIAN OPPOSITE NUMBER.

SECOND, ONE SHOULD NOT EXPECT AN IRANIAN READILY TO PERCEIVE THE ADVANTAGES OF A LONG-TERM RELATIONSHIP BASED ON TRUST. HE WILL ASSUME THAT HIS OPPOSITE NUMBER IS ESSENTIALLY AN ADVERSARY. IN DEALING WITH HIM HE WILL ATTEMPT TO MAXIMIZE THE BENEFITS TO HIMSELF THAT ARE IMMEDIATELY OBTAINABLE. HE WILL BE PREPARED TO GO TO GREAT LENGTHS TO ACHIEVE THIS GOAL, INCLUDING RUNNING THE RISK OF SO ALIENATING WHOEVER HE IS DEALING WITH THAT FUTURE BUSINESS WOULD BE UNTHINKABLE, AT LEAST TO THE LATTER.
It's up to historians to decide what role, if any, these attitudes played in the larger picture of U.S.-Iran hostility in 1979 and perhaps beyond. Meanwhile, It's understandable why the U.S. State Department would never want to release this cable, which could easily offend even the most pro-American Iranian. But it's also an historical document that throws light on one of the most important years in modern Middle East history.
Image: The U.S. embassy in Tehran's 52 workers, who had been held during the Iran hostage crisis, stay at a hospital in 1981, after over a year of captivity. Bruce Laingen is center. From Wikimedia Commons.