Have been out of internet-action for much of the past two weeks. Thus a number of threads to pick up again, from "whiny law professor" (yes, there's much more in store), to the nature of Islamophobia and moderate Islam, to the "narrow sliver" of American society with anything personally at stake in America's ongoing wars, to China events of all sorts from RMB to Nobel Prizes to daily life.
Let's start with this one: the nature of "existential threats." A week ago I contended that Israel's "existential" fears of a nuclear Iran were part of a broader modern problem, rather than being unique to Israel's situation (which is of course unique in other ways).
An Israeli writer had contended that Iran's mere possession of a nuclear weapon would forever eliminate Israelis' "sense of security," because they would know from that moment onward that if Iran decided to attack, they could not hope to prevent the deaths of "Jews by the tens of thousands." Retaliation, yes. Absolute protection, not. To avoid this impossibility, Israel would -- by this logic --  have no choice but to launch a preemptive attack.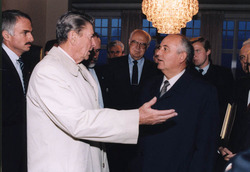 The possible Israeli predicament is true. But it is a subset of the larger truth that as long as thousands of nuclear weapons exist in the world's arsenals, there is nothing any nation can do to prevent the deaths of "people by the tens of millions" if an accidental, crazed, or malicious attack began. This is the grimness of the nuclear age; it is why so many people have devoted their careers to the study of "deterrence" and "confidence building"; and it is why many world leaders, most dramatically Ronald Reagan, have rebelled against the unacceptability of a situation in which countless people might be killed at any time. (Reagan's rebellion took the form not only of his "Strategic Defense Initiative"/"Star Wars" proposals in 1983 but also his famous attempt, at Reykjavik in 1986, to strike a "let's get rid of all nukes" agreement with Mikhail Gorbachev, as shown above.)