A "Global Movement of Moderates": Speech of a Muslim Prime Minister
There is lots in the queue about different observations of Islam in different parts of the world, about America from afar, and all the rest.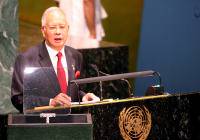 For the moment, a notable speech yesterday at the United Nations General Assembly from Najib Tun Razak, the Prime Minister of Malaysia, about the need for members and leaders of the world's major faiths to censure and reject their own extremists and jointly support a "movement of moderates." That is him giving the speech, at left. Eg:

>>The real issue is not between Muslims and non-Muslims but between the moderates and extremists of all religions, be it Islam, Christianity or Judaism. Across all religions we have inadvertently allowed the ugly voices of the periphery to drown out the many voices of reason and common sense. I therefore urge us to embark on building a "Global Movement of the Moderates" from all faiths who are committed to work together to combat and marginalize extremists who have held the world hostage with their bigotry and bias. We must, and I repeat, we must urgently reclaim the centre and the moral high ground that has been usurped from us. We must choose moderation over extremism. We must choose negotiations over confrontation. We must choose to work together and not against each other. And we must give this effort utmost priority for time is not on our side.<<

And this conclusion to the speech:

>>It is time for moderates of all countries, of all religions to take back the centre, to reclaim the agenda for peace and pragmatism, and to marginalise the extremists. This "Global Movement of the Moderates" will save us from sinking into the abyss of despair and depravation. This is an opportunity for us to provide the much needed leadership to bring hope and restore dignity for all. With greater will and collective determination, we will build a more peaceful, secure and equitable world.<<

OK, it's just another UN speech; talk is cheap; and so on. The significant point is: Malaysia is a Muslim-majority country. Over the decades, PM Najib's predecessors would sometimes have crafted such a speech to emphasize the Zionist menace or Western hegemonism as trumping all other threats. This prime minister took a different approach. The next time someone asks, Why is there no Muslim voice of moderation? you can say: Well, here's one.
After the jump, an additional quote, and some Malaysia-specific info. Congrats to the Malaysian leadership.
__
Additional info: I lived with my family in Malaysia for two years in the late 1980s and like most foreign residents have a strong bias in favor of the place. Not necessarily in favor of all its politicians, though. The Prime Minister during our time there, Mahathir Mohamad, was notoriously thin-skinned, especially about any perceived slight from the Western world. I deliberately avoided writing about Malaysian politics while we were living in Kuala Lumpur, using it as a wonderful family base while I traveled in and wrote about the rest of the region. But we finally got in trouble with the authorities when my wife wrote a seemingly innocent op-ed in the International Herald Tribune about some of the oddities of driving in East Asia. For reasons I won't go into right now, it touched a local nerve -- and we left, headed back to Japan.
Still, we're all big Malaysia fans. This part of PM Najib's speech basically rings true to our observations there (although Christian and other missionaries could get into big legal trouble by attempting to proselytize Muslim Malaysians):

>>Allow me to share my country's own experience in managing issues of diversity. Malaysia is a multi-racial, multi-religious, multi-cultural and democratic society that has benefited from the positive interaction and synergy between the various communities. Mosques, temples, churches and other places of worship co-exist in harmony. Although Islam is the official religion, we honour other religions - Buddhism, Christianity, Hinduism - by making their religious and cultural celebrations as national holidays and celebrate them as national events. It is this equilibrium that leads to moderation or "wasatiyyah" in the Islamic tradition of mutual justice.<<

I had a chance to meet the current Prime Minister during his trip to the US to give this speech, my first ever in-person contact with a high level Malaysian political figure. (I tried to stay under the radar while there.) Even if I hadn't, I would have noted and welcomed this speech. And, to round things out for completeness, a denunciation of the speech, for hypocrisy, by one of the the PM's harshest critics in Malaysian politics, here.