Communism Is 'Green' After All?
If China had already launched a "green sputnik", well then Tom Friedman has got to get ready for this. How about a $740 billion "green" stimulus? That's purportedly what the Chinese government has in store in a "new energy development plan". From the China Daily:
China to unveil $739b 'new energy' plan soon
(Agencies)
Updated: 2010-08-09 11:32
China will soon publish a plan for what it called "newly developing energy industries" that will involve 5 trillion yuan ($739 billion) in investment through 2020, the China Securities Journal reported on Monday.
Whatever appropriate Soviet-era analogy will be used for this eye-popping investment package, it will probably trigger some uneasy reactions in Washington, where jitters are already running high about being left behind the green race. It doesn't help matters that $740 billion is roughly the size of the US stimulus package, but all devoted to new energy.

But let's not get carried away so fast. First, China has a penchant for announcing jaw-dropping numbers that do not necessarily match reality. Second, this is supposed to be investment over a decade, so about $74 billion a year. A preoccupation with these headline figures also misses the point. Massive funding does not equal a successful and sustainable green industry. These days, a shortage of capital is not the issue in China, the major impediments are generating the right policies and incentives to create a more organic and mature clean tech sector, rather than endless reliance on the beneficence of state funding.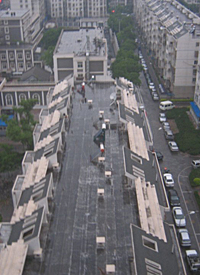 Coincidentally, China faces some of the same conundrums that the US green tech sector faces in terms of incentives and the appropriate balance between state and private sector's roles. To be sure, the Chinese state's role in industry is hard to avoid, given the particular hybrid nature of the Chinese economy. The Atlantic's own Megan McArdle has entertained a debate over carbon tax and innovation. A similar debate is taking place in China, except instead of oil, a carbon tax would make more sense on coal, as that is the predominant fuel that powers the economy (about 70%). It's less about whether a carbon tax would spur Chinese innovation; a tax of this sort could help pad the fiscal coffers of local governments and allow more channels of funding for renewable energy. If China is serious about its nuclear, wind, and solar ambitions, pricing traditional fuels like coal higher would be a huge signal.
On a somewhat related issue. The United Steelworkers Union President Leo Gerard--usually not a fan of China--penned a piece on striking a deal with the "Communist capitalists" on a Texas wind farm where the Chinese firm agreed to use American suppliers (full text). So maybe there is a "win-win" solution after all?
The USW approached the Chinese companies that planned the $1.5 billion Texas wind farm, A-Power Energy Generation Systems Ltd. and Shenyang Power Group, the same way it did Ross. The meetings occurred with the help of U.S. Renewable Energy Group, a private equity firm that facilitates international financing and investment in renewable energy projects. Jinxiang Lu, chairman and chief executive of Shenyang Power, said talking to the union enabled him to see its "vision for win-win relationships between manufacturers and workers."


For the USW, this deal means the Chinese firms will initially buy approximately 50,000 tons of steel manufactured in unionized American mills to fabricate towers and rebar for the 615 megawatt wind farm in Texas, will employ Americans at a wind turbine assembly plant to be built in Nevada, and will employ more American workers in green jobs at plants constructing the blades, towers and thousands of other wind turbine parts.

For the Chinese companies, the USW, the largest manufacturing union in America, will use its long list of industry contacts to help construct an American supply chain essential to amass the approximately 8,000 components in a wind turbine. The idea is to collaboratively create a solid manufacturing, assembly, component sourcing, and distribution system so that this team - the Chinese companies, U.S. Renewable Energy Group and the USW -- will build many more wind farms after the first in Texas.   


Photo: Solar panels for heating on Beijing rooftop by Fei Yang.