Sad News From Shanghai: Gary Heyne
As soon as I arrived in Shanghai ten days ago on a short trip (about which more some time soon), I went directly to the establishment I had heard most about but not seen for myself. No, no, not the Shanghai World Expo -- I went there the next day. I am talking about the famed Boxing Cat Brewery, on Fuxing Lu in the French Concession area.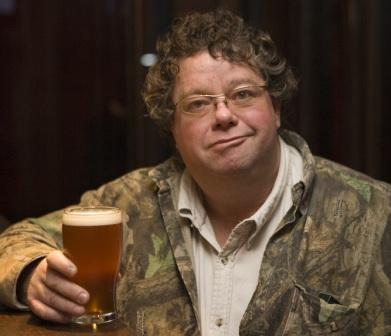 When I was living in the city in 2006 and 2007, I spent many
afternoons
evenings in an ambitious but obviously economically-doomed microbrewery called
Henry's
, in a grim location on Sichuan Lu off the Bund. There I usually talked with the brewmaster, the roistering Texan Gary Heyne, who had come to the city around the time my wife and I did. That's him at the left, in an altogether typical pose, minus only the Hawaiian shirt he often favored. The photo is from
UrbanAnatomy.com.
We started talking beer -- Gary was the hired brewer, for the Chinese-American owner of Henry's who didn't like beer himself but thought there was a market niche for non-watery beer in China. There is, and probably was even then: his business plan just had too many quirks and obstacles. Soon we mainly talked Texas, politics, writing, China etc. Gary had recently come from several years designing water-treatment systems with the U.S. occupation forces in Iraq. (Insert obligatory "brewmaster designing water systems" jokes here.) He had a million beer-fueled theories about the war, and about Iraq, and about any other topic that might come up. One of my happiest memories of the city and of him is of serving together on a battle-of-the-beers tasting panel organized by our mutual friend Jarrett Wrisley, then of SH magazine in Shanghai and now of the Atlantic in Bangkok.
Henry's folded, and Heyne and partners got the money together to start Boxing Cat. Its location was good, and reports I heard from my friends were very positive. When I visited last week, the beer was great; the food was "good enough for a brewpub"; and the placed was packed. I didn't see Heyne at the bar that evening but thought I'd find him to send congratulations on my next visit. Therefore I was shocked by the news that he died this weekend, while at the brewery, at age 45.
Appreciations of Gary Heyne here from UrbanAnatomy and here from Shanghaiist. Adam Minter, of Shanghai Scrap -- who, with another friend Shi Hongshen, I had met for beers at Boxing Cat last week -- has an account here. Adam Minter also adds a crucial detail that all of Gary Heyne's writer-friends knew: he was sure he had a "book in him," and was in a nonstop effort to enlist someone as co-author of his Iraq memoir, which as he imagined it would have the combined virtues of Catch-22, War and Peace, The Best and the Brightest, Atlas Shrugged, etc. I worked with him on it for a while in 2007 before thinking that, hmmmm, maybe somebody else would be a "better match" for this undertaking. Minter was part of the long line of would-be collaborators too, as he explains. Delightfully, he includes an early excerpt from Heyne's memoir, here.
If you were a public-health expert, you might look at Gary Heyne's style of life and chosen profession and not be shocked by his dropping dead in his mid-40s. But everybody who knew him is shocked and saddened. I'm reflecting now on the fact that someone I knew well for only about two years left such a large personal impression on me and so many memories. RIP.