Beware the Warnings of al Qaeda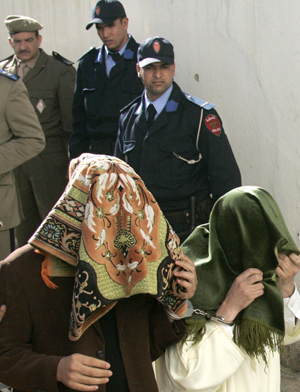 When news broke over the weekend of an attempted car bombing in Times Square, fears quickly arose of another al Qaeda-led attack on New York. It's a common, and understandable, dynamic not only in the U.S., but throughout the Western press: When a terrorist attack happens, or is attempted, there's a default assumption that organized, international terrorism is at work: an "al Qaeda bias."
Here in the U.S., that bias can be either confirmed or dissipated relatively easily, as the evidence starts to come in. But in countries where media are significantly restricted, and governments are more invested in how terror attacks are interpreted, an al Qaeda bias can be the stuff of high-stakes political capital.
Reports last week that Moroccan security forces arrested 24 members of an "al Qaeda-linked cell" and were looking for another in France, for example, have raised concerns in Western media of an expanded al Qaeda threat in North Africa. But what do we really know about the case? As with many such regimes, the opaque nature of Morocco's government, especially concerning issues of terrorism, makes independent confirmation of official statements on the incident difficult. At the same time, the international and regional context of the arrests suggest the possibility that - whether or not the charges are true - Morocco's government may be invested in using the threat of terrorism for political and economic gain.
There certainly are real, established terrorist threats to Morocco. Morocco's security services, which have made great strides to improve their counterterrorism capabilities in recent years, have successfully disrupted some major terror groups. Coordinated suicide bombings in 2003 in Casablanca killed 33 people, Moroccan terrorists were involved in the 2004 train bombings in Madrid, and Moroccan extremists in Europe have been implicated in recent plots linked to al Qaeda. In the last few years, terrorism arrests have been on the rise in Morocco, with the government claiming to have broken up over 60 terrorist plots since 2003. These incidents have prompted Morocco's judicial and security services to target extremists more aggressively, while also seeking to alleviate the underlying drivers of radicalization in the country.
But in reporting on this incident, which suggests a worrisome level of involvement between al-Qaeda and local groups, English and French sources have been vague about the alleged plotters' organizational affiliation, carefully describing the network with the phrase "al Qaeda-linked" rather than connecting it to a specific group such as the North Africa-based al Qaeda franchise Al Qaeda in the Islamic Maghreb (AQIM). Of course, a non-AQIM terror plot in Morocco is far from impossible given the number of violent jihadist groups operating there, as well as AQIM's historic difficulty in recruiting Moroccans en masse. Whatever the true story may be, the global attention generated by the "al Qaeda" brand allows Morocco's government to benefit from fears of growing terrorist influence in the region.
Complicating the matter is the tension between Morocco and Algeria, fueled in part by Algeria's now 30 years of support for the Polisario Front, a group that seeks (and has in the past fought for) an independent state in Moroccan-controlled Western Sahara. Despite whispers, pushed by the Moroccon government and pro-government press, of interaction between AQIM and the Polisario Front, collusion has never been credibly proven and there's reason to believe it may not be true at all. David Gutelius, an economist who has spent years in North Africa, explains, "The Sahrawi refugee camps at Tindouf [in Algeria] are actually quite hostile to Islamists in general, as al Qaeda's salafi-jihadi worldview clashes with local custom and religious practice." If Polisario were linked to al Qaeda, it would embarrass Algeria and help Morocco challenge the rival country's regional dominance.
Morocco stands to benefit from the perception of an increased terrorist threat to the country. Its leadership could credibly claim a chunk of the increasing U.S. anti-terrorism training and funding in the Sahel. Morocco could also overcome its recent exclusion at the hands of rival Algeria from regional counterterrorist initiatives. Last Monday's arrests come less than a week after the formation of a pan-Sahelian counterterrorism Joint Military Staff Committee, from which Morocco was pointedly excluded, as it was from similar meetings in August 2009 and March 2010. The terror movements spreading slowly across the Sahel, have increased Western concerns about AQIM's regional kidnapping enterprises and allegedly growing involvement in the transnational drug trade. Connecting the Polisario Front to that organization would delegitimize the Polisario's call for an autonomous Sahara, which Morocco could argue would pose a direct threat to the region by handing AQIM a safe haven.
For everything that's particular to Morocco, distinguishing the real threat of organized terrorism from the projections of interested governments is increasingly a global problem. Russia, for example, has used the language of the Global War on Terror to justify its brutal tactics in Chechnya, where Chechen terrorists are just one part of the complicated conflict. In more recent months, Yemen's government tried to link Huthi rebels, which challenged the state's hold in the North, alternately to al Qaeda and Iran. The challenge for us in the West is to be able to live with the threat of organized terrorism without assuming its involvement in any given act of anti-state violence - and without blindly accepting, when we look to other governments' responses, that their fights are the same as ours.
Image: Moroccan Saad Houssaini, accused of concocting the explosives used in attacks on Casablanca in 2003 and Madrid the following year, arrives at the anti-terrorist court in Sale on April 3, 2008. Houssaini is suspected of 'threatening internal security' and constituting a criminal gang with a view to prepare and carry out terrorist acts. Abdelhak Senna/AFP/Getty