Ukraine Gives Up Nuclear Material, But Does It Matter?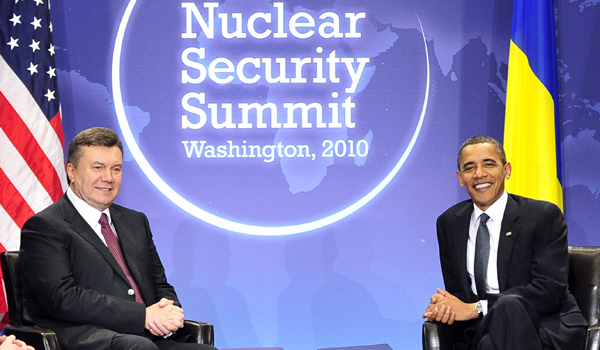 Just hours before the formal opening of the Nuclear Security Summit, the White House has announced that Ukraine will dispose of its entire stock of highly enriched uranium by 2012. Ukraine currently possesses approximately 90 kilograms of highly enriched uranium. White House Press Secretary Robert Gibbs called the stockpile, which is currently housed at scientific research facilities, enough for "the construction of several nuclear weapons." More to the point, the material could be used to produce dirty bombs.
The U.S. has had its eye on Ukraine's uranium since the 1992 Nunn-Lugar Cooperative Threat Reduction Program, which sought to rid former Soviet states of their nuclear material. Gibbs and White House counterterrorism adviser John Brennan coyly avoided questions on how Obama finally secured this long-sought goal of Ukrainian nuclear disarmament. President Obama met Sunday with Ukrainian President Viktor Yanukovich as part of a series of bilateral talks with 12 foreign heads of state. Other leaders former Soviet states who met one-on-on with Obama are President Serzh Sargsyan of Armenia and President Nursultan Nazarbayev of Kazakhstan. Neither has announced a similar deal to Ukraine's.
The announcement marks an important victory for the Obama administration going into this week's summit. It also makes clear that the top U.S. priority is keeping nuclear material out of the hands of terrorists as opposed to reigning in rogue nuclear states. This shifts the focus away from states that either have not signed or are in violation of the non-proliferation treaty: Israel, India, Pakistan, North Korea, and potentially in the near future, Iran. Obama met one-on-one with leaders of Pakistan and India; Israeli Prime Minister Benjamin Netanyahu is boycotting. The escalating nuclear arsenals of India and Pakistan, estimated at about 75 weapons each, are not on the summit's agenda. In November, the New Yorker's Seymour Hersh reported that administration officials are so concerned about the security of Pakistan's arsenal that they have written up emergency plans to invade Pakistan and seize the nuclear material. So while Ukraine's announcement is an important step in the reduction of nuclear material worldwide, Obama still has a long way to go.
Image: President Obama meets with Ukrainian President Viktor Yanukovich as part of this week's nuclear security summit. Ron Sachs/Getty Images.