The Global Repercussions of India-Pakistan Detente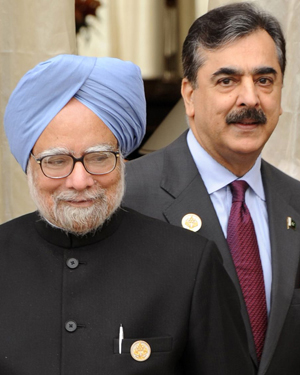 Ever since the 1947 fissure between Pakistan and India, the relationship between these two states, which hinges on the contested border region of Kashmir, has been one of the world's most contentious. It is also quickly becoming one of the world's most important. South Asia has just overcome the Middle East as world's most dangerous region for terrorism, as global groups like al-Qaeda enmesh with regionally oriented groups such as the Taliban and Kashmiri insurgents. Pakistan's support of insurgent groups, meant to counter India, causes many Pakistani officials to turn a blind eye to related insurgencies ravaging Afghanistan and the international forces there. The Kashmir region also shares a contested border with China, meaning that India and Pakistan's intense border militarization and occasional skirmishes threaten to suck China into the conflict. The flow of goods and energy across the Pakistan-India border, which since the days of the Silk Road has been a global point of commerce, is constantly threatened by military and diplomatic stand-offs. And as President Obama seeks to end the nuclear threat by reducing the number of weapons worldwide and securing loose nuclear material, two of the most armed and least secure nuclear powers have been conspicuously absent from any disarmament agreements: India and Pakistan. Iran's nuclear program, which threatens the stability of the Middle East and the security of Israel, is likely at least somewhat rooted in Tehran's desire for a deterrent from Pakistani nukes.
Fortunately, the tense Pakistan-India relationship shows some signs of detente. When Prime Ministers Manmohan Singh of India and Yousuf Raza Gilani of Pakistan met on Thursday for a regional summit in Bhutan, few were optimistic that the meeting would yield any progress between the two historical enemies. But Pakistan surprised the world by announcing it would remove 100,000 troops from the Kashmir border, an incredible sign of faith in easing the Kashmir dispute at the center of India-Pakistan tension. The move comes as the Pakistani military considers finally assaulting North Waziristan, a region along the Afghan border that has been pounded by U.S. drone strikes targeting the insurgents and terrorists based there. Such an attack would be a gift to the international mission in Afghanistan, where U.S. forces struggle to secure the country against Waziristan-based attacks. Singh and Gilani also pledged to set a date for more advanced peace talks.
President Obama can take some credit for his efforts to bridge the India-Pakistan divide. Obama's summit with Singh in December yielded the prime minister's announcement that he would offer Pakistan conditional talks on Kashmir. Pakistan, for its part, has long hesitated to attack the insurgents along its Afghan border because it fears that, should the U.S. suddenly abandon its interest in the region as it did after the 1988 Soviet withdrawal from Afghanistan, Pakistan would need those insurgents to project influence into Afghanistan. Pakistan also feared that it might not be able to defend against insurgencies like the Taliban on its own and so avoided needlessly turning them into enemies. President Obama, having apparently convinced Pakistan that U.S. forces would remain in Afghanistan until the country has been stabilized, may have made the risk of assaulting North Waziristan worthwhile. To be sure, none of this would be possible without the involvement of key Pakistani officials, particularly Army chief General Ashfaq Kayani, who is beloved in Washington for his willingness to work with the U.S. and rid the military of its more extremists elements.
While the Kashmir dispute could take years to fully resolve, the important thing for regional well-being is that India and Pakistan scale down their cold war over the territory. But real, enduring peace will be elusive as long as Pakistan still endures internal turmoil. The country's recent energy crisis highlights its struggle for good governance and the deep instability that brings. A small but alarmingly violent extremist movement still holds the entire country back from developing a strong, peaceful civil society. As long as Afghanistan remains violent, the insurgents who destabilize Pakistan will persist along the porous Afghan border. While Pakistan's detente with India promises to bring greater stability throughout and beyond South Asia, sustained progress cannot be certain until peace comes to Afghanistan and Pakistan. That could explain why troops from 38 different nations are currently fighting in Afghanistan. Peace in South Asia, for which the Pakistan-India dispute in Kashmir remains central, is truly a global concern.
Image: Prime Ministers Manmohan Singh of India and Syed Yousuf Raza Gilani of Pakistan at the eight-nation South Asian Association for Regional Co-operation (SAARC) summit in Bhutan. Deshakakalyan Chowdhury/AFP/Getty.