A Moment with Bush and Clinton
A couple of weeks ago, I caught up with former presidents Bill Clinton and George W. Bush as they toured tent camps in Haiti. I wanted to know how the destruction they were seeing compared with the damage in New Orleans after Hurricane Katrina. Clinton was concerned: Haiti, he pointed out, also has a hurricane season, and the earthquake has left Haiti more vulnerable than ever to floods and high winds. Bush painted a rosier picture, both about Haiti's future and about what happened after Katrina. "I hope the government is able to rebuild as fast as we did in New Orleans," he told me.
Katrina hit New Orleans hard because of the city's poverty, corruption, and precarious infrastructure. In Haiti, the conditions were even more crushing. New Orleans's levees failed due to inadequate engineering and neglect. Haiti's buildings crumbled en masse because no building standards were followed at all. Two months after the quake, thousands are still living in makeshift shelters assembled from sheets, scrap wood, tin, and other found objects. Every so often during my recent visit, I saw durable factory-made tents donated by NGOs or sent by Haitian family members living abroad, but those were the exception.
In Leogane, the quake's epicenter, I stopped at a tent city called Camp Morel Deues and spoke to Denrick Mary, president of the community. He told me the 200 families in the camp had received no aid. He'd written letters to Care, ACTED (Agency for Technical Cooperation and Development), the Red Cross, and Samaritan's Purse, all of which have a presence in Leogane, but he received no answers. When I asked whether the mayor of Leogane had helped, he shrugged. Leogane's mayor, Santos Alexis, is perceived as crooked and inaccessible, interested only in looking out for himself.
Even when aid is available, navigating the system is a forbidding task in Haiti just as it was in post-Katrina New Orleans. Tracking down basic information can be daunting. A well-to-do Haitian asked me where he could buy a tent. A woman named Marie Blaise, who is caring for 19 handicapped children, asked if I could help her find food for kids who are now living under tarps in Port-au-Prince. Many asked me how to access to the free sustenance and medicine being distributed. There is no central location where victims can file paperwork to prove that they need help.
Problematic, too, is a culture where bribery is the norm. I followed Yvens Laborde, a doctor from New Orleans who has made two trips to Haiti, as he tracked down a shipment of medicine marked Medical Humanitarian Aid. When we reached the Ministry of the Interior, a Haitian official who was helping Laborde told the office, "If you don't release the medicine now, people will die." The Minster of the Interior, Paul Antoine Bien-Aime, told the aide not to be fresh. After paying two brokers a combined sum of over $2,000, Laborde was finally able to secure the medicine and drop it off at a clinic in Leogane. Then he headed back to New Orleans, a city that understands Haiti's heartache all too well.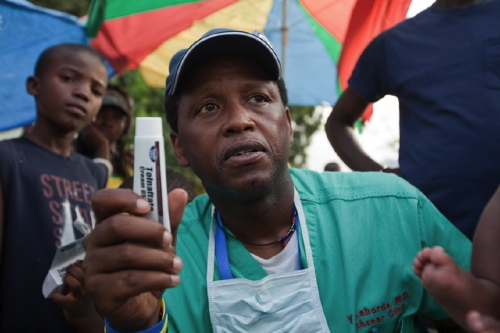 Dr. Laborde in Haiti (photographed by the author)