Why Drug Cartels Are Mexico's Insurgency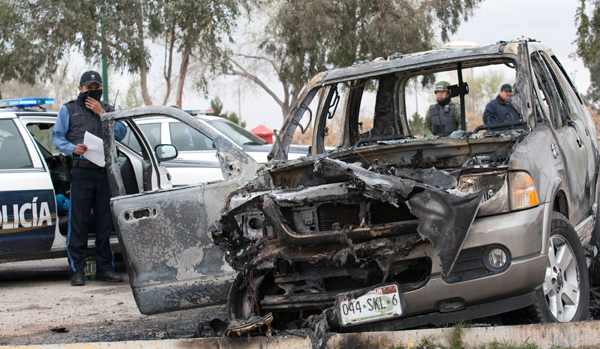 Drug cartel-related shootings in the Mexican border city of Juarez killed three people associated with the U.S. consulate this weekend, including two Americans. The incident, unusual only in that it targeted Americans, is just more of the same violence that's caused 19,000 casualties in Mexico's war on the cartels, which President Felipe Calderon launched three years ago. Looking over the devastation and daily combat that marks cities like Juarez, where 4,600 have been killed since 2006, it's clear that the cartels are no longer mere gangs.
Calderon's assault has changed the cartels' priorities in a way he probably didn't intend. His policies have forced the cartels to focus their energy on fighting back, often by challenging the government's control of entire neighborhoods and even cities. Whereas cartels could previously rely primarily on bribes and corruption to operate, now they have no choice but to actively confront the government's security writ. Before, Mexican cartels could somewhat coexist with the Mexican state. But President Calderon has made Mexican sovereignty and drug cartel operations mutually exclusive. The cartels probably can't take over entire parts of the country, as their Colombian counterparts have done, but they can significantly erode the government in places like Juarez.
When a heavily armed and well-funded group fights to actively reduce the authority of the state, that's not a criminal enterprise. That's an insurgency. Mexico is not going to be able to truly gain ground against the cartels until it acknowledges that it's now fighting an insurgency. Just because the cartels are driven by money instead of ideology -- as with, say, the Taliban -- doesn't mean they can't use similar tactics and pose a similar threat.
Photo: Security forces find a destroyed SUV, believed to be used in connection to the consulate shootings, on the outskirts of Juarez. Jesus Alcazar/AFP/Getty.