Sic Transit Gloria Ballardi
Last April, the British writer
J.G. Ballard
died at age
69
79. By chance, on a trip to Shanghai a few days earlier, I'd seen the house where Ballard had lived as a boy in the 1930s, before the Japanese invasion and the experiences that gave rise to his unforgettable novel
Empire of the Sun
. I described the visit
here
, along with photos of how the house looked, 70-plus years after the Ballard family had fled, in its new role as a fancy restaurant. This is the attic where the young Ballard had played with his toys, which had become a private dining room: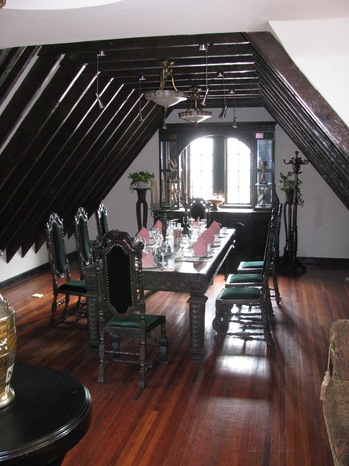 The house was built in 1925 and through the next 85 years survived the Japanese bombing and invasion;  the Chinese civil war; the years under Mao and the Cultural Revolution; and the redevelopment of Shanghai starting in the 1980s. But, according to this report today in the Shanghaiist, based on this story by Malcolm Moore in the Telegraph, late last year its luck ran out. It is being redone in concrete and will be some kind of luxury club. The owners told Moore they had no idea who'd lived in the building in the 1990s, let alone 75 years ago. Please see the Telegraph site for a very interesting video about the house, plus this detailed account of its and the family's history, as part of a larger discussion here.
Westerners have to be careful in waxing nostalgic for China's "good old days," especially when this involves artifacts of the colonial era known as the "Hundred Years of Humiliation" in China. But it's objectively true that the early 20th-century architecture and street layout of Shanghai's old "Concession" district make the city distinctive in the world and provide much of its style and very self-aware sense of elegance. Shanghai's skyscraper-laden Pudong district is the occasion for much predictable touristic marveling at the city's rate of growth -- "This was a swamp 25 years ago, and Jeez would you look at it now!" But, like skyscraper concentrations anywhere, Pudong is built on an inhuman scale and is more impressive/imposing than attractive/enjoyable. Shanghai's older west-of-the-river districts, of both Chinese and Western design, are what make the city memorable.*
My specific point is simply to note the fate of one structure that has a lasting role in world imaginative history. The larger point, for ongoing discussion, is the complicated relationship between a culture very aware of its thousands of years of history, and the ever-changing forces (eons of poverty, a decade of chaos in the Cultural Revolution, the dawning of a new kind of prosperity-driven chaos now) that have made people uninterested in, unsentimental about, or unable to preserve the physical artifacts of that history. I am glad that I saw this house in the "old days" -- a full 11 months ago.
___
* I was going to insert here several more photos of the Shanghai Concession district from last year, but at the moment I can't retrieve them, since our new website system does not yet support the old "categories" function for locating previous posts. Web sites aren't built, or redesigned, in a day.