Redesign Fever: Welcome China Daily!
The author's favorite newspaper has a "stunning" new look.
The NYT and WSJ have their places in the firmament, but my favorite newspaper will always be the China Daily. State-controlled, English-language, always touchingly earnest in its surface demeanor but often with a different message underneath. See after the jump for a few illustrations. Sometimes these gracenotes seem to have been added by slyly mutinous Aussie or Brit language "polishers." Sometimes they seem to have no explanation other than surplus earnestness itself. Eg, from today's front page: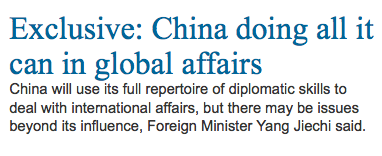 The important news is, there's a new look and concept to the China Daily! And it's stunning in its effect, if the paper does say so itself: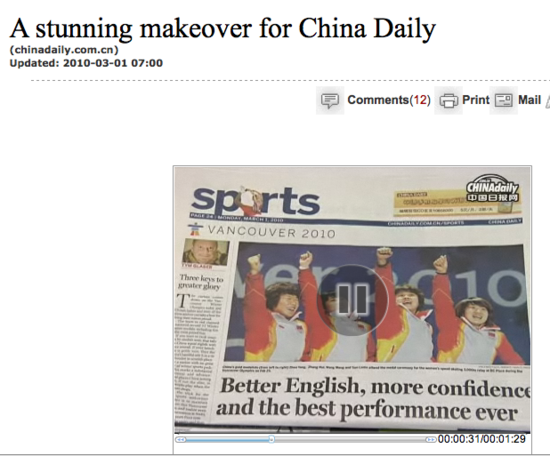 If you go
here
, you'll see a 90-second video presentation, from which the screenshot above is taken. I especially love the representative international reader who shows up around time 1:02. Unfortunately it doesn't go into the charming sports-page headline also shown in the shot above. Two more CD classics after the jump.
___
From the currency talks a year and a half ago (click on each for larger):
During the Olympics:

And, the full dope on today's news:
Old design, new design, it's a great product. Welcome to the redesign world!