The View From Chappaquiddick
We went canoeing yesterday, as we do every year, on Poucha Pond and in Cape Poge Bay off Chappaquiddick, the beautiful, commerce-free little island connected to Edgartown and the rest of Martha's Vineyard by the world's shortest ferry ride. We launched the canoes near the Dike Bridge, the site of Ted Kennedy's most ignominious hour. I was glad to note, when we paddled under the bridge, the lack of sardonic or nasty graffiti on the bridge's underside. I don't know if someone had erased the recent graffiti, in honor of Kennedy (and in honor of Mary Jo Kopechne as well) or that ugly people don't bother leaving their thoughts anymore.
Next to the bridge, the flag was at half-staff outside the shack run by the Trustees of Reservations: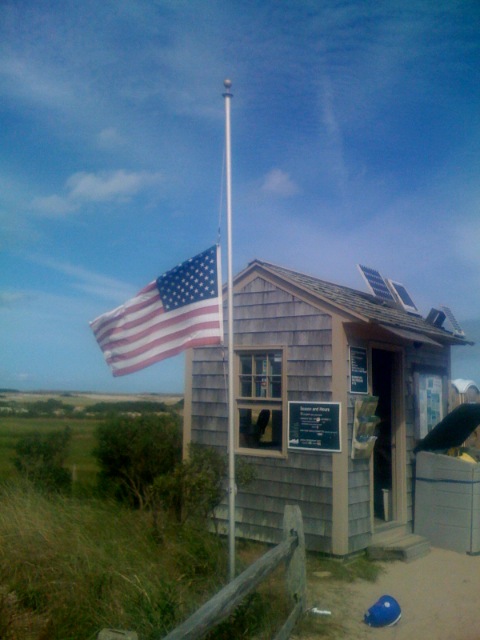 I mentioned the oddness of the half-staff flag to one of the wizened volunteers at the bridge, and he said, "It's for Mary Jo, I guess." That seemed about right. What also seems about right is
Marc Ambinder's analysis of Kennedy's path to redemption
, which he calls a specifically Jewish kind of redemption, redemption through deeds. This is not to say that Kennedy was right about everything, not by a long shot, but that he spent the 40 years after the incident on Chappaquiddick trying to save his soul, and did so quite effectively.