The Faith of Gary Haugen
The founder of International Justice Mission found in his religion a source of courage.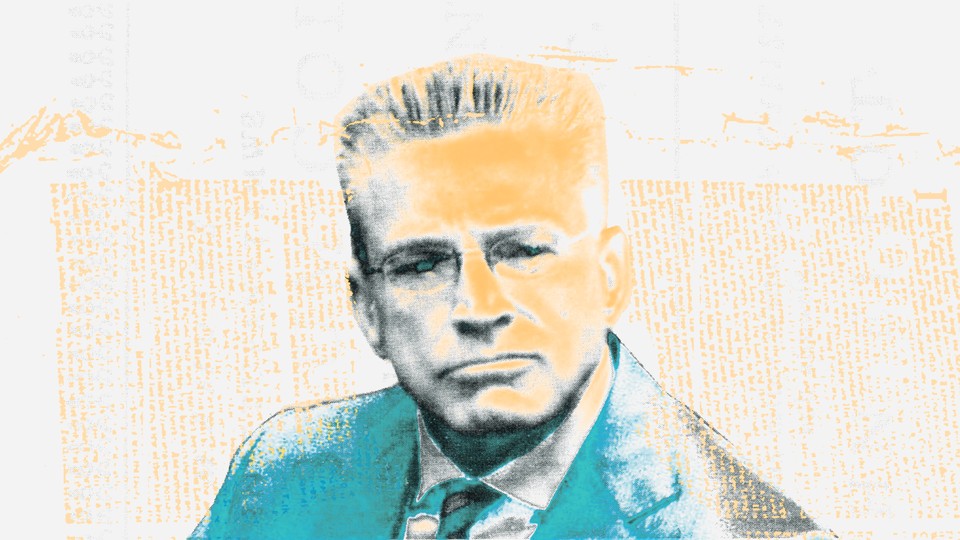 Gary Haugen was just 22 years old in the fall of 1985, when he attended a meeting that would change the course of his life. He had arrived in South Africa that summer, fresh out of Harvard, just a few days before P. W. Botha's apartheid government declared a partial state of emergency. He was working for Michael Cassidy, the founder of African Enterprise, an organization focused on evangelizing and racial reconciliation.
Together with Desmond Tutu, the new Anglican bishop of Johannesburg, Cassidy launched the National Initiative for Reconciliation. In September, hundreds of church leaders gathered in Pietermaritzburg. Their hope was that the Church would help South Africa through the crisis. The situation was desperate enough that even leaders of the powerful Dutch Reformed Church, which was allied with the white-supremacist government and usually avoided such gatherings, attended. And on the evening of September 11, about 15 church leaders, Black and white, from different denominations, gathered.
The conversation was "very tense, very raw," Haugen told me in an interview earlier this year. Bishop Tutu was one of the last people to speak; as he was preparing to do so, the leaders of the Dutch Reformed Church were uneasy, visibly stiffening. Tutu addressed his remarks directly to them.

"I just want to thank God that he brought you, my white brothers, here to South Africa," the Anglican bishop told the Dutch Reformed Church leaders, as best Haugen recalls his words decades later. "I thank God that you came because you brought the mission hospitals, and I was born in a mission hospital. I thank God you brought the mission schools, and I went to a mission school. But most of all, my brothers, I thank God that he brought you because you brought the word of God. But now I'm going to have to open up that word of God and show you why your apartheid system is a sin."
Tutu proceeded to do just that.
The assembled leaders later released an anti-apartheid statement, which Haugen helped draft. The following year, the Dutch Reformed Church declared that South Africa's system of racial separation and minority white rule was morally wrong and had done the country and its people grievous harm. Three years later, in 1989, the Church declared the ideology of apartheid a sin and said that any attempt to defend it was heretical.
"We have heard from the representatives of the Dutch Reformed Church confessions of guilt with regard to the establishment, maintenance and justification of apartheid," read a 1989 resolution approved by Reverend Allan A. Boesak, the head of the mixed-race Dutch Reformed Mission Church. "We have heard their plea for forgiveness."

"I can't say, causally, that was because Bishop Tutu explained it to them for the first time in that moment," Haugen told me. "But it was part of this change, and I think it decisively pulled out from underneath a very devout white population the theological underpinnings of their political system."
This encounter had a profound impact on Haugen. It gave him a picture of what is possible in both human life and human history. "Most powerfully," he said, "I got to witness with my own eyes what it looks like for a leader to be liberated from fear in the struggle for justice."
"I saw enough of Tutu and other leaders to know they were regular human beings, but in the face of a regime willing to kill those who opposed it, these leaders had been moved by their faith to an existence where fear now had no ultimate power over them," Haugen told me.
He also glimpsed the possibility of change. "I saw white church leaders abandon a powerful apartheid heresy that they had desperately held on to for decades because, in the end, they came to believe that God was not in it," he said. "I saw that an oppressive religious movement driven by fear could be reversed by the terms of critique embedded within the Christian tradition itself and by the sacrificial witness of the faithful who were no longer afraid. And in the end, a vicious regime of brutal power was swept into the dustbin of history." A dozen years after he left South Africa, Haugen founded the International Justice Mission, which bills itself as the largest international antislavery organization in the world.
Haugen has long been drawn to grand moral struggles. As early as second grade, he fell in love with Abraham Lincoln. Haugen was, he told me, "fascinated by the history and the drama for the struggle of good against evil and the problem of slavery." By fifth grade, he was gripped by the story of Martin Luther King Jr. At Harvard, Haugen took Robert Franklin's course at the Divinity School on the church and the civil-rights movement. And his interest wasn't merely historical. He also led a Harvard-Radcliffe Christian Fellowship committee studying whether the university should divest from companies doing business in South Africa, a move it partially made in 1986.
In 1984, Haugen's junior year at Harvard, Tutu won the Nobel Peace Prize for his leadership of the nonviolent campaign to end the brutal apartheid regime. During his senior year, Haugen resolved to go to South Africa. "I was interested in exposing myself to the experience of church leaders in South Africa, who were attempting to address the apartheid crisis," he said. "The church leaders in South Africa become leaders of that movement by default, because the political leaders were either in prison or in exile. And so the Black population in South Africa would default to its church leaders. And that's how someone like Bishop Tutu came to prominence. He wasn't seeking to lead that social movement."
In South Africa, he met Christian leaders who no longer were afraid of what others could do to them. "They acted as if the things that Jesus taught were actually true, and it seemed to give them a courage that was unconquerable in a certain way," Haugen said. He learned that hope was possible even in places beset by seemingly intractable problems, "but it requires enormous courage."
He returned to the United States and enrolled at the University of Chicago Law School, focusing on civil rights. He interned at the Lawyers Committee for Human Rights, which sent him to the Philippines in 1989 to investigate why the Cory Aquino government, which had come to power following the Marcos regime, was unable to control its security forces and army. And after graduating from law school, he joined the Civil Rights Division at the Department of Justice, focusing on police-misconduct cases. That led to another life-altering overseas assignment.

After the Rwandan genocide—about 800,000 Tutsis and moderate Hutus were killed within 100 days in 1994—the international community wanted to bring its leaders to justice. Haugen led the United Nations Special Investigations Unit in Rwanda. He was given a list of approximately 100 different mass graves and massacre sites. He and his team combed through mangled corpses and personal effects rotting in scores of massacre sites across Rwanda. Bodies were piled up in churches. Each day, as they painstakingly documented this horror, they saw what it looks like to be truly defenseless in the face of violence.
Haugen organized mobile units to find survivors of the massacres to get their testimony about what had happened. He took the testimony of a father whose young children had been hacked to death with machetes. Their findings would eventually be provided to the International Criminal Tribunal for Rwanda.
He interviewed an 8-year-old girl who had survived one of the massacres. Her entire family had been killed; she'd lain among the dead for several days. It was a miracle she survived.
"She was just full of life and beauty—she was a beautiful little child," he recalled. "And the thing that struck me about that was how easy it would be to lose the precious value of that single child because hundreds of thousands of them could be butchered. Yet the world would not respond and didn't respond. Clearly it was because the value of those who were being slaughtered did not register with us. And yet the absolute value of the child that was sitting in front of me was so manifest."
Haugen came away from that experience painfully aware of the devastating problem of violence in poor countries, and especially for the common person living in poverty. "Rwanda had been the recipient of lots of development and poverty-alleviation aid for decades," he told me. "And you could see how it really doesn't matter how much in terms of goods and services you provide to the poor. When the guys with machetes show up, the benefit of much of that is devastated." he said. "I came back from that asking: Who's addressing the problem of violence among the poor?" And failing to find a satisfactory answer, he decided to provide one.
Haugen started International Justice Mission in 1997 with only an administrator, an investigator, and two interns. The organization's budget was less than $100,000. His first case was in the Philippines; a 12-year-old girl had been raped and impregnated the previous year, but the suspect had not been taken into custody. Through Haugen's efforts—he worked with the Philippine National Police—the rape suspect was eventually arrested. Haugen then learned about forced labor in South Asia and expanded his focus there.
"It became clear that even though we could work a few of these cases, what we really should do is build Indigenous teams, local teams, to take these things up," Haugen said. "And so that's immediately what we started to do." Haugen's goal was not only to rescue thousands, but to protect millions by reforming the justice systems in poor nations throughout the world.
Over the 25 years of its existence, IJM has become a global leader in that effort. Its staff is now around 1,400, more than 90 percent of whom serve in the countries and communities where they are from, and it has 29 field offices in 17 countries. IJM's budget now exceeds $120 million. The activity brought increased attention; in 2009, Samantha Power profiled his work in The New Yorker.
IJM's local and national teams are composed of lawyers, criminal investigators, trauma social workers, community organizers, and others who take on cases of violence against women and children, slavery, and police abuse of power. These teams not only work with local authorities to rescue victims and bring criminals to justice; they also provide survivors with aftercare services to help people overcome trauma and be restored to safety and stability.
IJM's goal is also systemic change. The team collaborates with local justice systems and community leaders to respond effectively to violence. Together, they design improvements that serve survivors, deter criminals, and dramatically decrease violence. Haugen wants to turn the rule of law from an abstraction into a reality in the daily lives of poor people.
He points to three distinctive strengths to explain IJM's success. The first is a focus on measurable results. "Every time governments in low- and middle-income countries have partnered with IJM … they've measurably decreased the targeted violence in that poor community by between 50 and 85 percent in between four to eight years, as measured by third-party evaluators," he told me. The nine areas where these evaluations have been done cover more than 10 million people. "I don't think there's another organization in the world that has those kinds of measurable results for drastically reducing violence among the poor," he said.
The second is that IJM focuses on the experiences of the people it serves. "Everything at IJM has been built from the lived experience of survivors and local Indigenous leaders and staff," Haugen told me. Since 1997, IJM has asked tens of thousands of survivors of gender violence, police abuse, and forced labor, "How do you experience the justice system?" They tend, he said, to list four priorities: They want freedom from violence; accountability for their abusers; restoration, so they can thrive; and an end to the violence, so other people are not harmed.
IJM's third strength is its determination to convince other human-rights and development organizations that reducing violence is a prerequisite for effective development. Haugen points out that education for girls is perhaps the most powerful anti-poverty program we have, but that too often, it's not safe for them to get to or be at school. So long as that's the case, any effort to educate girls is going to fail.
"The question was, can you make a dysfunctional, poorly operating justice system in a poor community actually do what it's supposed to do?" Haugen said. "And I believe IJM is the first agency to come along and actually prove that's possible over a lot of different jurisdictions, over large populations, over and over again."
"AN INSTITUTION IS THE LENGTHENED shadow of one man," Ralph Waldo Emerson wrote, and IJM is the lengthened shadow of Gary Haugen. It's no surprise, then, that faith is an essential part of IJM's work.
IJM's staff members come from a variety of Christian traditions, though the organization's services are never conditioned on religious profession, nor do IJM's programs include religious proselytization. Its work is its witness.
I asked Haugen, whom I've known for decades, about the role that faith plays in IJM's work. "In some ways it just begins with me very personally," he told me. "Because when you're the first employee of an organization and you're building an organization to take on something really hard—and violence against the poor is a really hard problem—everybody needs inspiration and everybody needs support. I certainly found this in my faith."
Fundamental to Haugen's faith is the idea that God loves everyone and that everyone has dignity and worth. "That little girl who was in front of me, across the table in Rwanda, is of infinite worth and dignity, as much as my own girls at home, who were just coming into the world at that time," he said.
In South Africa, he told me, he saw how church leaders were sustained by their faith in their struggle against apartheid. "They found support for each other in their faith. They prayed for each other. They cared for each other. They reminded each other that there was a God of justice, who was on the side of justice. So I think that was such a powerful experience for me."
Haugen believes that part of building a community of inspiration and support means you have to set aside time to receive inspiration and support. And so almost all of IJM's offices observe half an hour of silence at the beginning of the day.
"We give ourselves 30 minutes every day in solitude and silence to order the interior" life, he said. "Then we will get to work and get very busy. And most offices will get time to actually gather together to pray about things. That's another way of supporting one another, asking for God's help. But it's that mutual inspiration and mutual support that we find in some of these rhythms." These practices, he said, have enabled IJM's staff "to do a difficult thing for a long time."
"Other people will find inspiration someplace else, and others will find support somewhere else for the struggle for justice," Haugen told me. "But IJM has grown as a community finding inspiration and, I think, support in a common faith."
I ASKED HAUGEN about his own pilgrimage of faith. He told me his dad was an atheist progressive Democrat and his mom was a devout Baptist Republican. One of six children raised in Sacramento, California, Haugen attended church on Sunday morning, Sunday evening, and Wednesday night. "I can't remember a time as a child not believing there was a God," he said. "But by the time I'm an adolescent—in high school—I was trying to figure out if I really would make that faith my own." He described his journey at that time as more cognitive than emotional, involving asking a lot of questions, seeing if there was "stable intellectual ground to stand on."
Haugen headed to Harvard in 1981, believing that the Christian worldview has some great strengths, but also some challenges. "But the thing I also realized is, 'Oh, every worldview has challenges.' So this is not about a worldview that has no challenges versus my worldview that has lots of challenges. You just have to acknowledge everybody has a version of reality that they are living by, thinking that it's real." He told me that the Christian worldview provided, for him, the most intellectually rigorous accounting for reality. "I found it to also be the most helpful orientation for living life," he said. "I just found the Christian faith served well." At Harvard he encountered people of faith he respected who were asking what it means to be a Christian in a world of hurting and suffering. "That was very formative for me," he said.
His study of the Bible and his experience with a community of faith helped shape his work. "There was something very profound about God because he was in all of the places of human suffering," he said. "The story of Jesus is about coming and being in the midst of human suffering and being crucified himself. And so I definitely felt like I really wanted to know God deeply, but I would not know God deeply as long as I was somewhat removed from human suffering." That commitment changed the trajectory of Haugen's life. "What matters most is knowing the God who made you— and I don't think you can know the God who made you unless you know something quite deeply about what God knows about, which is human suffering and hurt."
But Haugen also talked with me about "the need to chase joy." He told me that people who are passionate about justice can sometimes feel guilty for enjoying their life; they feel like they need to "wallow in the darkness and in the sorrow 24/7 because it seems to honor, in a way, and respect the depth of the tragedy and the sorrow in the injustice. And that's an impulse that most compassionate justice advocates will feel. But the problem with that is that if you don't come up for air, if you don't actually, intentionally flee the depth of the sorrow and the darkness to go find inspiration and light and joy and encouragement, you will just burn out. And so we say [at IJM] that joy is the oxygen of doing hard things."

Haugen used an analogy to make his point. "When you get on the airplane, they say, 'Please secure your own oxygen mask before assisting others.' And that's just a great image." Each person needs to figure out what refreshes them with joy, he said. "In the absence of that, I just don't think you can sustainably take on a struggle for justice."
In his 1984 Nobel Peace Prize lecture, Desmond Tutu asked, "When will we learn that human beings are of infinite value because they have been created in the image of God, and that it is a blasphemy to treat them as if they were less than this and to do so ultimately recoils on those who do this?"
That was the lesson Haugen learned in South Africa, and in the blasphemy he witnessed in Rwanda. He has it made his life's work to help heal a broken world, to piece back together shattered lives, in the name of justice.