Think About Your Death and Live Better
Contemplating your mortality might sound morbid, but it's actually a key to happiness.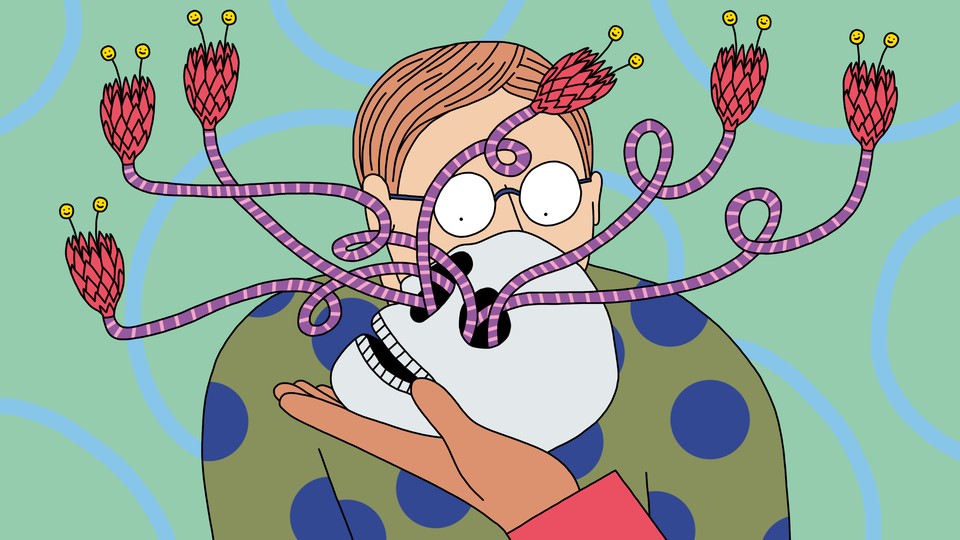 Want to stay current with Arthur's writing? Sign up to get an email every time a new column comes out.
On September 18, 2007, Randy Pausch faced a packed hall at Carnegie Mellon University to give his last lecture. The popular computer-scientist professor, beloved by students and colleagues, was not retiring or moving to another university. He had terminal pancreatic cancer, and had been given just months to live.
Pausch not only showed no sign of sadness but was so filled with energy and joy that he could barely contain himself. At one point, he dropped to the floor and performed a set of one-armed push-ups. "If I don't seem as depressed or morose as I should be," he said, "sorry to disappoint you!" His lecture was a celebration of life and love, to be shared with friends and co-workers, as well as with his wife and three young children.
Perhaps this sounds delusional to you. Or maybe you imagine that he was acting. I believe that Pausch was putting on a masterclass in happiness by leaning into the reality of his own death. And even if your own death is not imminent, you, too, can do this—and get happier.
For most people, death is hard to think about. We tend to avoid the subject—involuntarily, even. In the journal NeuroImage in 2019, researchers described an experiment in which people viewed videos of faces, including their own, morphing into other faces over a six-second time span. Participants were instructed to press a button when they felt that the face had definitively changed to another person's. Appearing over the faces were various words with negative and death-related connotations (such as grave). When participants saw their own face with a death word, they usually pressed the button earlier than when they saw others' faces accompanied by one, suggesting to the researchers that the participants tended to avoid associating death with themselves.
The philosopher Stephen Cave offers one explanation for this avoidance in his 2012 book, Immortality. "Death," he writes, "presents itself as both inevitable and impossible." You can know rationally that you will die, yet struggle to understand your nonexistence. Put another way, you cannot be conscious of your own nonconsciousness.
So we banish death from our thoughts. But this leads us to make choices in life that actually curtail our happiness. People who express more regrets tend to be those who postponed profound activities that yield meaning, such as practicing religion, appreciating beauty, or spending more time with loved ones.
This is probably because they realized too late that they had implicitly assumed life would always go on and on, so there's always time to do these meaning-filled things. When we avoid thoughts of death, we unconsciously assume that tomorrow will look a lot like today, so we can do tomorrow what we could do today. But when we focus on death, that increases the stakes at play in the present, and clarifies what we should do with our time.
By forcing ourselves to think about death—our own death and that of loved ones—our resources-use decisions change. I ask my 20-something graduate students to estimate how many Thanksgivings they realistically have left with their parents, and then to consider how they should spend those remaining occasions. This is a hard exercise for them, and usually provokes a strong emotional reaction. But it can also alter such decisions as where they choose to live and work. Rarely, if ever, have I heard anyone regret deciding to live near friends and family—any more than I recall hearing someone say, as they near death, "I wish I'd spent more time focused on my job."
This highlights that, even if you believe in an afterlife (as I do), facing discomfort and thinking seriously about the impermanence of your mortal life is important for making decisions that enhance your happiness.
There are other benefits. For example, paradoxical though it may seem, contemplating death can encourage positive thinking, as researchers found in 2007. People primed to think about their demise tended to focus on favorable emotional information around them, and to interpret random words in a more congenial way. You could interpret this as people anesthetizing themselves to certain feelings. But try it yourself, and another explanation becomes apparent: You begin to think extremely clearly, and realize that you have a choice about how to see the present moment—and choose the positive.
As persuasive as the evidence is that thinking about your death can be a good happiness protocol, it doesn't come naturally, as we've seen. Like so many valuable habits, it takes practice. That is exactly why ancient thinkers recommended the memento mori, a reminder of death. As the Stoic philosopher Marcus Aurelius reminded himself in his Meditations, "You could leave life right now. Let that determine what you do and say and think."
Start by making this a regular routine in your life. Try beginning each day with a version of this: "I know that in a few years, I will be dead, and a few years after that, no one will even remember my name. But I am alive this day, and I will not waste it." The practice will feel less and less unnatural as time goes by, even as you feel more positive and energetic.
Next, survey your goals and plans. How many of your dreams are leading you to postpone love and happiness right now? By this, I don't mean postponing a bit of money or any other trivial worldly reward; I mean love and relationships. For the sake of some future reward, are you neglecting your family life today? Your friendships? Your spiritual development? Envision yourself having just months to live and giving your current self some life advice. You might not be saying, "The health of your marriage can wait; use all your time now to make it to assistant regional manager!"
And think also about the good you can do that will endure beyond your death. Whether you are religious or not, some psychologists posit that this is a good way to experience deeper meaning in the here and now. I don't mean that you should struggle to achieve some glorious legacy; that would be an exercise in posthumous egotism. Rather, the idea is to think of how your efforts to make life better for others will enrich future generations, regardless of whether they know your name.
Look at the sapling you plant today, and imagine your great-granddaughter sitting under the mature tree. This will fill your current existence with greater significance.
Cotard's syndrome is a strange delusion that afflicts a minuscule percentage of the population. It is also known as "walking-corpse syndrome," because the affected person believes that she is dead, or doesn't exist, or is rotting flesh. You are unlikely to suffer from this malady. But it is easy for anyone to fall into an analogous state by failing to distinguish life from death. If you insist on ignoring your own demise, you are likely to make decisions that cause you to sleepwalk through life. You may not be dead yet, but you're not fully alive either.
Avoiding the malaise of virtual Cotard's means drawing a bright line between being alive today and dead tomorrow. If you can do that, and look across that border with resolve and confidence, you will experience every day fully and deeply. Maybe you won't want to do one-armed push-ups like Randy Pausch, but the people around you will most definitely know you're still on the side of the living.