King Charles's Absurd, Awe-Inspiring Coronation
Where does Britain keep all these horses and bishops the rest of the time?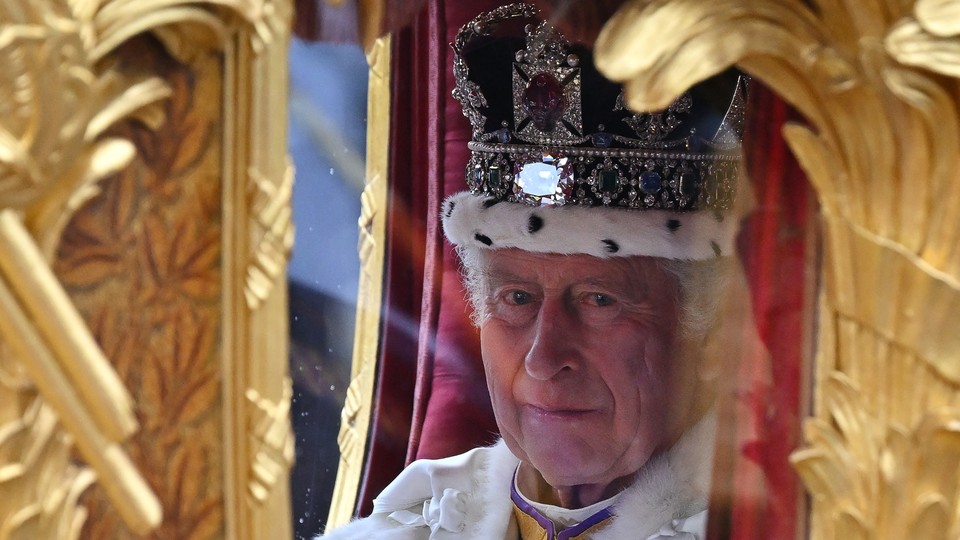 Updated at 11:43 a.m. ET on May 8, 2023.
Sometimes the scriptwriters of reality are a little too on the nose. The British throne, the centerpiece of today's coronation of Charles III, not only houses a sacred artifact forcibly removed from its owners—the Stone of Destiny, taken from the Scots by Edward I in 1296—but is covered in schoolboy graffiti. According to one scrawl from 1800, someone named "P. Abbott" once slept in it. The Coronation Chair, as it's officially known, also has damage from a 1914 bomb attack attributed to militant suffragettes.
It's almost too much, isn't it? The British monarchy is at once a symbol of colonialist plunder, a tradition that many Britons profess to love while cheerfully disrespecting, and an institution that has been dented but not defeated by the forces of social change. I bet the chair even creaks in a manner reminiscent of imperial decline. Britain might now seem like a fading power, but we are a world-beating exporter of metaphors about the state of our nation. At one point today, a gold coach drove under an arch that read HAPPY & GLORIOUS, in the pouring rain.
That default miserabilism isn't really fair—if the coronation proved anything, it's that a great number of people in Britain are incredibly talented, albeit at skills that were last useful in the 18th century. Did you know, for example, that there are such things as "drum horses," which the riders steer with reins attached to their feet? We've also got heraldic trumpeters, master embroiderers, and someone who can fix the suspension on a gold coach. If you need a "unicorn pursuivant" at short notice, Britain has you covered.
Every moment of the coronation had been drilled to perfection. The new King had reportedly been practicing for the weight of St. Edward's Crown by wearing a bowler hat with a bag of flour inside. Justin Welby, the archbishop of Canterbury, prepared for his big moment with similar vigor. "I've been crowning anything that stood still long enough," he told the British Broadcasting Corporation.
Watching the crowd assemble in Westminster Abbey was a ceremony in itself. Lionel Richie was there, as was Katy Perry, wearing what one of my friends described as a "very selfish hat." Britain might be a midsize economy in the north Atlantic, but it can still draw a crowd. The two-hour service brought together foreign royals, including King Mswati III of Eswatini and Hereditary Prince Alois of Liechtenstein; homegrown aristocrats such as Merlin Hay, the 24th Earl of Erroll, and Edward Fitzalan-Howard, the 18th Duke of Norfolk; officials, such as Han Zheng, the vice president of China, who represent genuine world powers; and the British reality-show hosts Ant and Dec, whose most recent appearance on television featured them daring soap-opera stars to drink smoothies made out of a cow's vagina.
The clothes accompanying the coronation ritual were, of course, both absurd and incredible. Penny Mordaunt, a former contender for prime minister, looked like a Bajoran ambassador on Star Trek as she carried an eight-pound sword up the aisle. Princess Anne wore a cape halfway between Hogwarts supply teacher and Batman. Jill Biden came in powder blue while her granddaughter Finnegan was in buttercup yellow, evoking the colors of the Ukraine flag. A coincidence? Possibly not, since Buckingham Palace yesterday released a photograph of the American first lady and her Ukrainian counterpart, Olena Zelenska, flanking Kate, Princess of Wales. Not to be outdone by Katy Perry, the South African soprano Pretty Yende performed a new work called "Sacred Fire" before the service in a huge yellow gown, from which her head emerged like the center of a daffodil. (Selfish shoulders.) The "working royals" were blinged up the eyeballs with the height of 12th-century fashion, while poor Prince Harry sloped down the aisle alone, in a suit. He then had to sit behind Princess Anne's full Napoleonic bicorne.
The overall vibe was "Disney on acid." Who knew so much brocade existed? How many bishops do we have, exactly? I ran the BBC commentator's sentence "King Charles chose to wear his royal naval trousers" through my brain several times before I could parse it. This was a ceremony precision-engineered over centuries to inspire awe, and if that sentiment is unattainable in the 21st century, my cynicism was at least briefly battered into submission. By the time Ralph Vaughan Williams's version of "Greensleeves" started up, I was feeling so British that I wanted to challenge someone to a fight outside a pub. This, it turns out, is a common response to coronations.  When the last Charles to sit on the British throne was crowned in 1661, the diarist Samuel Pepys got so drunk that night that he vomited and fell asleep: "Only when I waked I found myself wet with my spewing." Charles II's coronation went on for so long that Pepys left halfway through to take a leak, a choice that must have appealed to the congregation at Westminster Abbey as today's ceremony approached the end of its second hour. As it was, official guidance from the palace had already assured us that Prince Louis, 5, might "retire during the service."
Throughout the ceremony, Charles was an oddly passive figure, constantly being addressed or handed things. That makes sense; he is only King by the consent of his subjects, of whom there are likely to be fewer within decades. Polling by Lord Ashcroft, released this week, found that only 23 percent of Canadians want the King to remain their head of state, and majorities in both the Bahamas and the Solomon Islands favor becoming a republic. Britain itself has plenty of republicans, and many more apathetic undecideds—not that you would have known from most of the pre-coronation mainstream television and press coverage, which ranged from "deferential" all the way through to "fawning." Earlier today, the Metropolitan Police—an outfit that never fails to live down to expectations—arrested several anti-monarchy protesters and confiscated their placards. Some of the protesters have claimed they were told not to mention Prince Andrew and the "sex stuff."
As my attention drifted while Charles was being shown a priceless book of Gospels, I started thinking about what the monarchy offers Britain. The closest analogue I can imagine is a sports league or a cult television program, one that has been going on since before you were born and will carry on long after you die. My WhatsApp inbox was full of jokes about Windsor-pattern baldness; whether Meghan Markle, who did not attend the coronation, was fuming in California about how big a hat she could have worn; and whether Queen Camilla would be furiously vaping in the vestry between the ceremony and the procession. The Windsors provide all the exquisite drama of a family wedding on a rolling basis, and seating assignments in the abbey and in places in the parade were deployed to brutal effect. A case in point: Neither Harry nor his disgraced uncle Prince Andrew was part of the procession in state coaches from Westminster Abbey back to Buckingham Palace.
Luckily, things perked up when the choir started Handel's greatest banger, "Zadok the Priest," for the crowning itself. Charles was stripped to his undershirt, and soldiers brought in the screens to surround the coronation chair. This was the anointing, a moment of personal communion between the monarch and his God, and it was followed by the King being brought all kinds of stuff to touch: Charles II's spurs, various jeweled swords, and what the archbishop described as "the bracelets of sincerity and wisdom." (My other half observed that these sounded like something that would give you a 5 percent boost to your stats in a video game.) The orb appeared lighter than you'd expect, reminding me that the crown in which Charles was invested as Prince of Wales in 1969 was topped with a Ping-Pong ball sprayed with gold leaf.
Then came the moment mocked this week by the satirical magazine Private Eye as "Man in Hat Sits on Chair." Charles got what appeared to be a high-class oven glove and two scepters, followed by St. Edward's Crown, 12 inches tall and weighing nearly five pounds. You can see that crown as a symbol of either continuity or rupture: It was made for Charles II in 1661—because the previous version had been melted down by republicans around the time they beheaded his father. When the monarchy was restored after a decade, the new King had to re-create all its traditional ornaments. The Hanoverians didn't use it, preferring a lighter crown; George V brought it back in 1911.
It was just as well that the Archbishop of Canterbury had been practicing the crowning, because he needed two tries at it today. At first, he screwed it on like a misaligned jam-jar lid. Then he paused in front of Charles, checking the fit with his hands outstretched, like a hairdresser lining up the sideburns. Prince William swore allegiance as the King's "liege man of life and limb," adding a pleasing Game of Thrones vibe to the proceedings, before the archbishop invited all Britons to do the same from their living room. (I did not.) Camilla got crowned, too; just hours earlier, her title had been officially upgraded from Queen Consort to just Queen. She has enjoyed one of the great redemption arcs of modern life—it was only last year that she was destined to become Princess Consort, in deference to the memory of Diana. In the circumstances, it felt rather harsh that her dedicated anthem for the ceremony was by Andrew Lloyd Webber.
Of all the adjustments to British public life since last September, remembering that references to "the Queen" no longer mean Elizabeth II has been the weirdest. Our last monarch felt eternal until her frailty became obvious just a few months before her death; one T-shirt company has been selling joke Male Queen T-shirts, referring to the strangeness of having a King for the first time in 70 years. This is the other thing that monarchy offers—the idea that life can be bloody long, with not just second acts but third ones too. Today, a 74-year-old man finally took up a job he has been training for since childhood, next to a woman who has graduated from hate object to the nation's new grandmother. If Meghan was thinking anything in California—or if indeed Harry was, while trying to see around his aunt's hat—it might have been this: Institutions can still have great power, even in this age of individualism. Hope you enjoy this new season of the crown.
---
This article previously misstated the year of Charles II's coronation.