Brittney Griner Has the Right to Change Her Mind
The WNBA player has a different perspective on "The Star-Spangled Banner" but hasn't given up the cause of justice.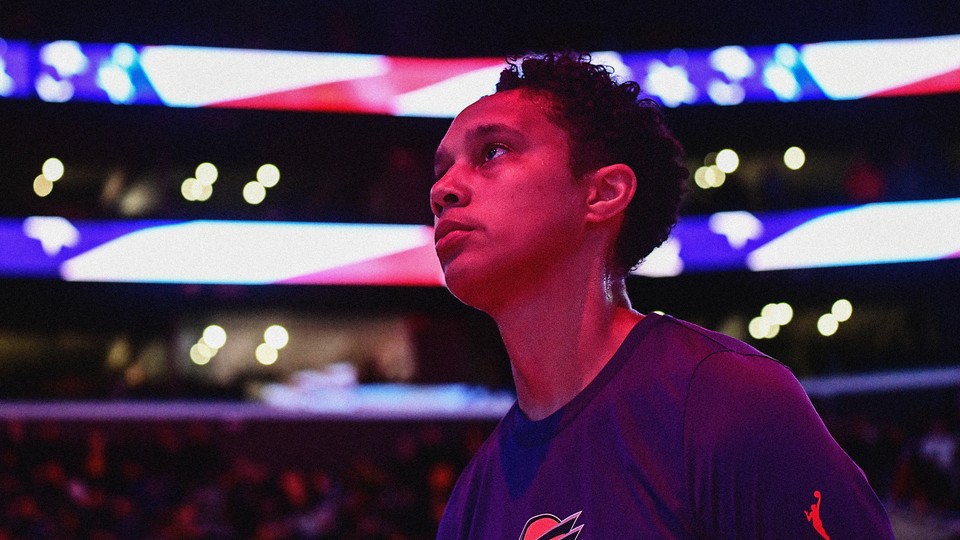 Playing in her first real WNBA game in 579 days, Brittney Griner did something Friday night in Los Angeles that national television audiences hadn't seen her do in a long time: The Phoenix Mercury center stood for the national anthem.
She stopped doing so in 2020 but has resumed the practice after returning from 10 months of imprisonment in Russia. "One thing that's good about this country is our right to protest," Griner said after the game when I asked her about the issue. "You have a right to be able to speak out, question, to challenge, and do all these things. [After] what I went through, it just means a little bit more to me now. I was literally in a cage and could not stand the way I wanted to … and a lot of other situations. Just being able to hear my national anthem, see my flag, I definitely wanted to stand."
Although she stood for "The Star Spangled Banner" during the preseason, her team's regular-season opener on Friday night against the Los Angeles Sparks attracted far more media attention. No opposing player this season is likely to get the reception that Griner did from L.A. fans. The exuberant crowd wore pro-Griner T-shirts, gave her a lengthy standing ovation, and held up signs that further showed their support. A number of sports superstars were there to witness the joyous occasion, including the Los Angeles Lakers legend Magic Johnson, the tennis champion Billie Jean King, and the Basketball Hall of Famer Dawn Staley, who coaches the University of South Carolina women's basketball team.
But what brought the moment full circle and speaks to the significance of Griner's return was Vice President Kamala Harris meeting with both the Sparks and the Mercury before the game, praising the players for making sure that Griner's plight was never forgotten. "Thank you for all that you did in supporting Brittney," Harris told them, "because I know that was rough and that was so difficult for you. Team is family."
While on her way to play for a Russian team during the WNBA offseason, Griner was arrested at a Moscow airport in February 2022, and accused of carrying cannabis oil in her luggage. She was later convicted of drug smuggling. Her ordeal was widely viewed as an attempt by President Vladimir Putin to gain diplomatic leverage against the United States. The U.S. government negotiated her release in December in exchange for the notorious arms dealer Viktor Bout.
Harris has taken some heat for advocating for Griner's return. As San Francisco's district attorney and California's attorney general, she oversaw prosecutions for marijuana offenses and opposed marijuana legalization. But people are allowed to change their positions. As a senator, Harris co-authored a comprehensive marijuana bill that would decriminalize marijuana at the federal level and resentence or expunge the records of those who received marijuana convictions.
Griner's perspective on the national anthem has evolved too.
In 2020, after Louisville police killed Breonna Taylor and the Minneapolis police officer Derek Chauvin murdered George Floyd, Griner vowed then she wasn't going to stand for the national anthem, and even suggested that it shouldn't be played at any sporting event. "I honestly feel we should not play the national anthem during our season," Griner declared. "I think we should take that much of a stand."
Like a lot of athletes during that time, Griner wanted to use the anthem to prove a larger point: that the country's national symbols mean nothing if the human rights of its Black citizens are routinely being violated by the people in charge of protecting them.
This is a tricky dance for an openly gay Black woman who stands at 6 foot 9—balancing love of her country and an appreciation for its freedoms with wanting the U.S. to have a better record of equality and social justice. Like Black soldiers who fought for America overseas but were denied basic rights at home, Griner—who twice represented the U.S. in the Olympics—understands that you can love a country while knowing it doesn't treat your community fairly.
Some critics believed that Griner didn't deserve support from the U.S. government because of what she had said about the anthem, and many people on the right criticized the Biden administration for coming to her rescue. When Griner was released, former President Donald Trump posted on Truth Social, his social-media site, "What kind of a deal is it to swap Brittney Griner, a basketball player who openly hates our country for the man known as 'The Merchant of Death.'" Trump's son Donald Jr. called Griner an "awful America Hating WNBA player."
Despite these desperate attempts to paint Griner as anti-American, nothing is more American than Griner's initial dissent or her decision to stand for the national anthem now.
Some will surely delight in her receiving her comeuppance through the horrors she experienced in Russia, or will use her 180-degree turn to minimize the problem that prompted her negative feelings toward the national anthem and flag in the first place. "Sometimes when it doesn't go the way other people want it to go, you get labeled un-American or something like that," Griner said on Friday. "I think it makes you more American." She said she still supports players who decline to stand for the anthem.
Griner's dissent was always a poor excuse to question her patriotism. If she didn't love this country, she never would have criticized it. If she didn't love this country, she wouldn't have helped Team USA win two gold medals. And if she didn't love this country, she certainly wouldn't be standing up for its anthem now, even as she believes America has much more work to do.