When the Media Bow to Trump
Two of the biggest news stories of recent weeks—Trump's indictment and Fox News's Dominion settlement—share a troubling fact pattern.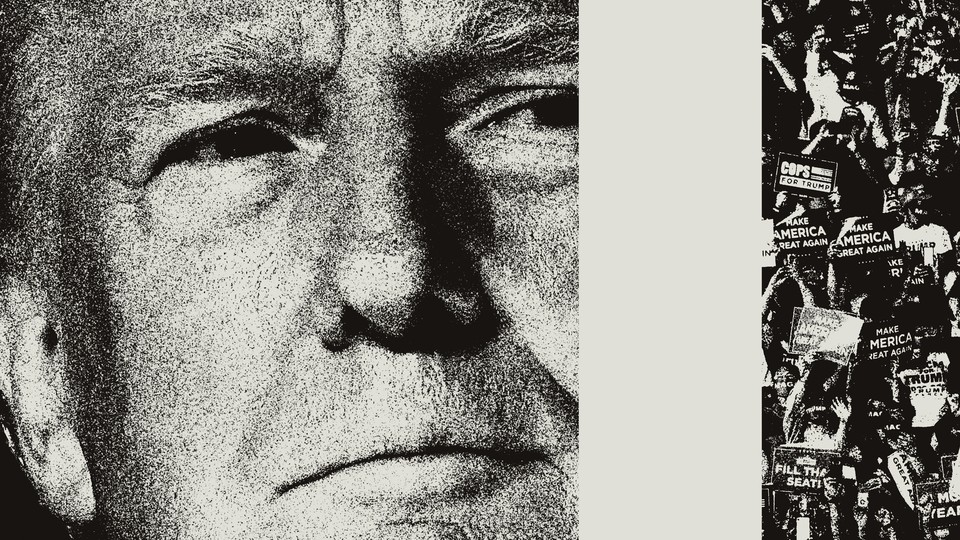 Two of the top news stories in recent weeks—the Manhattan district attorney's criminal indictment in People of the State of New York v. Donald Trump and the three-quarter-billion-dollar settlement in Dominion Voting Systems v. Fox News Network—may seem like independent affairs, but they are parts of one bigger story. That story is how former President Trump has been able to control what information is available to the public, as he has repeatedly done in an effort to aggrandize and cling to his own power. His willing helpers were media companies, but they were not acting as news organizations. The National Enquirer deliberately generated false information and hid true information from the public as part of a scheme to secure Trump's grip on political power. Fox aired false claims and questioned true ones as it sought to placate Trump's supporters. Together they have succeeded in polluting the marketplace of ideas in which democratic politics is supposed to thrive.
But law and litigation have helped bring this story to light. The courts—a place where facts still matter—have shown a path to catching up with the wrongdoers, but worryingly, these cases could also be a guide for future collusive media outlets keen on engaging in disinformation while sidestepping exposure.
Manhattan D.A. Alvin Bragg's criminal case—beyond the headlines about the first-ever charge against a former president and the hush money paid to a porn star—is about the capitulation of the National Enquirer to Trump's 2016 campaign. The two were a natural pair, as seen in the Bragg indictment and statement of facts: a popular media outlet conspiring with a campaign to suppress stories that could damage the candidate's chances of being elected. The proof of such an unholy alignment is direct: David Pecker, the head of the National Enquirer, admitted to the Department of Justice that he, Trump, and Trump's fixer Michael Cohen engaged in a catch-and-kill scheme for stories about alleged affairs and one-night stands involving Trump, with the goal of keeping such information from voters. It was a smart move. After all, it had been the Enquirer that broke the 2007 story of then–Democratic Senator John Edwards's affair, which ended that presidential aspirant's political career.
The arrangement with Pecker went further than killing negative stories about Trump, to encompass promoting negative stories about Trump's Republican and Democratic adversaries. On Trump's road to the GOP presidential nomination, the Enquirer published more than 60 stories attacking his political opponents.
This scheme thus bore an uncanny resemblance to the contemporaneous Russian disinformation efforts, which also promoted Trump and denigrated his Republican primary adversaries while attacking 2016 Democratic front-runner Hillary Clinton and praising her challengers, including Senator Bernie Sanders. (All of this is outlined in the federal indictment of the Internet Research Agency and the Russians helping run that company.) Similarly, the Federal Election Commission sanctioned American Media Inc., the National Enquirer's parent company, for its illegal interference in the 2016 election. AMI agreed to pay $187,500 in fines after the FEC's nonpartisan staff found that the catch-and-kill arrangement, in coordination with Trump and Cohen, violated federal campaign-finance law.
That we know of the AMI-Trump alliance is fortuitous. The coordination of a candidate with a powerful media outlet in the lead-up to an election would not have necessarily come to light but for the secret payment of money to kill adverse stories—payments that attracted the attention of federal and state prosecutors and led to Cohen's conviction for campaign-finance charges and Trump's indictment on charges of falsifying business records. If Trump and AMI had been content to publish favorable stories about Trump and derogatory pieces about his adversaries—regardless of truth—without the element of hush money, we might be none the wiser as to this systemic corruption of our electoral process.
A very similar fortuity revealed an even more pervasive systemic corruption of our electoral process, one involving Trump's collusion with another media outlet, this one far more influential. Fox Corporation and its subsidiary Fox News would have avoided their recent legal troubles if they had steered clear of targeting Dominion Voting Systems, a private company with enough resources to sue. If their election-fraud claims had been more diffuse and focused on unspecified figures or governments, the now-infamous Fox emails and texts may have never come to light.
But because Dominion brought its civil suit with its attendant right to discovery of Fox's internal communications, the public now can see an effort—strikingly similar to that by AMI—to curry favor with one and only one candidate, in spite of many Fox employees' private antipathy toward the man. The Dominion suit revealed how Fox actively sought to promote Trump's effort to stay in office after losing the 2020 presidential election. Like AMI, Fox became the amanuensis of the then-president, regurgitating nightly his election-fraud claims, lies that plenty of people at Fox, up to and including News Corp Executive Chairman Rupert Murdoch, disbelieved. Such efforts included direct coordination with the White House and Trump campaign, reminiscent of the direct coordination between Sean Hannity and Paul Manafort years earlier.
Indeed, the judge overseeing the Dominion suit found that the plaintiff had so overwhelmingly established certain facts, there was no need for the jurors to consider them at trial. One such fact: Dominion did not tamper with any election results, and any claims to that effect by Fox were false. The court went further in its pretrial rulings with respect to the role Fox played in promoting this falsehood. Remarkably, the court precluded Fox from trying to convince jurors—had a trial taken place—that it was merely reporting the news.
This is yet another aspect that aligns the two cases. In the defamation lawsuit, Fox had argued that regardless of whether the network believed Trump's election-fraud claims, they were news and thus it had a responsibility to report them. The court rejected this argument, not because such a defense could not be valid in theory, but because that defense was not factually supported in this case. As Murdoch himself admitted, the Fox anchors were not impartially reporting; they were "endorsing" Trump's claims.
Similarly, AMI claimed in front of the Federal Election Commission that it was covered by the so-called press exemption, which holds that "any news story, commentary, or editorial distributed through the facilities of any broadcasting station, newspaper, magazine, or other periodical publication" does not count as an expenditure on a political campaign. Relying primarily on AMI's own statements to the Justice Department, the FEC easily rejected this claim. The company "disclaim[ed] a journalistic or editorial purpose" by admitting that it had made the hush-money payments for the express purpose of assisting the Trump campaign, the FEC legal staff explained.
In short, these conclusions of the federal court in the Fox case and the FEC and Bragg in the hush-money case underscore the nature of this threat to American democracy. In both these cases, the most damning thing is not their outcome—Dominion's settlement or a Manhattan jury's eventual verdict—but their revelations.
When national media companies pollute the information environment in collusion with a political campaign, the question becomes whether American institutions and the legal system can adequately respond. The courts may hinder Trump, or for that matter any politician with autocratic leanings, from colluding with media companies. But the worrying messages to such politicians may be to avoid mischaracterizing or paying hush money altogether and to avoid defaming a company with deep pockets when promulgating the next big lie. Bragg and Dominion may win their battles, but the electorate may lose the war.