Murders Are Spiking in Memphis
A grim pattern is recurring after the latest high-profile killing by police officers.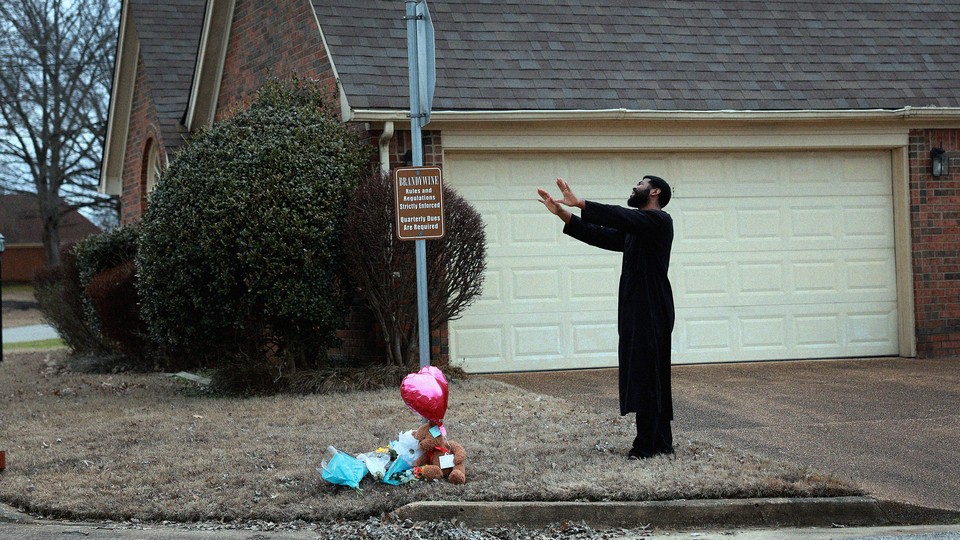 In late January, when authorities in Memphis charged several police officers in the death of Tyre Nichols and released footage of the incident, Chief C. J. Davis promised that the Memphis Police Department would change while still keeping residents safe.
The early results are not encouraging. In March, Memphis saw 40 murders, likely the city's highest tally ever, according to a review of public data by the indispensable data analyst Jeff Asher. That's a big jump over figures of 20 and 22 in January and February, respectively. Something has indeed changed, but it's that Memphians are less safe.
The spike in murders is ghastly but should not come as a total surprise. It fits the pattern established around the country after highly publicized killings by police officers. Seeing it recur in Memphis, where officers were swiftly fired and charged with crimes, suggests that though leaders are getting better at their immediate response to such incidents, they have not yet solved the larger challenges posed by them.
The spike is especially heartbreaking in Memphis, where, as I wrote last year, residents have long experienced the painful combination of both over-policing and under-policing: People, especially Black ones, feel harassed by police for minor offenses, yet they don't feel safe in their neighborhoods. Now, in the aftermath of Tyre Nichols's killing, a particularly egregious instance of over-policing, police are even less effective at preventing violence in the community.
A surge in violence frequently follows a highly publicized instance of police violence. After long-running demonstrations in Ferguson, Missouri, following the 2015 killing of Michael Brown, murder ticked up nationwide. Homicide rates rose in Baltimore after the death of Freddie Gray and in Chicago after the release of videos showing police fatally shooting Laquan McDonald. And many criminologists have pointed to the massive nationwide protests over the killings of George Floyd and Breonna Taylor in summer 2020 as an inflection point. Soon after, violent crime and murder went up nationwide, and although they seem to have turned back down, they are still well above pre-2020 levels.
But experts haven't been able to establish a clear answer for the reasons this happens. Some theories focus on the public: Perhaps people are less likely to trust the police, and therefore opt to settle disputes on their own or don't report crimes. Others focus on the police: In the immediate aftermath, especially when mass protests erupt, officers are absorbed with managing demonstrations. Then over time, they simply police less. Perhaps this is because they believe they are responding to the community's desires, as expressed by protests; perhaps it's an attempt to teach the public a lesson (You want less policing? See what you think when you actually get it); or perhaps it's because officers are wary of getting in trouble (what the conservative scholar Heather Mac Donald has called the "Ferguson effect").
Whatever the motivations, some evidence suggests that police have pulled back recently in Memphis. When I visited the city in January, the weekend that footage of Nichols's fatal beating was released, some activists told me they sensed that officers were making themselves scarce. Data compiled by Just City, a criminal-justice nonprofit, show that the population of the Shelby County Jail has steadily dropped this year, from 2,686 on January 1 to 2,325 on April 1. Long-term jailings have stayed roughly flat, which suggests that the drop comes from police simply arresting fewer people. (The Memphis Police Department did not immediately respond to a request for comment.)
In my reporting on law enforcement in the city over the past few years, I heard from many Memphians who were critical of the police department, which they perceived to be prickly, disrespectful, focused on petty crimes, and sometimes violent, but they didn't want to abolish or defund the police. They want safe streets, and they see officers as essential to that. For example, a longtime resident named Mary Wainwright told me she welcomed police officers in her sometimes-dangerous neighborhood, but was frustrated when she saw cops writing speeding tickets while suspected gang members walked the streets by day and bullets flew by night.
Last Friday evening, after an activist group obtained a draft presentation, the department announced a "juvenile-crime abatement program" in a video. The presentation said a team of officers would "professionally approach" any unaccompanied underage people in downtown Memphis engaged in "illegal activities, to include but not limited to, solicitation of candy or food, handing out flyers for donations, playing loud music, inappropriately dressed, dancing in the street, and any other activity deem [sic] inappropriate or actions that disrupts the harmony of the Downtown community." By Monday morning, following backlash to the idea, the city said the program was on pause. MPD is still struggling to strike the right balance between harassment and actual safety.