He's Back
Just hours after he was arrested and arraigned in New York City, Donald Trump gave remarks at Mar-a-Lago.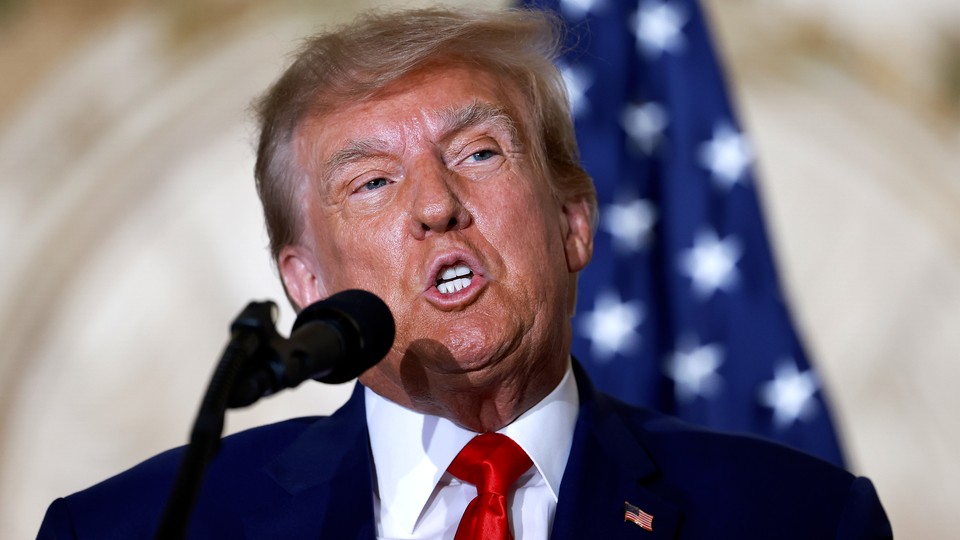 Donald Trump is back—or at least, the 2016 version of Donald Trump is back on the campaign trail, just hours after he was arrested and arraigned in a New York court earlier today.
The former president has become no more honest and no less irritable since leaving office in disgrace in 2021, but the man who has been campaigning for president these past few months has been a diminished version of himself. Oh, he's still full of vitriol, and the man doesn't seem to visibly age, but his heart hasn't been in it, and he has slipped from the center of the political conversation. He was tired.
That's the man who appeared in court in Manhattan today for his unprecedented arraignment: subdued, silent, and maybe even looking a little scared. But by the time Trump took the dais at Mar-a-Lago tonight, he seemed to have stepped back in time eight years. He seemed to actually be enjoying going after his adversaries once again. He fired off imprudent attacks at prosecutors and judges. He freely mixed truth and hogwash, and he insisted—as he often did in 2016—that the United States was a global butt of jokes.
"The world is already laughing at us for so many reasons," Trump said, calling his indictment an "insult to our country."
This sort of talk used to drive liberals into a tizzy. They'd complain that it was unpatriotic, but Trump recognized that many of his supporters love this rhetoric, and see him as the antidote. "The only crime I have committed is to fearlessly defend our nation from those who seek to destroy it," Trump said tonight. It's a silly claim, but a good line for his true believers.
The big difference from 2016 was brevity—Trump spoke for just 25 minutes or so. And the former president didn't even focus all that intently on his arraignment, though he seemed buoyed by the response to the charges unveiled today, which were widely panned, with reactions ranging from bemused to appalled, even among his noisiest critics.
Trump said the charges should never have been brought and were politically motivated, and insisted he'd done nothing wrong. But even though Judge Juan Merchan today warned Trump to temper his statements about Manhattan District Attorney Alvin Bragg, Trump attacked him as a "George Soros–backed radical-left prosecutor" and complained that Bragg had run on prosecuting him. (Apparently Trump is the only person allowed to campaign on locking up a political opponent.) For good measure (and likely to the consternation of his attorneys), he also attacked Merchan as "a Trump-hating judge with a Trump-hating wife and family whose daughter worked for Kamala Harris."
But Trump spent roughly as much time complaining about the investigation into his handling of classified documents and about Justice Department Special Counsel Jack Smith ("a radical-left lunatic known as a bomb thrower"); Fulton County, Georgia, prosecutor Fani Willis ("a local racist Democrat district attorney in Atlanta"), and New York Attorney General Letitia James (a "racist"), all of whom are probing him in some way.
As I have written, getting indicted is never a boon to anyone's career. Although Trump is rising in Republican primary polling, his fundamental problem is that he is widely disliked and has never won the national popular vote. His rattled demeanor over the past few days has demonstrated his own worries about being charged with a crime. Where this case goes (another hearing isn't scheduled until the end of the year) and where Trump's presidential campaign goes remain to be seen, but for one evening, Trump was able to revisit his old mantra that no publicity—not even the very worst—is bad publicity. And no one enjoys publicity quite so much.